There is so much great food to be found in Penang and we spent a very happy few weeks there last year working our way through everything on offer. So much so that this roundup started as the top 5, then the top 10 and now, the random top 13 must-eats in Penang! I just couldn't narrow it down! And now, when I think back to our time there, I know that we only had one bad meal. And that was because it was the end of the day in a dodgy shopping centre! What did we expect?
Although it's been a while since we were in Penang, my memories of the food we ate there are strong. Georgetown is such a foodie destination and I really enjoyed our time there.
So without further ado, and in no particular order, here are my 13 Must-Eats in Penang:
1. Curry Mee
I'm starting with the most alarming dish on this list. This is sometimes also known as curry laksa and is basically a spicy curried noodle soup. You'll see it sold with lots of different toppings but the traditional way to eat curry mee is with coagulated pork curd (kind of like tofu in texture) and cockles. Of course, you know me, I opted for tradition and went with the pork curd and cockles! Whilst I wouldn't rush back to try this again, I'm glad I did. If you're squeamish, choose prawns and tofu as your toppings!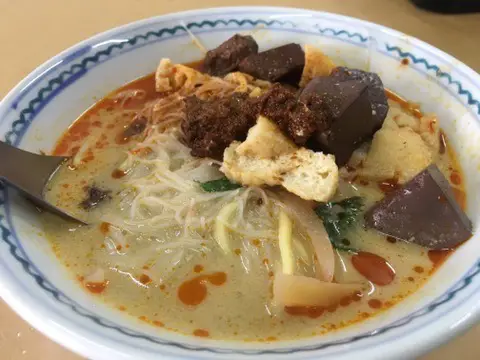 2. Poh Piah
Here's something we'd never heard of before Penang. Poh Piah is essentially a spring roll, filled with veggies and a sweet vegetable sauce. Sometimes things like fresh chilli, lime and peanuts are added too, and prawns or meat. The version we ate was not fried and these ones were vegetarian. Given that a lot of the food in Penang is soup based or stir-fried, and often spicy, we really enjoyed the freshness of these.

3. Durian
Durian is such an unusual fruit and rarely seen in the UK so if you're feeling brave and don't mind the smell, give it a go. During our time in Penang (and Singapore to a lesser extent), the locals' dedication to the Durian was hard to miss. On almost every corner you'd find sculpture, specialist shop or tourist attraction awaits. You can eat it every format imaginable. From sweets to ice-cream, cakes and even coffee!
4. Fried Laksa
Whilst this isn't strictly traditional, we tried fried laksa three or four times at a small family run restaurant on Jalan Siam and it was absolutely incredible! This place, in particular, is well worth a visit – start by choosing your ingredients (make sure you get those fried bean curd pieces!) and then wait whilst they cook it fresh to order.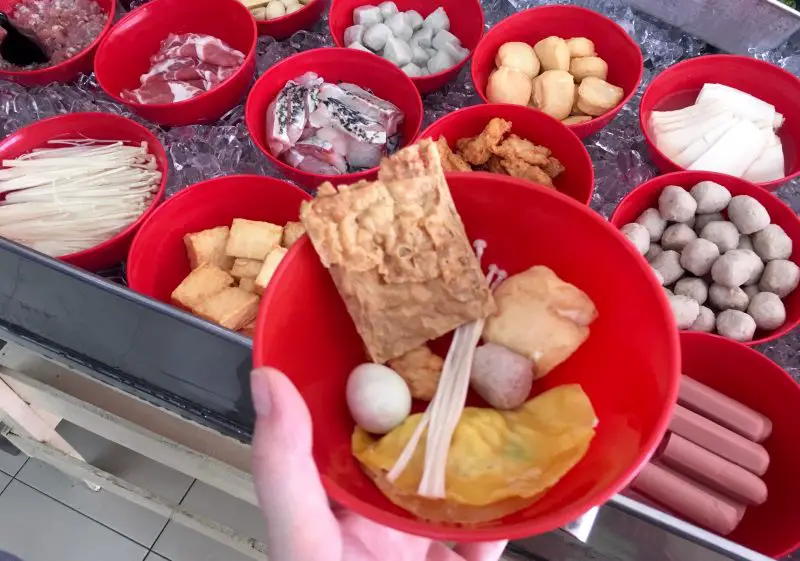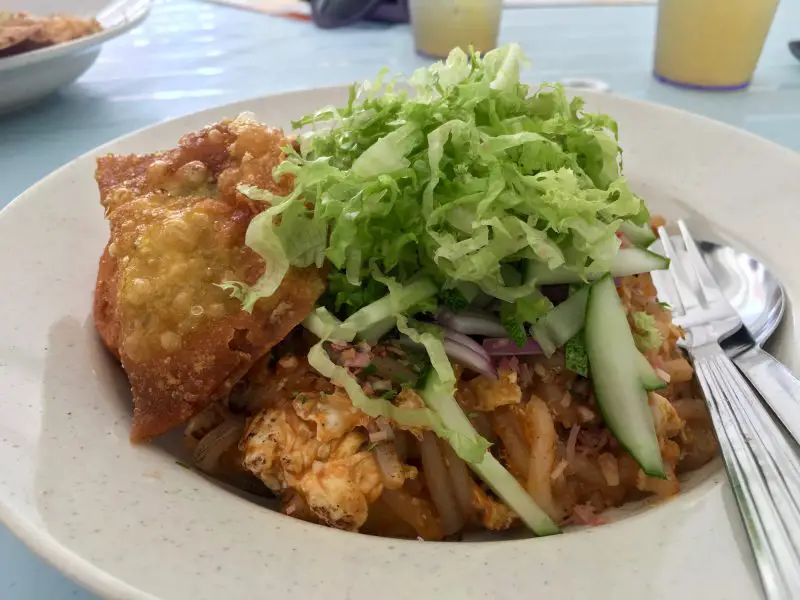 5. Chicken Floss
Originally Chinese, meat floss is basically dried meat with the consistency of candy floss. You often see both pork and chicken varieties around Penang and its the chicken floss which I really enjoyed.

6. Kaya Toast
This is something I hadn't heard about prior to arriving in Georgetown. We made friends with a Malaysian woman who was staying in a nearby hostel and she told us about Toh Soon Cafe which is just off Cambell Street. She said we had to try kaya toast so we headed there one morning and did just that! Kaya spread is kind of like peanut butter or Nutella and is made with coconut milk, sugar, eggs and pandan. It's delish and a great breakfast dish (or snack) to give you a boost of energy for the day ahead.

7. Yum Cha
We got quite into yum cha when we were in Melbourne thanks to the amazing Chinatown there. 'Yum Cha' is a kind of breakfast/brunch and refers to the act of drinking tea and eating dim sum with friends and family. We were excited to try more of it in Penang and were not disappointed. In fact, we ended up having yum cha most mornings during our time there. Try two of the older restaurants around: Tai Tong and Tho Yuen for a really authentic (and whirlwind) experience of old ladies pushing heavily loaded trollies around and banging endless pots of tea down in front of you!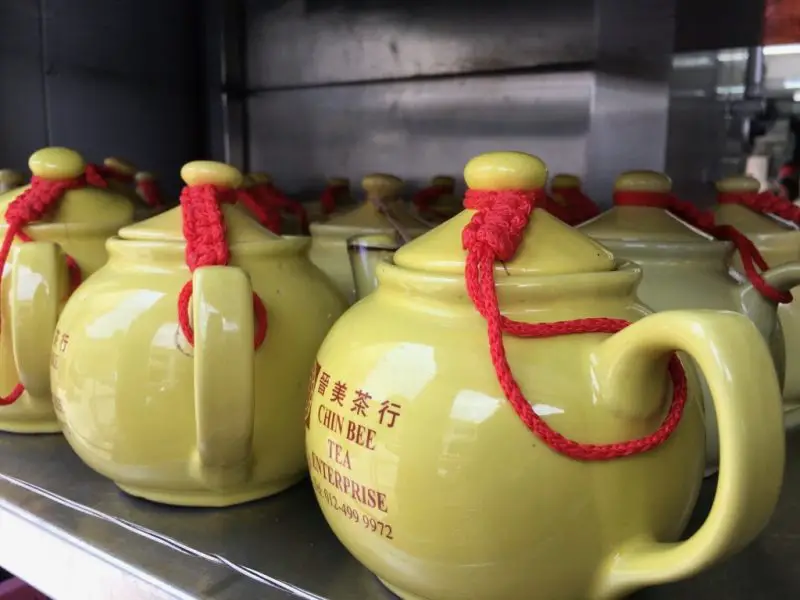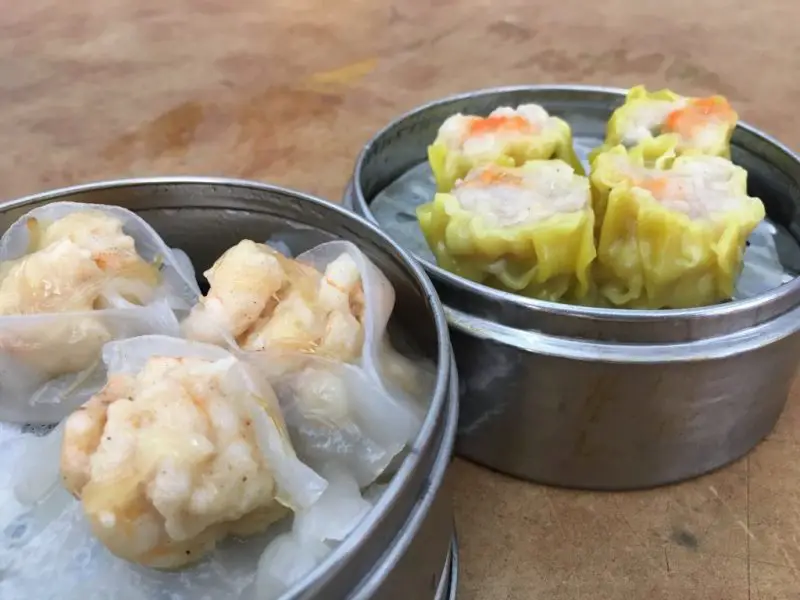 8. Char Kway Teow
This is a really popular dish in Penang and everywhere sells it! It's basically a big delicious pile of almost charred stir-fried flat noodles with lots of garlic, some spice, veggies and usually chicken. Look out for char kway teow stalls at all the major hawker centres and make sure you try it with a beer if you're lucky they'll have the glasses in the freezer like these ones. My tip is to share a bowl with your travel buddy so that you can have something else too!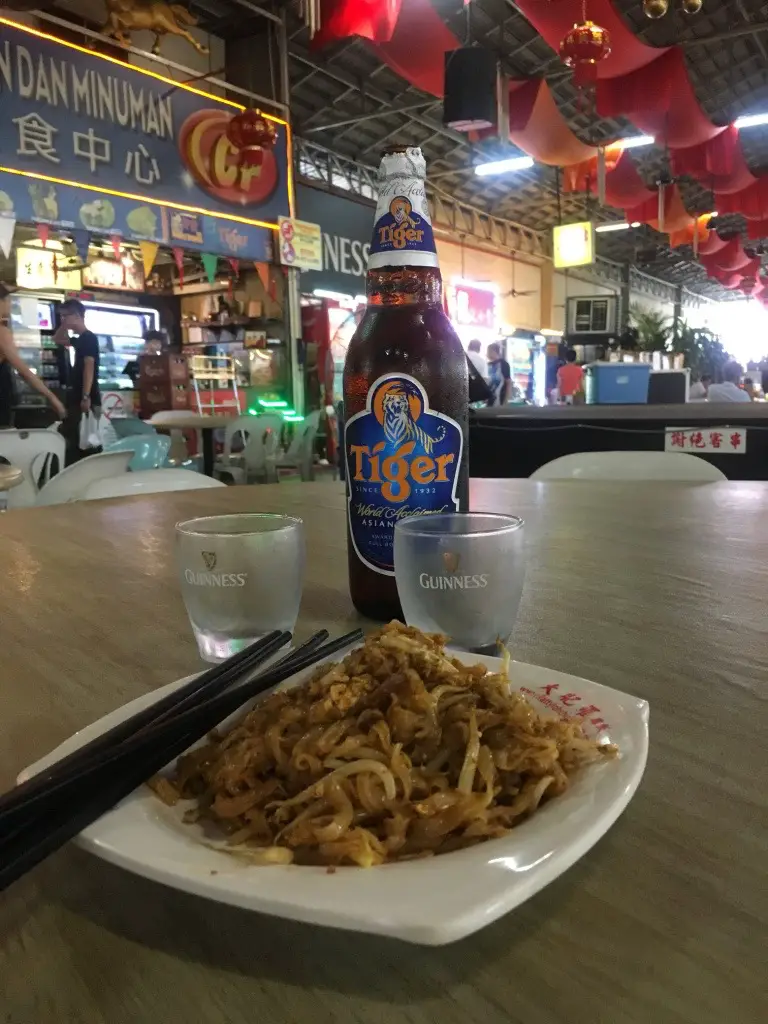 9. 3D Latte Art
There is one place in particular (Coffee on the Table) which does the most amazing 3D coffee art. I think other cafes have cottoned on and do it too but this is the place you want to head to. Their food is pretty expensive and didn't look up to much but the coffees are just so much fun! To date, the below is my highest performing Instagram post. And I'm not surprised, look how CUTE that little face is!
10. Oh Chien – Oyster omelette
This won't be to everyone's taste but if you want to eat authentically whilst you're in Penang, you must try Oh Chien at least once! It's popular all over Asia, especially at night markets, and hails from Taiwan. Usually, the omelette is made with potato starch to thicken the eggs. Oysters are added during the cooking process and spicy dipping sauce comes on the side.

11. Satay
Did you know that satay actually refers to the grilled skewered meat and not the peanut sauce which so often goes with it? We ate great satay all over Penang and also in Singapore and I can't tell you were the best one was, just that you must try it! The sauce tends to be thinner and often spicier than you'd get at home which I like. And often, you'll get chunks of onion and cucumber on the same plate. Get your chicken and roll it through that luscious oily sauce before tucking n. Just try not to let it drip all over your front.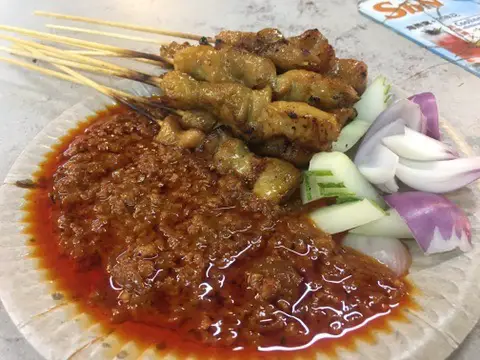 12. Asam Laksa
I'm sure you've all heard of Laksa before. A sweet, sour and spicy soup with rice noodles. Asam laksa is made with fish and is sold everywhere, especially at the hawker centres which are dotted all over Georgetown. Most traditionally it's made with mackerel but this one, at New Lane Hawker Centre, was more of a crowd pleaser with prawns and fish balls instead!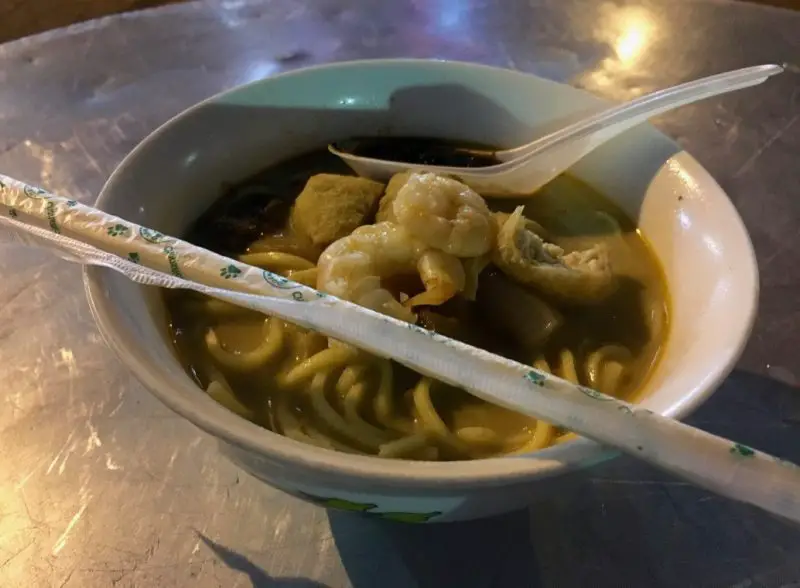 13. Retro Ice Ball
If you're in Penang when the weather is particularly hot and humid like we were, these retro ice balls are a must! We got ours from a stall on the famous Armenian Street and chose sasparilla as our main ingredient because it's a flavour you don't see much these days! Watching the vendor make it from a chunk of ice on a homemade machine is pretty mesmerising.