Laksa is a popular noodle curry soup which you find all over South East Asia. It's particularly popular in Malaysia and even more so in Penang where Chinese immigrants settled from the 15th century onwards, mixing their food and culture with the local Malay people resulting in what is widely known as Peranakan culture. Laksa is widely eaten all over Penang and sold in restaurants, hawker centres and on the streets. We tried it both in the traditional way as a soup but also as fried laksa.
Buckle up, there's a story coming!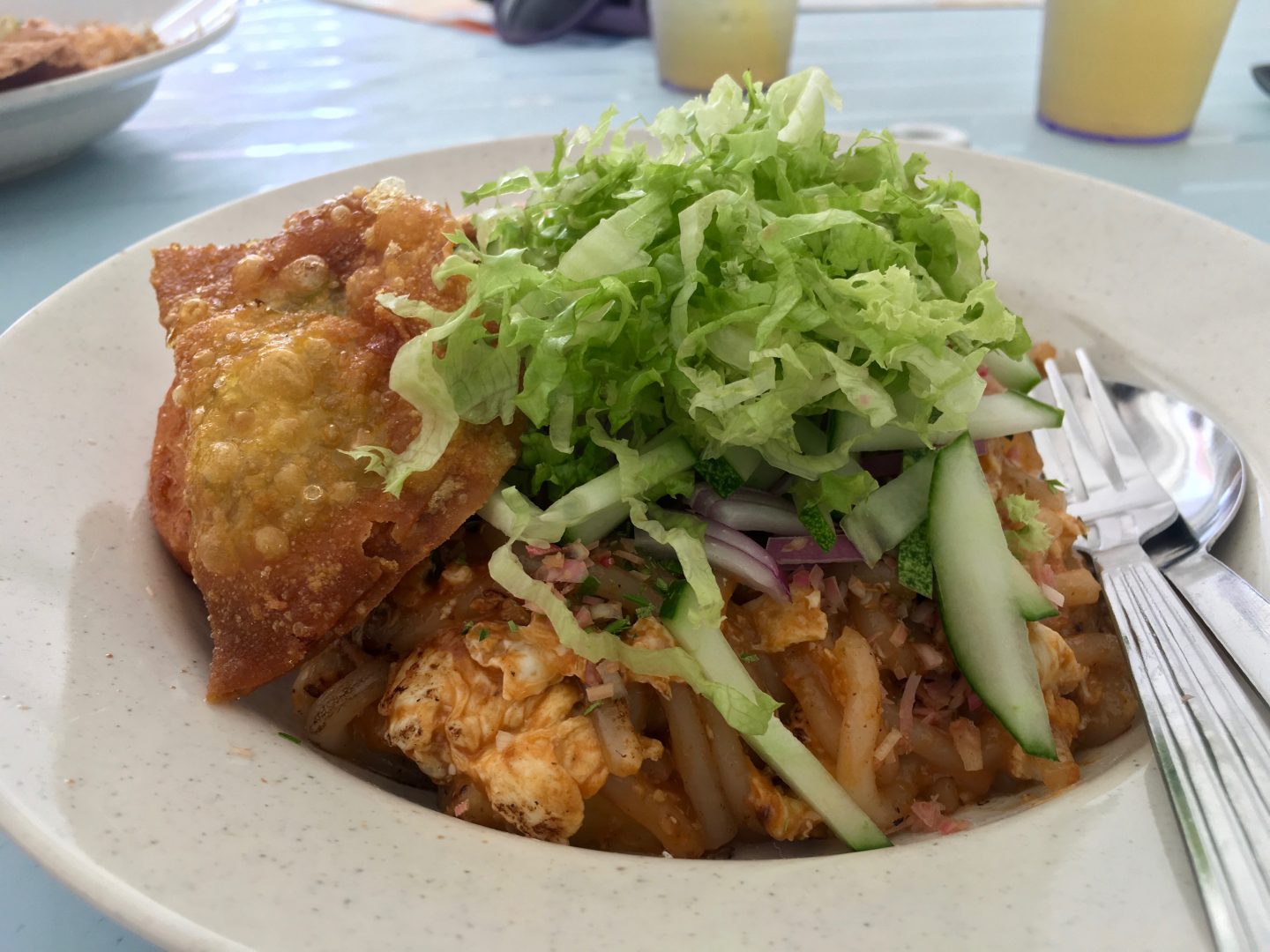 Our flight into Penang was heavily delayed at Kuala Lumpur and we arrived late, hungry and very grumpy. To make things worse, our Uber didn't turn up and the small amount of Malaysian currency we had with us (to buy food with) ended up going on a metered taxi which was double the price of the Uber. By the time we got to the hotel it was close to 10 pm and the streets around us were dark and the shops closed up. Not knowing the area or how safe it was at night, we wandered a little way (getting increasingly fractious with one another) before heading back to the hotel, resigned to a hungry nights sleep.
It was at this point that we spotted the Fried Laksa restaurant near our hotel, just pulling the shutters down. We asked them if there was anywhere to eat nearby and they welcomed us in (despite being about to close) and promised to feed us. We ordered our food, choosing ingredients to have in our laksa from a display and sat down, relieved to be on the brink of food. And then it hit us. We didn't have enough cash!!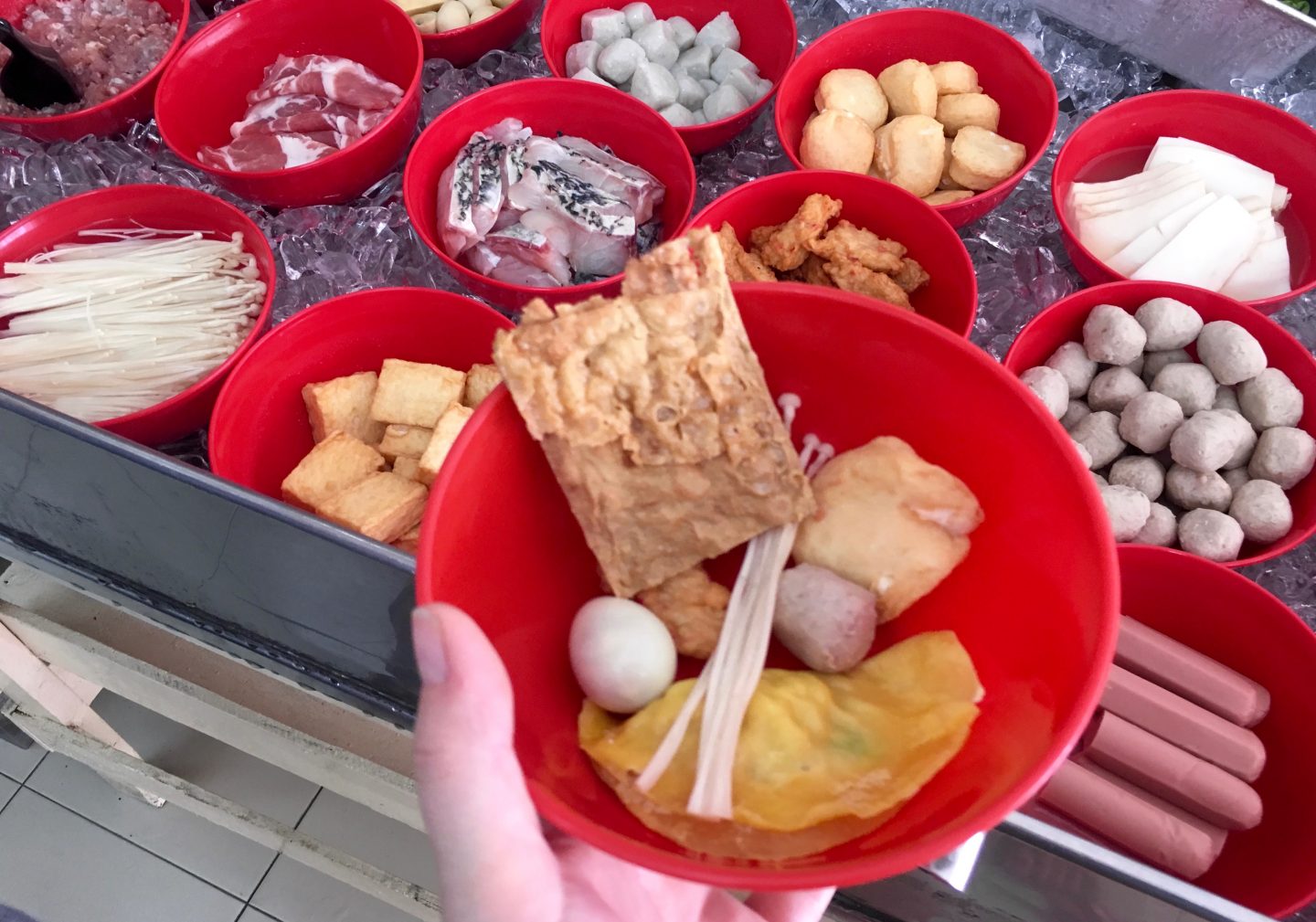 As we explained the embarrassing situation to the waitress, we were convinced that she'd cancel our order and send us packing. She didn't. She brought us a drink told us not to worry and continued with our order. We thanked her profusely and told her we'd bring the extra money the next day. Actually, it turns out that the fried laksa (their own invention) was totally delicious and we went back THREE more times. Firstly through gratitude but following that, because the food was just SO bloody good! Penang really is a foodies paradise but it's not just about the grub, there are plenty of other reasons to visit too, like the architecture in the old town, incredible sunsets and beaches.
The food:
This family run restaurant serves two dishes – fried laksa and tom yam soup. That's it. You can tailor your dish by choosing from an array of ingredients (fish, meat, veggies) and choose your noodle type. Everything is fresh, on-ice and cooked in-house. We tried a few different combos and every one of them was delicious. The fried crispy bean curd, prawns and fish balls were my favourite items!
The Laksa itself is hot and spicy with tangy sour notes. It definitely has the taste of Laksa but in a different way. The noodles are big like udon but chewier and the topping of fresh lettuce, red onion and cucumber perfectly balances the rich flavours. Even if you go crazy and add all the most luxurious ingredients on offer, it's likely to still cost under £2 per portion for a big bowl of deliciousness.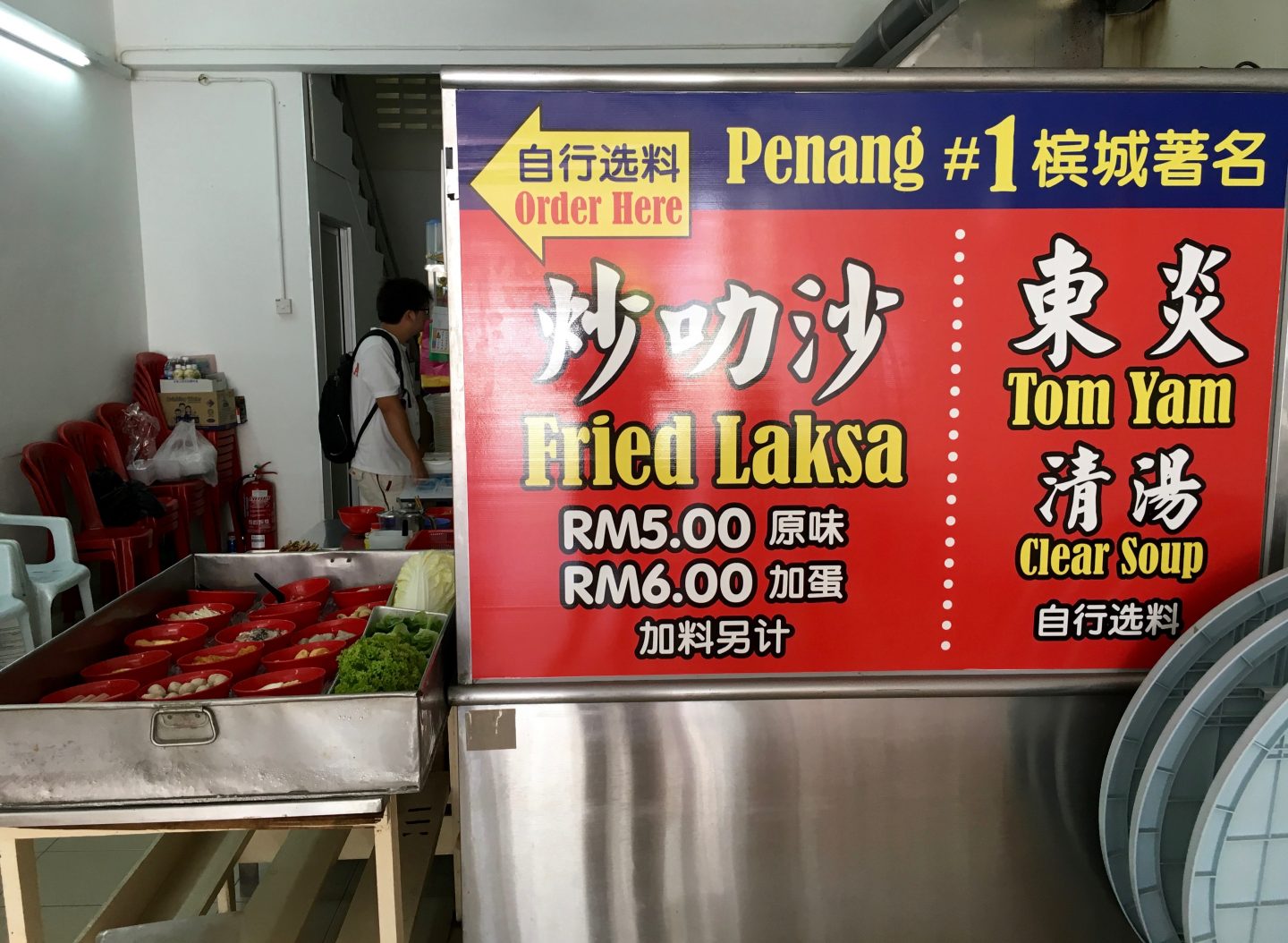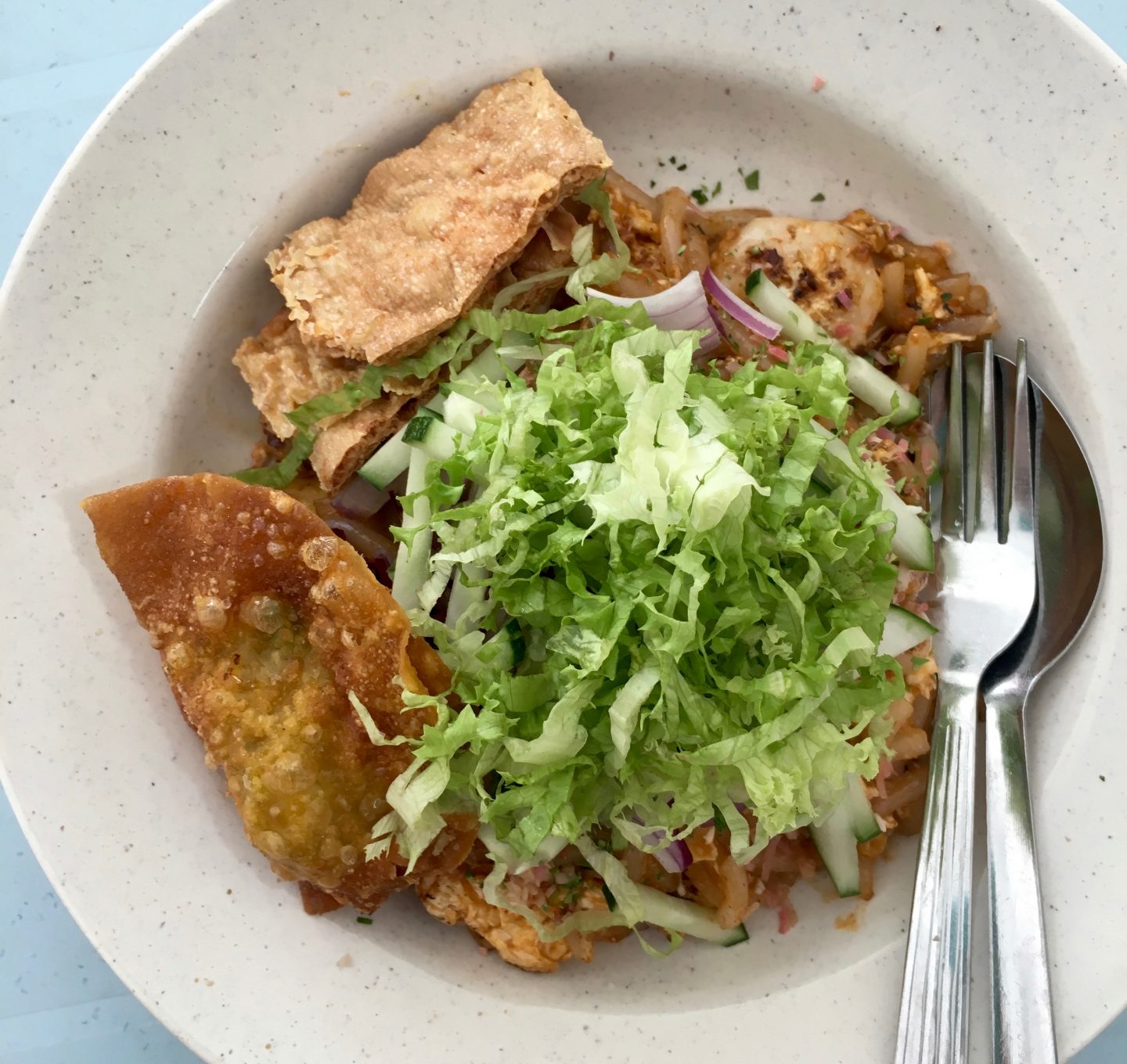 As I mentioned, we also tried the Tom Yam soup. It was really spicy which we loved, and had pork meatballs and greens in it. It also came with fried fish fritters which at first sounds odd, but really worked! I used my chopsticks to dunk them into the soup before eating in one big mouthful!  Whilst you're there, also make sure you order a glass of chrysanthemum tea. Served on ice, its sweet, floral and moreish!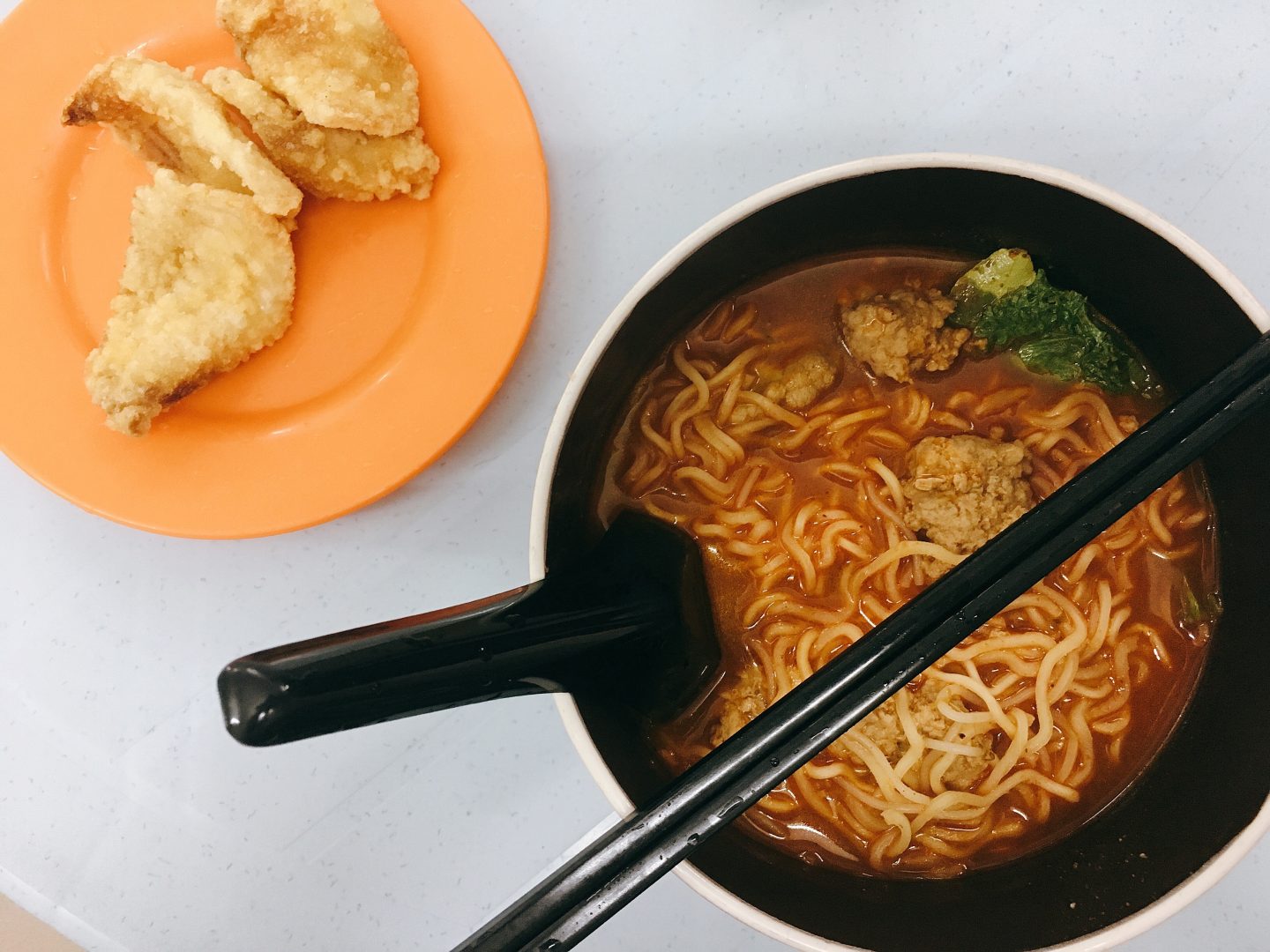 I Demand World Domination for Fried Laksa!
We chatted to the waitress a couple of times about their fried laksa and she explained that the chef (her brother) came up with it as a way of offering something different in such a crowded food scene. We mentioned it to a couple of locals during our stay in Penang and no one has heard of it. Clearly, these guys are the first. And I HOPE that it takes off. Because, whilst it's not traditional, it's bloody delicious. So, if you're in Penang, bookmark this place and make sure you go! It'll be the best £1 you spend!
Although we stumbled onto this place in desperation we returned for the friendly service and excellent food. I really can't thank the waitress enough for her kindness on that first night. I wish them every success in their plans for fried laksa world domination!