It's been a while since I've written a Bristol review. To be honest, a lot of places have been done to death by other bloggers and sometimes wonder if I'm just going to be adding more of the same to an already saturated corner of the internet. That said, until this last week, I'd not eaten out at anywhere new for a while. Choosing instead to cook at home (wherever that may be) or dine at old favourites.
These last few weeks have been all change. I ate at three new places—with varying degrees of success—and the first I want to tell you about is White's Botanicals, a fantastically quirky cafe hidden behind the market on St Nicholas Street.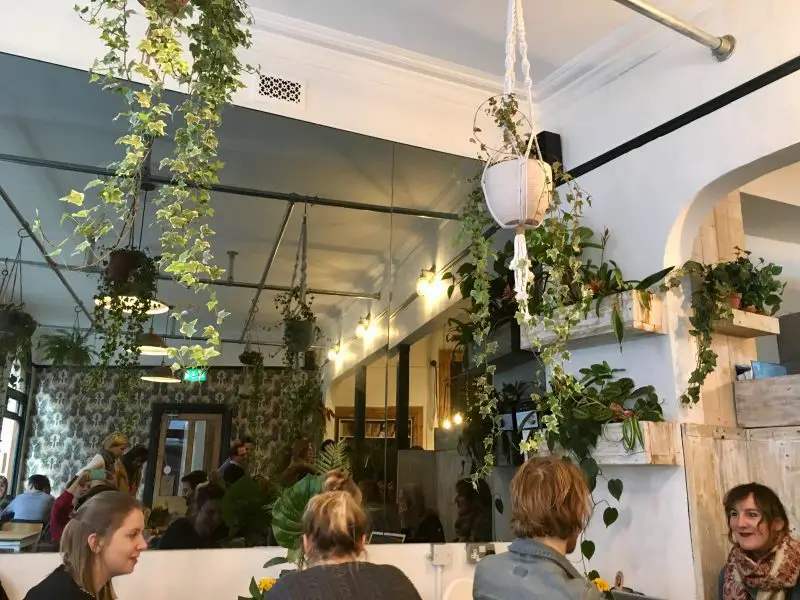 Dave and I popped in for brunch having walked past a few times and never making it in. The Melbourne-esque vibes with lots of wood, bare bulbs and of course, plants, really appeal to my style and fill me with happy memories of living out there last year. It's a gorgeously green, light and airy space!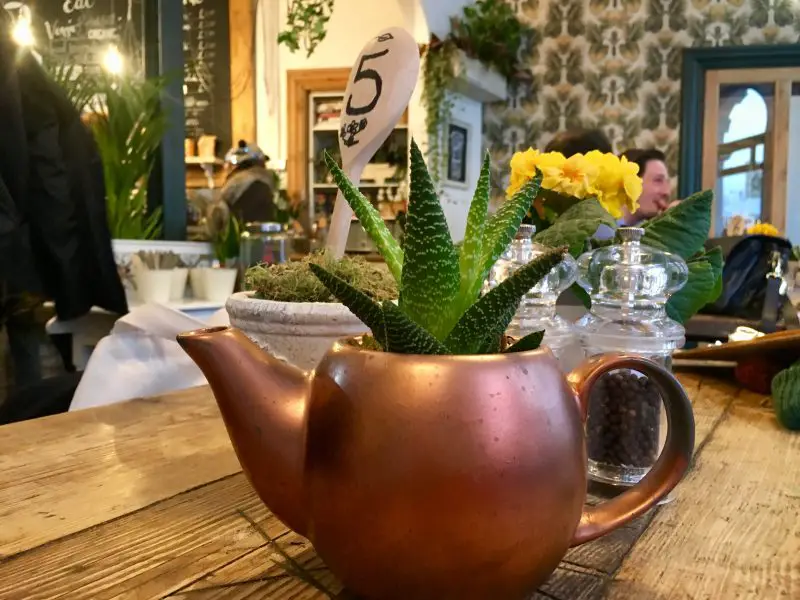 The menu is brunch-focused with dishes like eggs, salad, soup and toasties. There are also lots of veggie and vegan options and their produce is mostly locally and organically sourced. All big ticks for me. I ordered the Moroccan eggs. Two eggs poached in a tomato and cumin sauce with garlic bread and priced at a very reasonable £6.45. The presentation was cute too with a board underneath the brightly patterned bowl (Sainsbury's – I checked underneath!).
As you know, I'm a kale fiend and roasted like this is one of my absolute favourite ways to eat it. The homemade garlic bread was really tasty and perfect for mopping up the spicy tomato sauce. The eggs were well cooked and tasty too. This was a simple but delicious plate of food and I'd definitely order it again.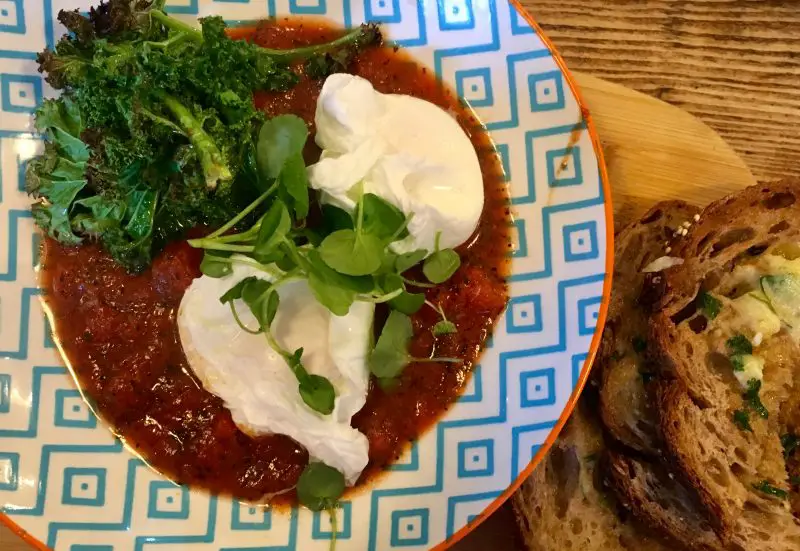 Dave had the poached eggs with avo. Sadly, it arrived looking a bit like your teenage brother had slopped it on the plate. But, dodgy presentation aside, it was another fresh and lovely plate of food. Oh, and that spicy black bean salsa is a great addition alongside the creamy eggs and avocado. I might have to try it at home! Again, the eggs were perfectly poached. I can only apologise for the lack of runny yolk shots!
This dish was also priced at £6.45 which again, I thought this was really great value for money. In fact, our whole lunch came in at under £20 – making it very affordable for a weekday, or weekend, treat!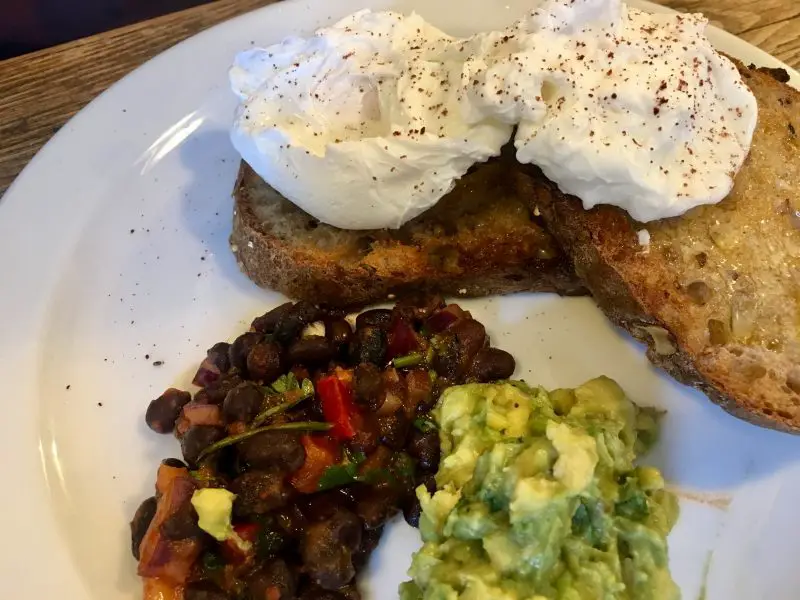 Dave also had a chia seed and blackberry smoothie. Personally, I'm not keen on the texture of chia but he enjoyed it immensely and was able to give himself a healthy pat on the back after consuming it. I had an elderflower cordial which, whilst not as healthy, was very refreshing and cheap as chips.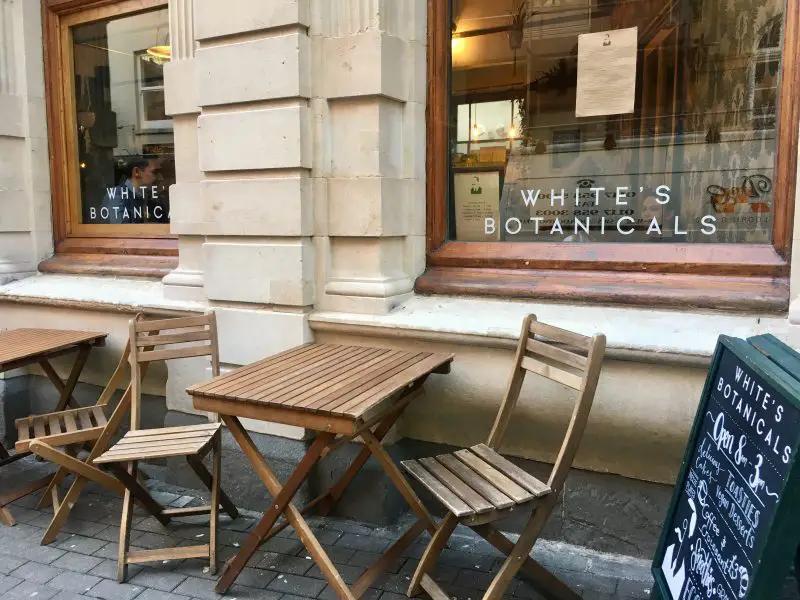 I recommend White's Botanicals for a cheap, tasty brunch or coffee date but if you're going over lunchtime, get there early because when we were there, it was full to bursting! As the kitchen cook everything from scratch this can also slow down food serving times. Not a problem for us as we weren't in a rush, but worth bearing in mind if you're on the clock.
Find them here: 
SaveSave