Last weekend Dave surprised me with lunch at Adelina Yard. It's a small restaurant on Welsh Back in Bristol which features in the Sunday Times top 100 restaurants guide. It's the vision of chefs Jamie Randall and Olivia Barry and they have an impressive CV between them, ticking off Galvin La Chapelle and Murano, Angela Hartnett's Mayfair restaurant. Both have Michelin stars.
Having walked there in the January grizzle (grey drizzle) we were very pleased to arrive to a warm, intimate space overlooking the river with an open kitchen and no more than 10-12 tables in total.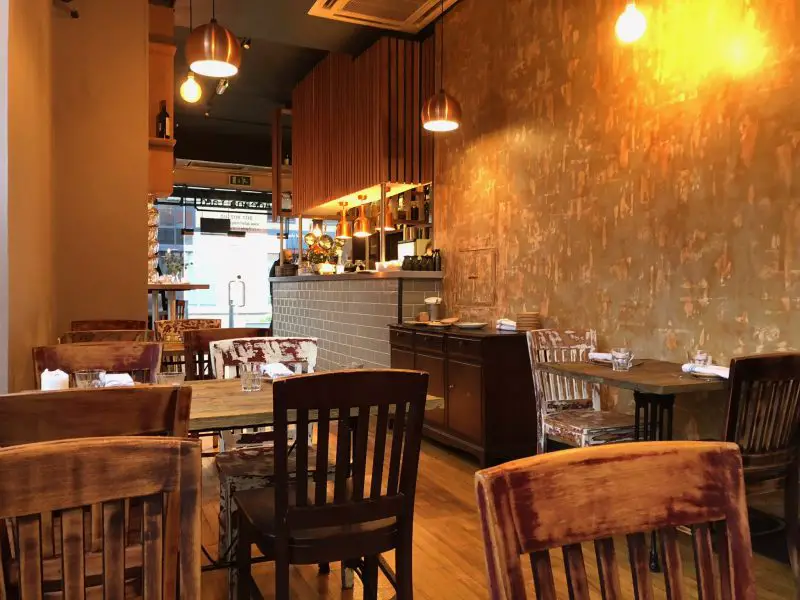 We decided to go for the 7-course tasting menu and honestly, it was worth every penny. The food was presented with flair and precision and each dish was brought to our table in turn by either the waiting staff or a member of the kitchen team. They then explained what it was we'd be eating with clear enthusiasm in their eyes.
Both Dave and I agree that the stand out dish was the raw beef fillet, burrata, yuzu vinegar, buckwheat and smoked ox heart. The ox heart is the shavings you see on the top – dehydrated and smoked before being grated onto the finished dish. Like a form of seasoning. I hope I never forget the taste of that incredibly fresh, creamy burrata against the salty rich flavours of the beef, yuzu and ox heart. A stunning dish.
Dave really enjoyed the deep flavours of the fermented kale, cavatelli, slow cooked egg and goats cheese dish too. It was incredibly rich with a firmness to the hand-rolled cavatelli which is often missing from pasta in restaurants. I enjoyed it too but definitely couldn't eat a lot of it. Perfect for a tasting menu but possibly not a full size main!
We both adored the final course which tested our palettes. Jerusalem artichoke, 80% chocolate, salted caramel, puffed rice came out looking like a bowl of white chocolate mousse but on tasting the dish, we were impressed by the combination of savoury and sweet. Hidden squares of soft Jerusalem artichoke fooled us into thinking they were pear, such was their sweetness against the dark chocolate. A fantastic way to end an incredible meal – leaving just a tiny hole for those petit fours.
Now, rather than talking you through every single dish, I thought I'd instead share these images with you as a kind of pictorial record of the meal! 
This is a wonderful place which is perfect for special occasions. I urge you if you can afford it, to go for the tasting menu. It'll really allow you to get a full understanding of just how talented chefs Jamie Randall and Olivia Barry are!
Our bill came in at just under £160 for a bottle of Verdejo wine and the 7-course tasting menu for two. A 10% service tip was included. Worth every penny.
Find Adelina Yard here: