Did you know I have a phobia of boats? I think it started with Titanic. The thought of losing Leo to a watery grave was all too much for my young heart to take in 1997 and I've panicked on boat trips ever since. As you can imagine, this means that to me, the RNLI offer a valuable service, saving people from the absolute worst situation imaginable every single week around our coastline.
On another note, I did my first Farmdrop online shop last week. They take "farm to fork eating to a whole new level because your choices are harvested, fished, picked or baked from fresh to order and delivered to you within just 19 hours. Quite something when you think that on average, items on sale in the supermarkets are 5 days old. I've tried and been impressed with a number of local delivery and online shopping schemes offering the customer a way to bypass the big man and shop more closely to home. Fresh Range and Good Sixty rank highly for me on this but, with their commitment to ensuring more of your money goes to the producer – (75% of the retail value in fact) Farmdrop just jumped to my number 1 spot!
Anyway, I digress. Back to the RNLI: 
October 13-15 is RNLI Fish Supper weekend. They are encouraging people to host a fish supper to raise money for their lifesaving work. The RNLI relies on its network of volunteers to save people in trouble at sea every single day. In fact, in 2016, their lifeboats saved 8,643 people, that's an average of 23 a day.
I noticed that Farmdrop is supporting the RNLI Fish Supper with a special fish pie bundle. <– Buy it and 20% of the price will be donated to RNLI. I grabbed one as part of my order so that I could make their fish pie recipe with it and tell you all about this worthy cause. Good aren't I?
The quality of ingredients I have to say was just stunning. The fish came from Sole of Discretion, an ethical fishing company based in Plymouth, not too far away. Paired with herbs, potatoes and veggies from Reg the Veg in Clifton and organic milk and butter from Somerset, I knew this fish pie was going to be a good'un!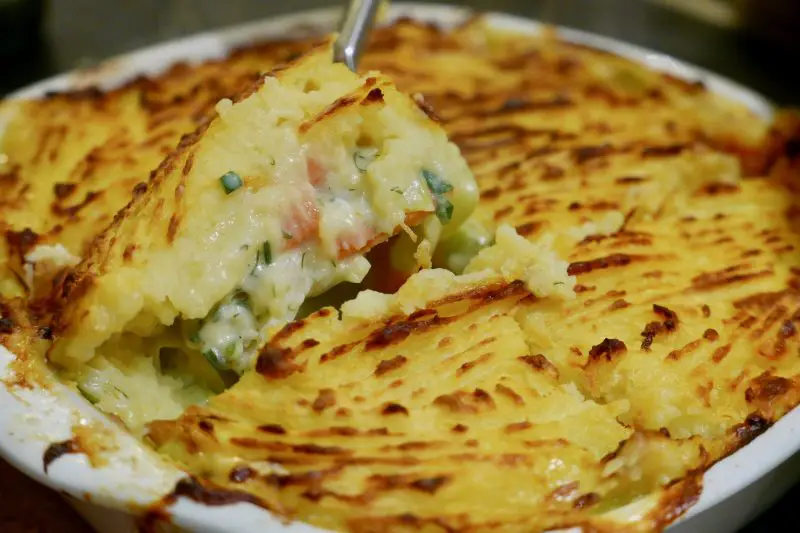 Farmdrop's ultimate classic fish pie:
See the original recipe here.
Ingredients (serves 4): 
1kg potatoes
550ml milk
4 tbsp salted butter
1 leek, peeled & chopped
2 carrots, peeled & chopped
2 tbsp chives, chopped
375g-500g fish pie mix
2 tbsp plain flour
2 tbsp dill, chopped
100ml glass of white wine (optional)

Method: 
Preheat the oven to 200°C. Peel and quarter the potatoes, pop in a saucepan and cover with cold salted water. Bring to the boil and cook for 10-15 minutes until soft.
Drain and mash the potatoes with 1 tbsp butter, a splash of milk and more salt and pepper.
Sweat the leek and carrots in 1 tbsp butter and a dash of plain oil for 4-5 minutes until the leeks begin to turn translucent.
Add the remaining tbsp of butter and sprinkle over the flour. Stir on a medium heat for 30 seconds to cook off the flour and form a paste.
Pour in a little milk (or the white wine, if using) and stir to loosen the paste. Continue to add the milk bit-by-bit, stirring constantly to ensure the sauce stays lump-free and glossy.
Once all the milk has been added, stir in the chopped herbs and a little salt and pepper.
Scatter the fish chunks in a large baking dish and pour over the sauce. Spoon the mash on top and spread evenly to cover all the fish. Dot the top with the remaining butter then
use a fork to create a swirl pattern on top.
Bake in the oven for around 30-45 minutes, or until crisp and golden on top. Let stand for 10 minutes before you tuck in.
Chef's tip: For a wonderfully rich, golden topping, brush top of the mash with a whisked egg yolk before creating a swirling pattern with a fork.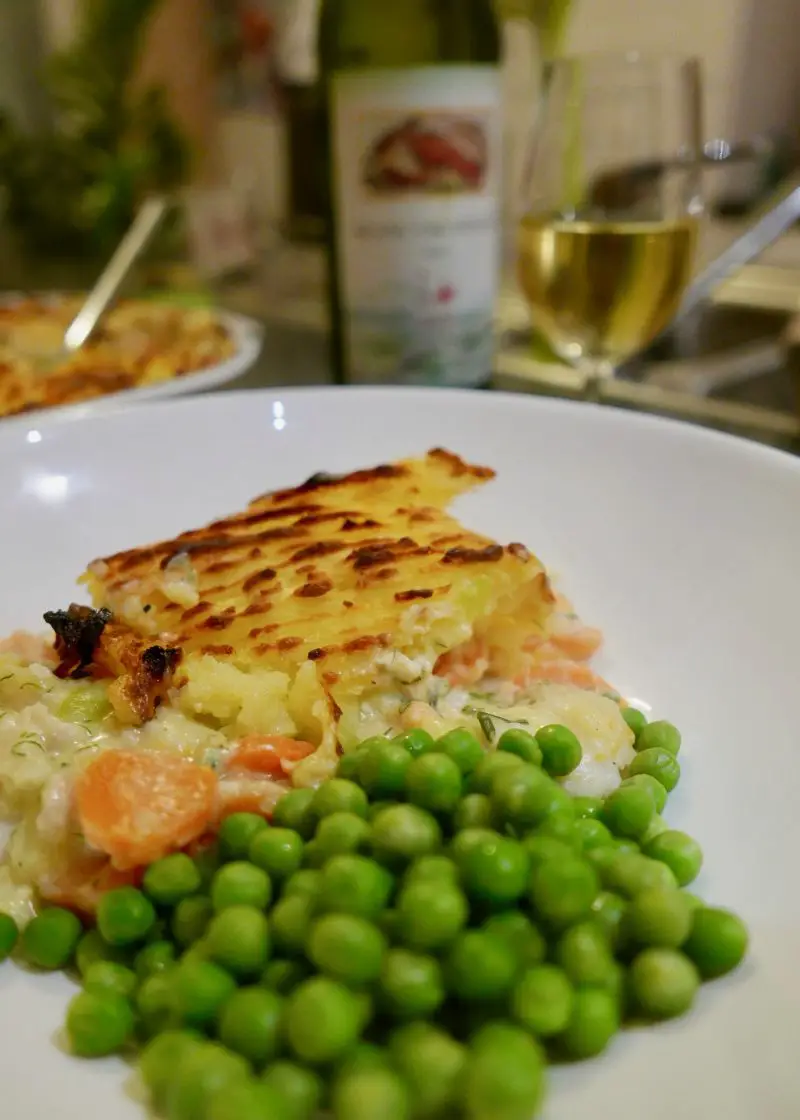 The rest of my Farmdrop order was just as great. I had Lovett's pies (my fave), organic beef from Blagdon Butchers and a small veg box from Purton House Organics (is there anything better than scrubbing mud off your spuds?), plus eggs and milk. Everything was fresh, in perfect condition and tasty.
If you want to try Farmdrop for yourself (sorry, only for folks in London and Bristol so far) click here for a £30 credit, to pay for up to 25% of your shop! Enjoy!