A few weeks ago we went out for dinner knowing only one thing. The menu. We would be dining with strangers and eating in a strangers home. We were attending a supper club. Have you ever been to one?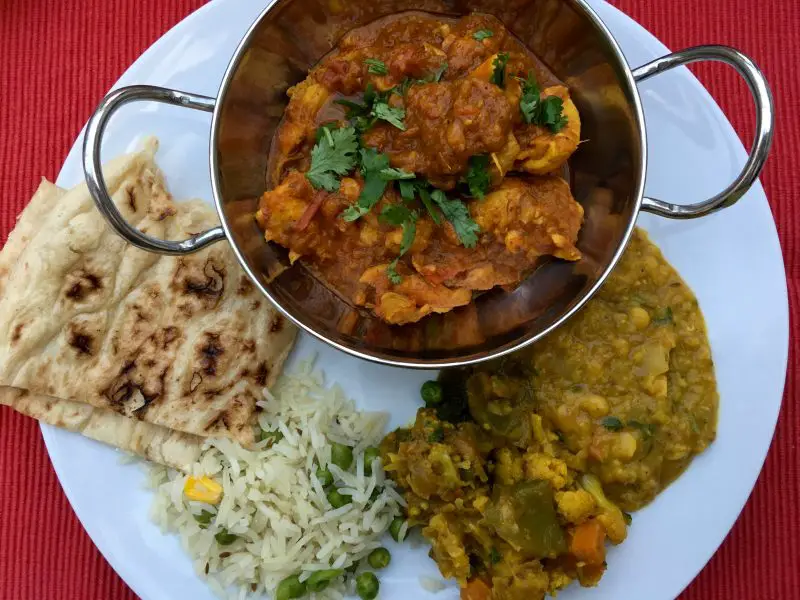 I've been to a supper club once, a few years ago (read about it here) and loved it. Dining in someones home and eating their food in the company of strangers is a way of trying new food, meeting new people and experiencing something totally different. That said, even though I've been to a supper club before, I will admit that I had a pang of nerves as we arrived on the doorstep.
The very nature of a supper club is that its low key. This means that they are often advertised by word of mouth and through social media making them hard to find out about. We were invited to this one through WeFiFo (we find food) and they've solved all those issues! Their website is designed to connect supper club hosts and diners and there are events listed all over the UK and Europe ranging from a goat feast in the woods to BBQs six course tasting menus in peoples lounges and Ghanian cookery classes. You can easily search by location and book through the website. It's pretty snazzy! I was well impressed!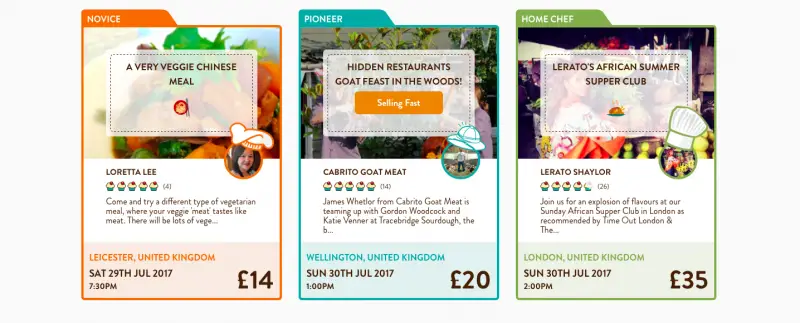 For my first WeFiFo experience, I chose to attend a supper club here in Bristol. Hosted by the hugely talented Geeta, we enjoyed a delicious three-course Indian feast! As soon as she opened her front door, we felt welcomed and at home. We sat down with her and had a quick chat before the doorbell rang and the next guest arrived. Before heading to the table, we all scoffed a couple of delicious homemade vegetable samosas.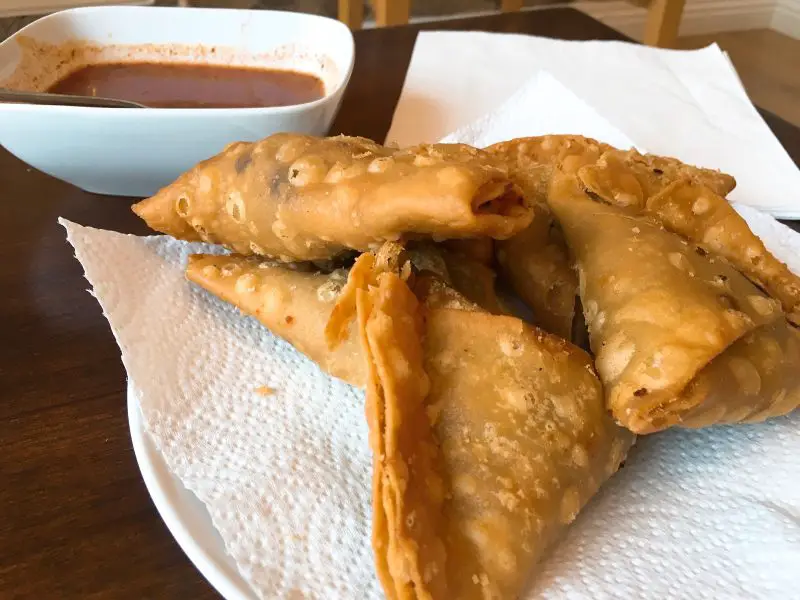 As a couple of guests had dropped out, Geeta joined us for the meal. It was great to be able to chat with her about the food she'd cooked and her family's Punjabi heritage. Her husband Baz was on waiter service and did a fine job bringing us our beers and soft drinks from the kitchen.
To start we ate spiced chicken tikka with mint raita and aloo and sabzi tikka with imli chutney. The chicken was incredibly moist and full of flavour. Geeta told us that she'd marinated it the day before so it had been soaking up all the flavours over night. The aloo and sabzi tikka was a type of potato and spiced vegetable fritter and again, was totally delicious. The spicy tamarind sauce (imli) was perfect too and helped cut through the potato. I'd struggle to pick a favourite between them, to be honest.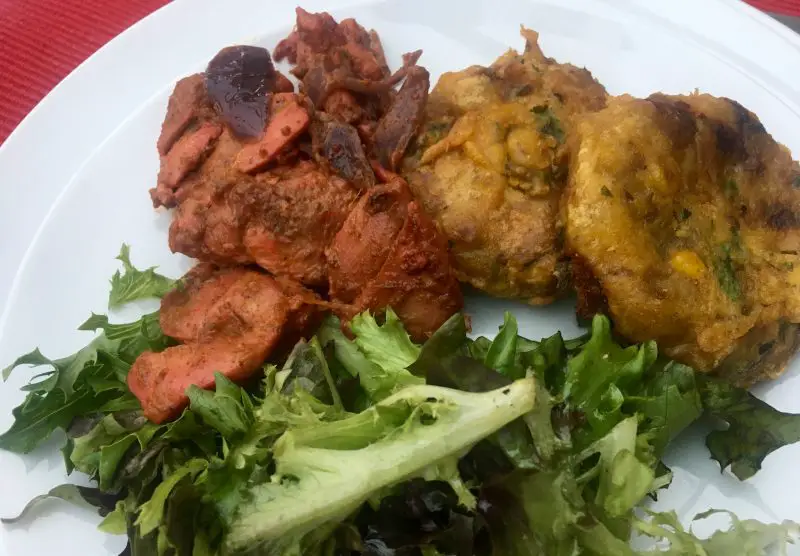 For our mains, Geeta placed the food in bowls along the centre of the table so that we could each serve ourselves. We had Kadai chicken (chicken cooked in a rich tomato and onion sauce), Tarka dhal with caramelised onions, mixed vegetable sabzi (peppers, tomato and crushed coriander curry) and Punjabi chawal (basmati rice spiced with onion, jeera and peas). There was also the most incredible naan I've ever eaten (no jokes). It was so soft and buttery, I was sneaking pieces long after I was full up!
Before we tucked in, Geeta told us a bit about the type of food cooked in the Punjabi region of India. Just like other places around the world, Indian cuisine is heavily regionalised and is influenced by the surrounding landscapes and what can grow. The Punjab region is sometimes known as the 'bread basket of the world' because the soil there is particularly great for growing wheat and rice. Also, plenty of vegetables and potatoes. You wouldn't however, expect to see fish and coconut curries here, they are more commonly found in the south of the country around Kerala.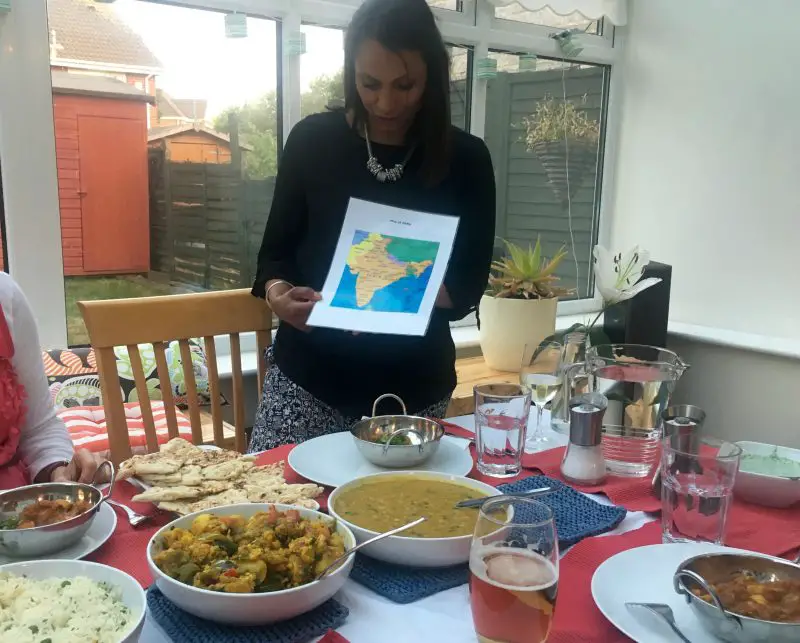 Anyway, back to Geeta's food. Everything was delicious.
The Kadai chicken was stunningly good, rich, full of flavour and with a good spice level to it. It worked perfectly with the Tarka dhal which was creamy and quite subtle in its flavour. The vegetable curry was full of potatoes, peppers and cauliflower and the rice, spiked with peas, sweetcorn and cumin, was perfect for mopping up all the dhal and chicken sauce. As we ate we enjoyed chatting to Geeta and Susan, the other guest. It was a novel and very pleasant experience!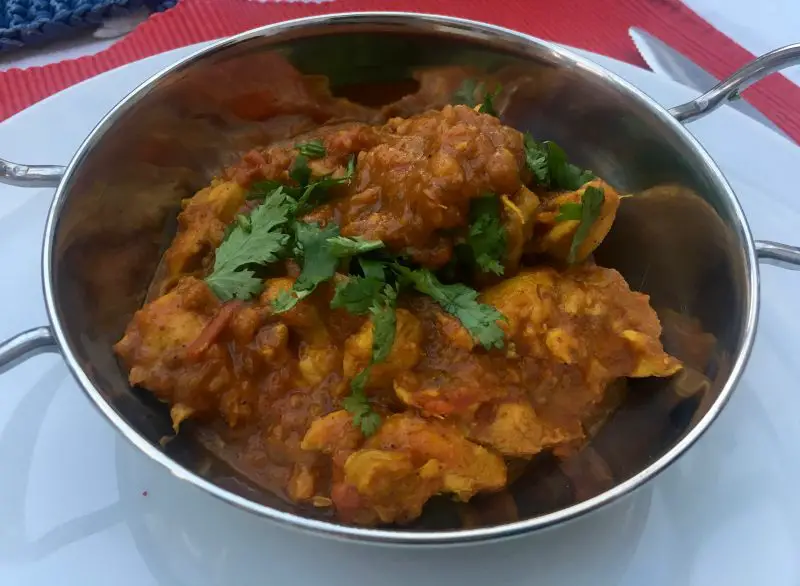 I have no idea how we managed dessert but we did! I had Gulab jamun which is a spongy milk dumping soaked in sugar syrup and pistachios. It was served with vanilla ice cream and I loved it! It was like nothing I've ever had before and I'll definitely look out for it in the future. Dave had a chocolate and nut brownie served with a cardamom infused ice cream. I can't tell you how it tasted as he didn't share! I assume that means it was epic!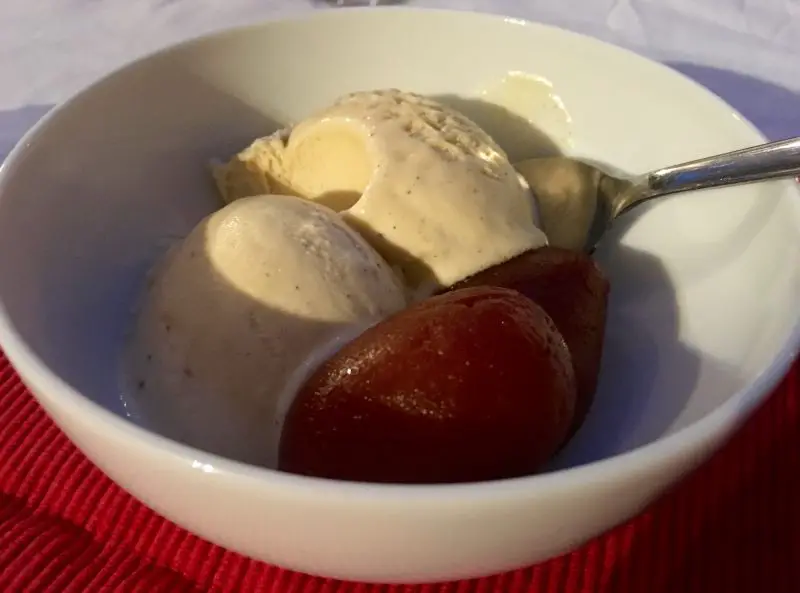 So, now that you've read this, do you fancy attending a supper club? It can be nerve-wracking, to begin with, but if you stick to an organised platform like WeFiFo you'll be fine! The hosts have been checked ahead of time and everything is done properly. So, other than perhaps not getting along with the other guests, there isn't much to go wrong!
We were invited by WeFiFo to attend a supper club of our choosing. I wasn't expected to write a review of my experience and as always my opinions are all my own.