Singapore is full of hawker centres and both before and during our recent trip to Singapore, we were recommended more than one to try. In a city where eating and drinking is expensive, hawker centres give a real opportunity to try local cuisine without breaking the bank!
The first one we visited was Maxwell Road Food Centre in Chinatown. It was a humid, wet afternoon and we were pleased to step out of the drizzle and into the cooled area beneath. I'm a massive fan of street food and we'd been blown away by the what we'd eaten and experienced in Penang, Malaysia so my hopes were high.
After trying a few things from different traders (more of which later), we chose to finish our meal at China Street Fritters, a family business which has been at Maxwell Road hawker centre since it opened. This is a traditional Ngor Hiang stall of Chinese origin selling various handmade fritters. We ordered the plate of all seven fritters available (a little taste of each item served with fresh cucumber and two dipping sauces and sat down to eat.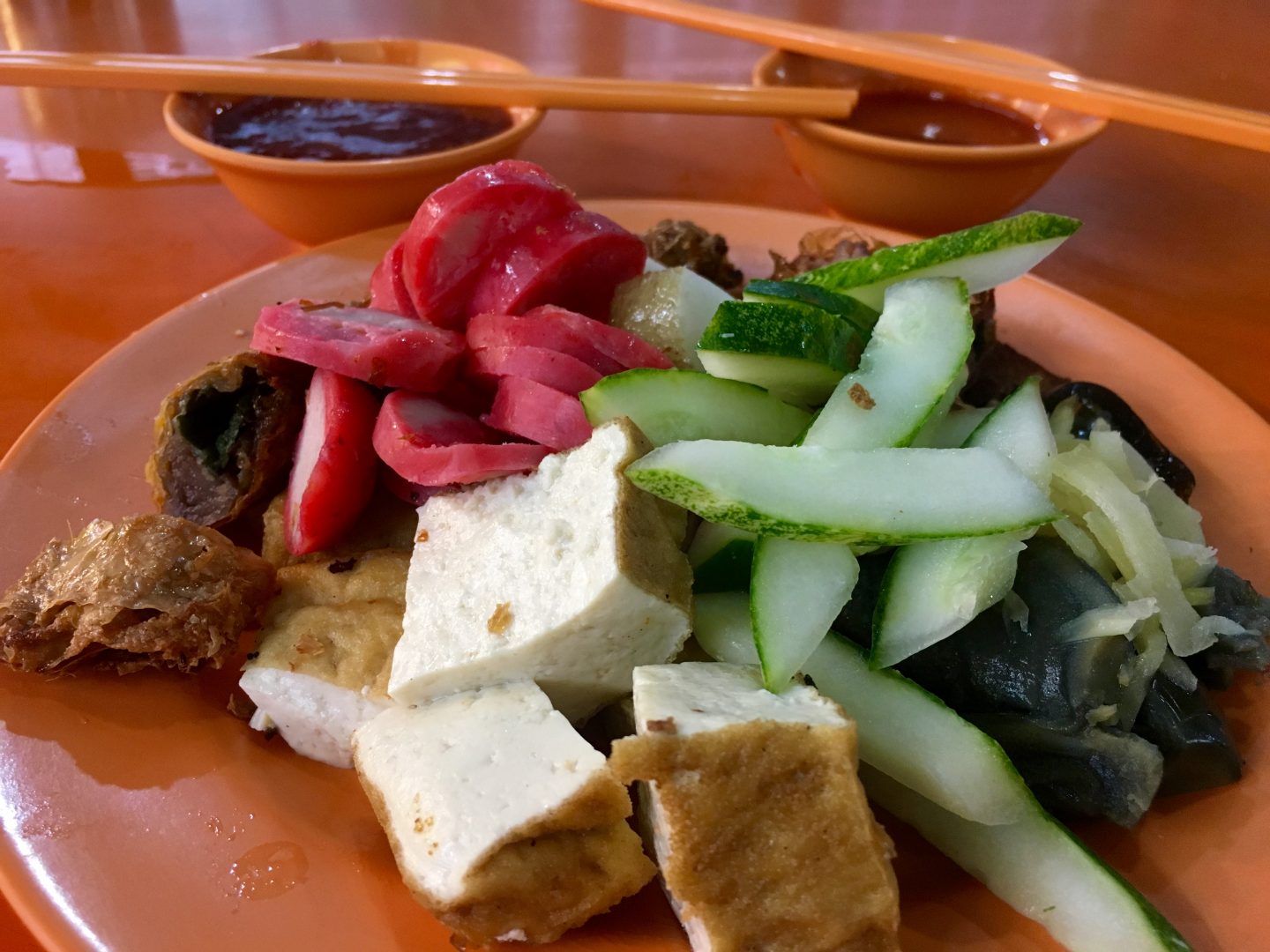 This piled high plate cost around S$7 and included the following items:
Fried fish balls
A century egg
Ter Kwa Tng (fried liver roll)
Guang Chiang (fried Chinese sausage)
Fried bean curd
Ngor Hiang (five spice meat roll)
Fried egg slice
I love trying new foods (however unusual) and this plate really tested my western palette. The century egg was probably the most unusual item on the plate. You might have heard it referred to as 100-year-old egg and preserved egg too. Basically, it's an egg (in this case, chicken) which has been preserved in a clay, ash and salt mix. The preserving stage can last anything from a few weeks to several months. The yolk changes colour from yellow to dark green and the white turns to a brown see-through jelly. The whole thing together is creamy and slightly salty. Personally, I wasn't keen but Dave loved it.
The fried liver sausage, however, was totally delicious, with a crispy outer and soft meaty centre. I also loved the bean curd with its crispy skin, especially when dipped into the chilli sauce. There was another sauce present which we weren't able to identify. It had a slight irony flavour. This makes me believe it was offal or blood based but our companion just said it contained 'some ingredients'! Maybe best not to know!!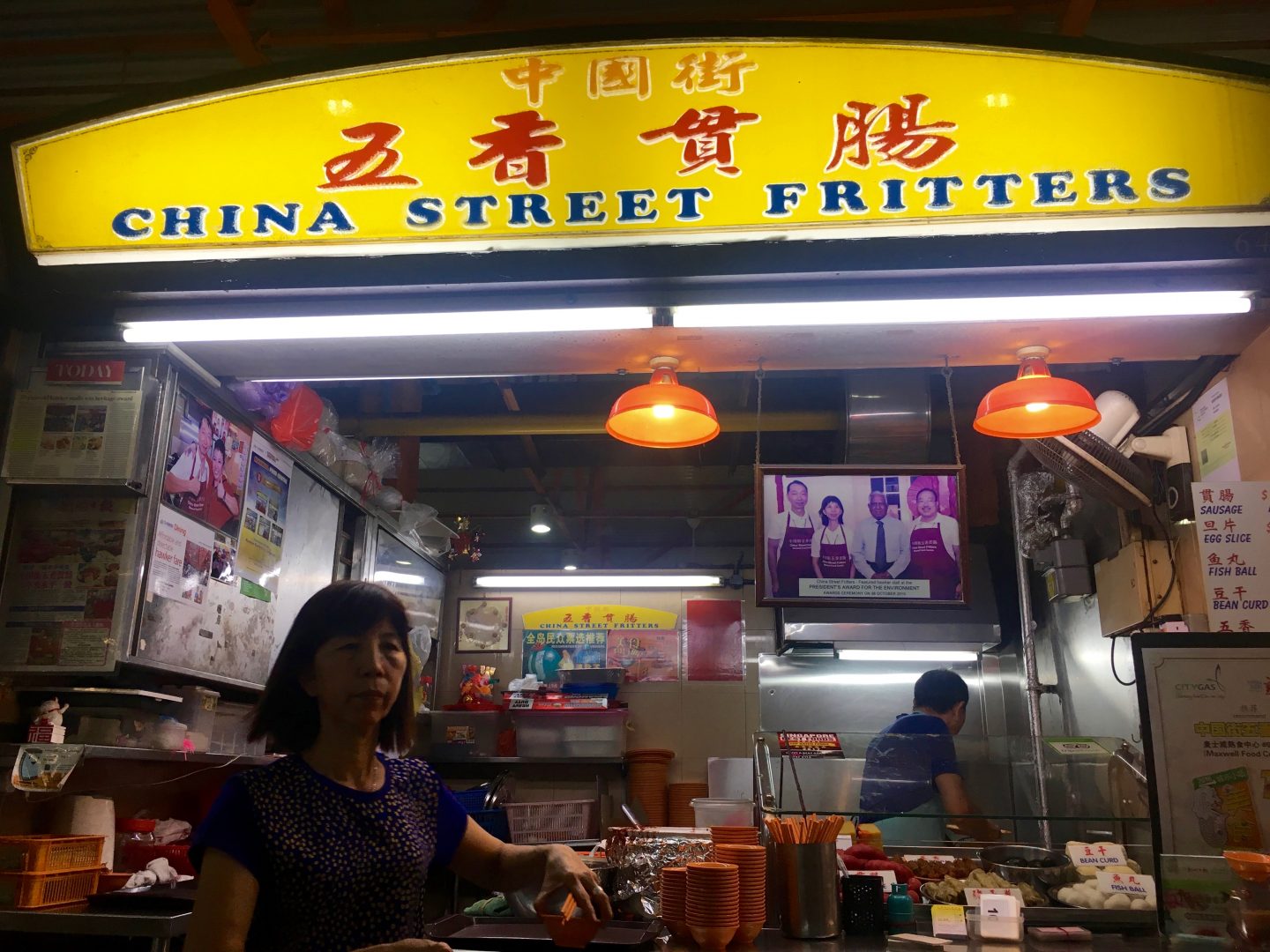 Whilst we were eating, we were really lucky to be able to sit and chat with one of the three owners of China Street Fritters. He told us a lot about Singapore and the history of hawkers. A trade which his family has had for generations. He was extremely proud of his city and all that has been achieved there since independence from Malaysia in 1965. At times his enthusiasm was perhaps a little much. Erring into almost cultish devotion (especially given Singapore is effectively a one-party state with a strict penal system which includes the death penalty for relatively minor infractions).
That said, there are things on which he is right to be proud. Singapore is a clean, modern city with filtered drinking water, extensive green areas and some of the world's most impressive architecture. Not to mention its rapid growth both physically (through land reclamation) and as a key financial player in the world markets, despite starting out with few natural resources or arable land.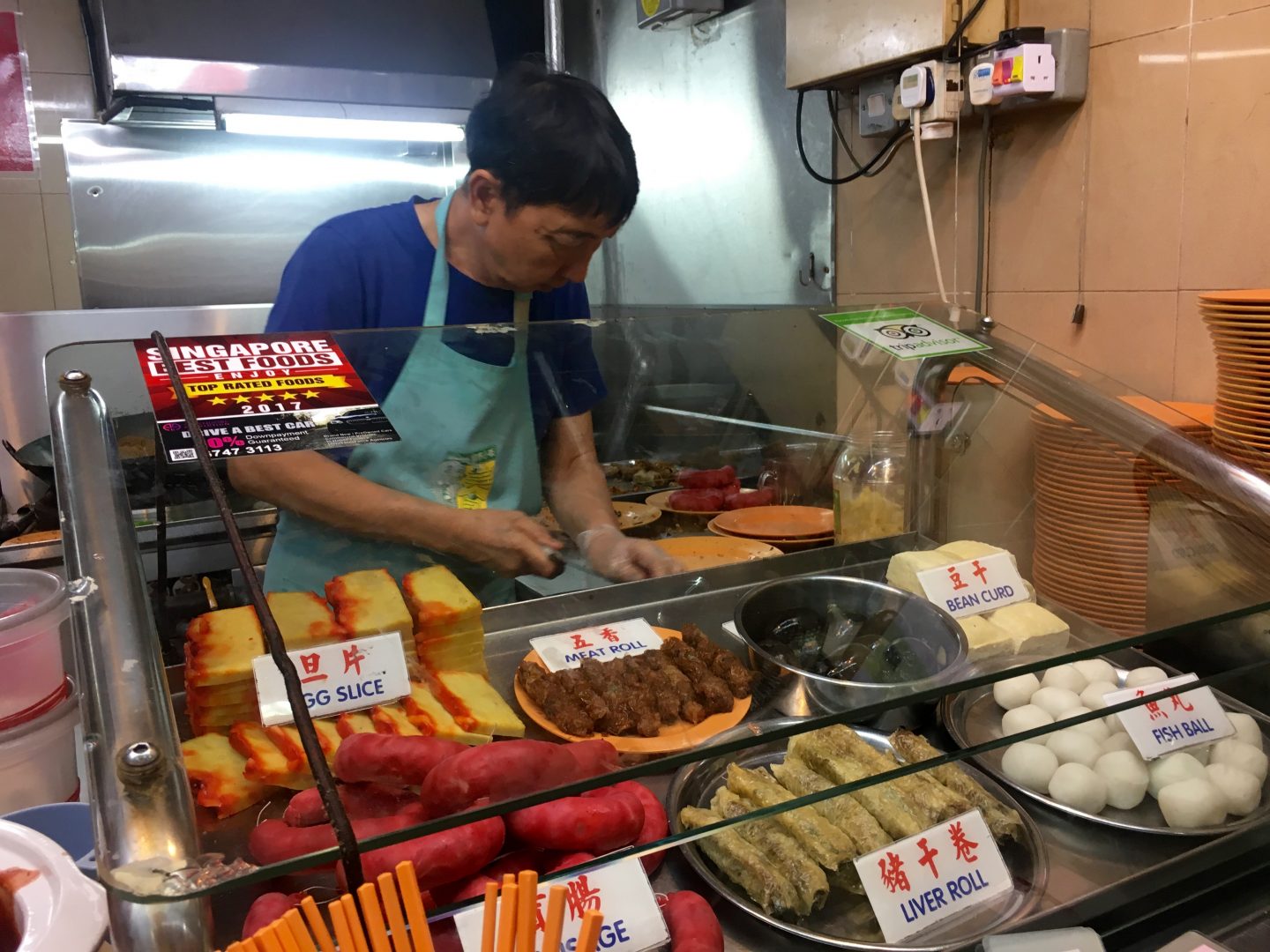 He gave us a lot of info on Hawker Centres and their history in Singapore too. They began popping up in the 1970's as a way of clearing food traders from the streets and have helped raise levels of food hygiene dramatically. Whilst these places still probably don't comply with strict health and safety regulations in the UK, they are a huge jump up from some of the stalls we saw in Bali and Malaysia. Hawker Centres are all over Singapore and Malaysia and are usually quite basic open sided buildings lined with permanent stalls selling all sorts of cuisine. There are communal tables and wash areas, places to stack your trays and usually toilets too.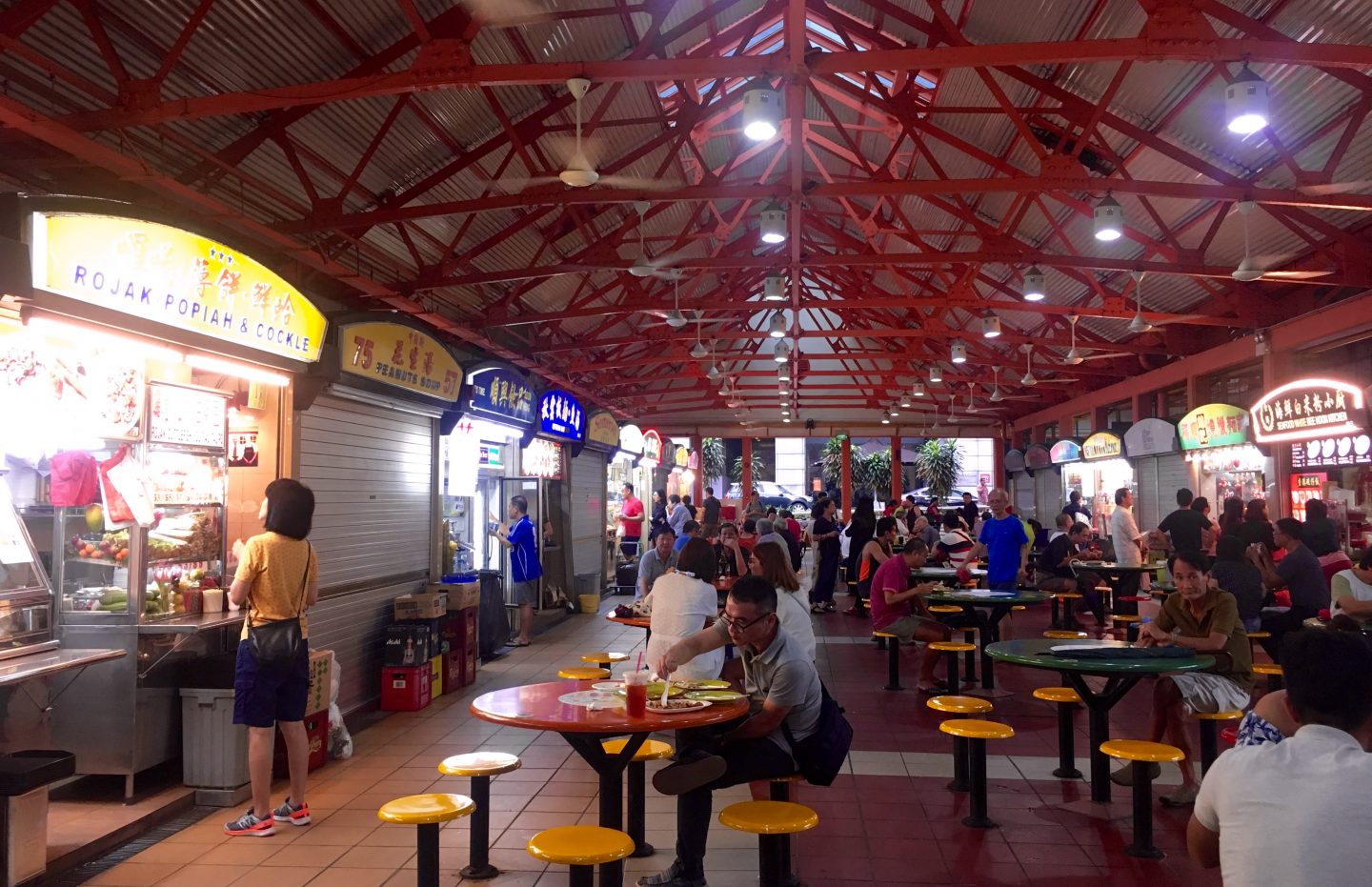 This insight into Hawker Centres was really interesting. I've since read about the negatives though. They can be expensive and pitches hard to come by. OK for traders like China Street Fritters who've been there since the beginning but hard for new traders to get a foothold. I did really enjoy seeing the mix of tourists and locals eating in one space though. We visited more touristy hawker centres (like Lau Pa Sat for example) which did not have the same feel.
So, you want the noisy, authentic hawker centre experience in Singapore? My advice is to head to Maxwell Road Food Centre. It's open daily from 1 pm – 3 am and is easy to get to from Chinatown.
1 Kadayanallur Street, Singapore 069184
What is the most unusual thing you've eaten in a hawker centre? Have you tried a century egg? Even better, have you been to Maxwell Road Food Centre? I'd love to know what you ate there and whether you tried China Street Fritters! Share your comments below!