There's something so good about a homemade arrabbiata sauce. It's so versatile but I think the best way to eat it is with pasta. However, it can be expensive and time-consuming though so it's no wonder that most of us end up using tinned tomatoes.
We're housesitting at the moment and in the garden here there are three big tomato plants which are still fruiting! Last week I gathered up this motley collection some of which was on the turn and decided to put the effort in and make some tomato sauce. Such a great way of utilising a glut of toms!
Arrabbiata is like Italian tomato sauce on steroids. A rich garlicky sauce which is laced with chilli, it peps up any midweek meal and works well with smokey bacon, chicken or in this case, roasted vegetables.  Traditionally, arrabbiata is served with penne pasta and uses basil but I chose to use the herbs we have here in the garden and served it with fusilli simply because that's what we have in!
Ingredients (serves 4) 
Sauce:
600g fresh tomatoes
2 cloves garlic, crushed or finely sliced
1 fresh chilli  deseeded and finely sliced
1 onion finely diced
Small handful of garden herbs finely sliced – I used sage, oregano & thyme
Salt & pepper

Vegetables:
1 courgette
1 red pepper
1 onion
2 carrots
Olive oil
Salt & pepper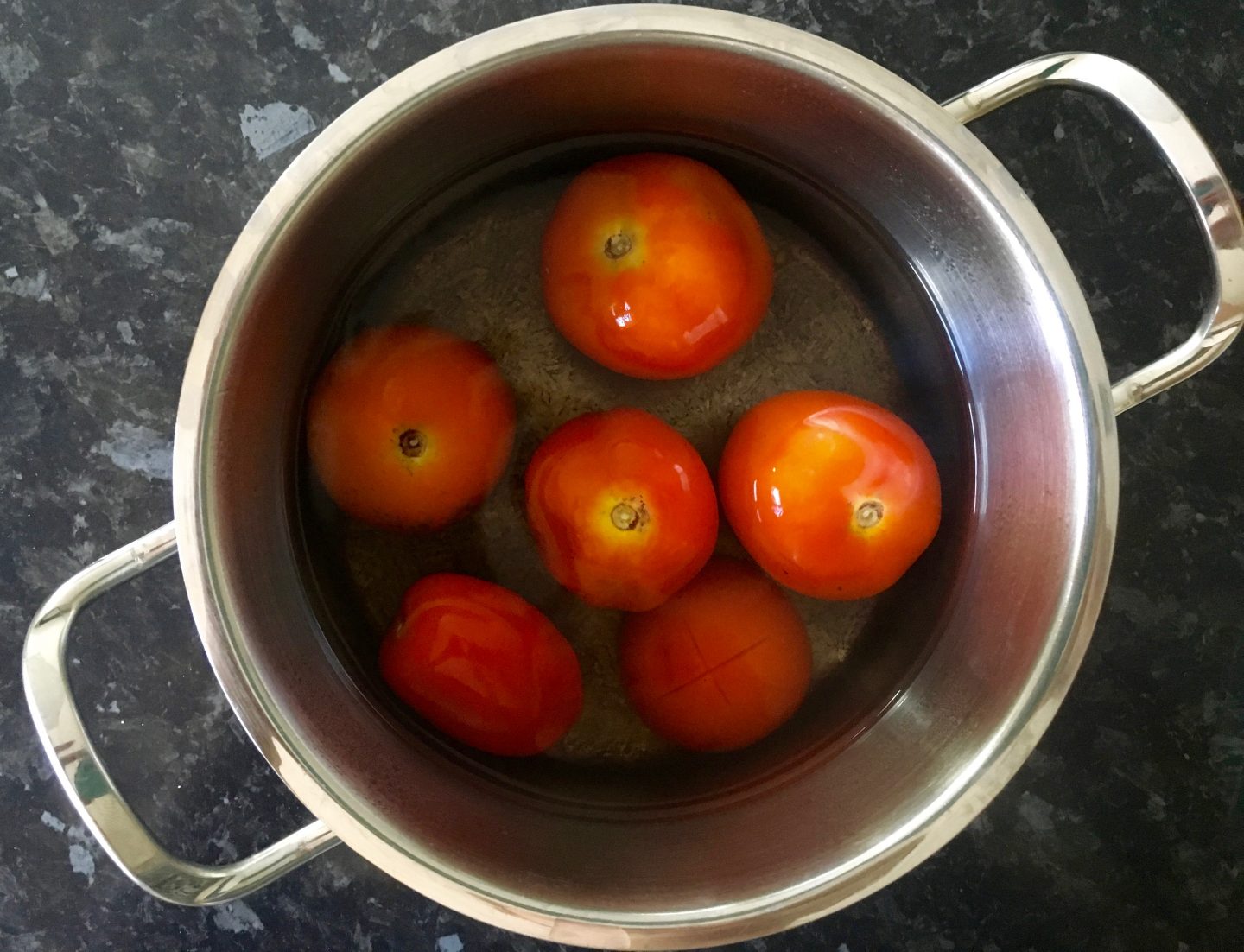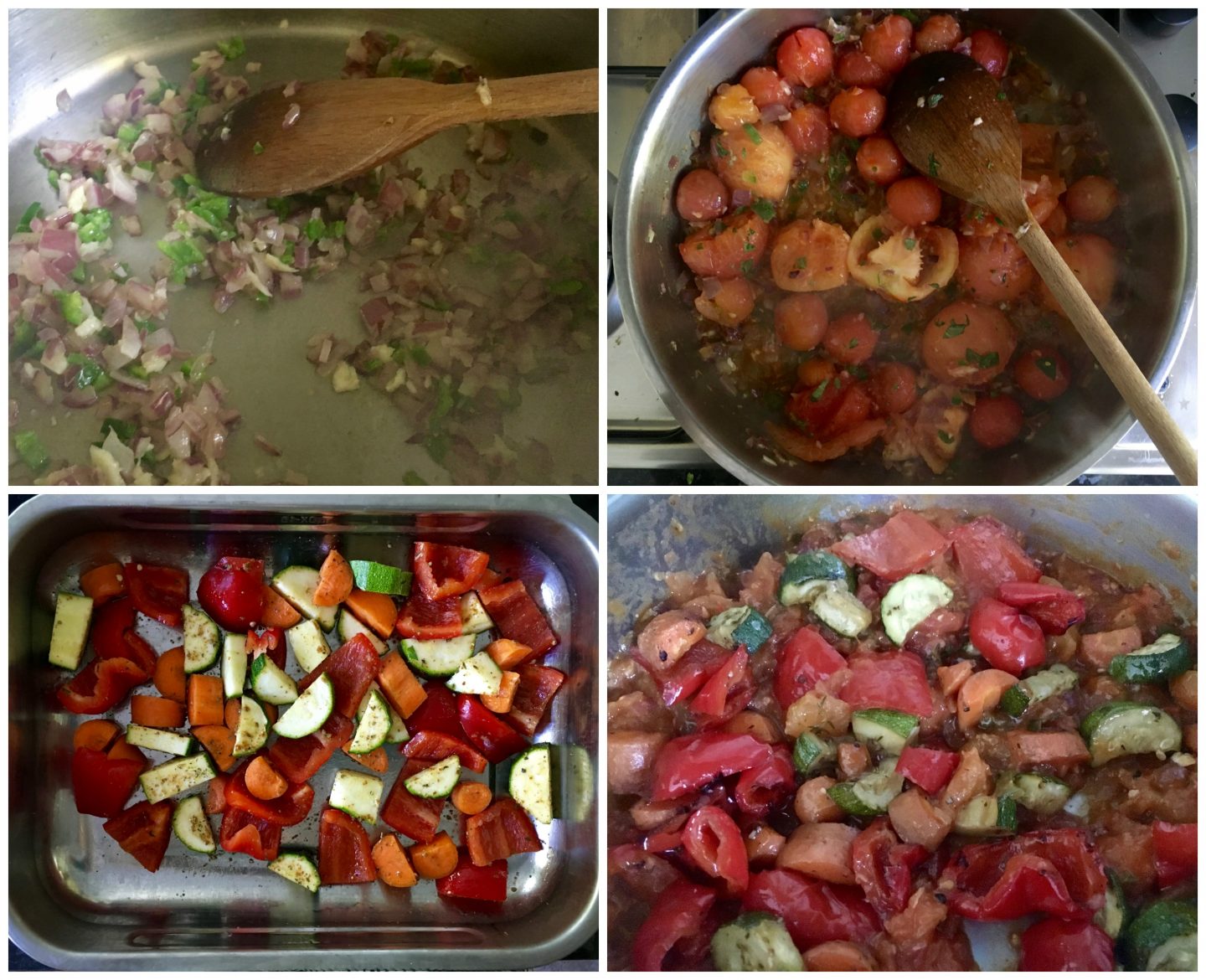 Method: 

Sauce:
Cut a cross into the bottom of each tomato and drop into a bowl or saucepan of boiling water.
After a minute or two, the skins will begin to peel. Take the tomatoes out of the water and peel off and discard the skins.
Dice the peeled tomatoes and leave to one side.
Fry the onion in a little olive oil on a medium heat for around 5 minutes (or until soft) and then add garlic and chillies and cook for a further 5 minutes.
Add the tomatoes and garden herbs and stir through.
Allow the tomatoes to cook on a low-medium heat for 15-20 minutes until they've broken down and are very soft, adding a dash of water if needed.
Season to taste.
At this point, the tomato sauce can be turned off and reheated for serving or left on a very low light. If left to cook, keep an eye on it in case you need to add a dash of water. 

Vegetables:
For the vegetables, preheat the oven to 200c / 180 fan/gas 6.
Peel the carrots and onion and deseed the pepper.
Cut all the vegetables into equal-size chunks and put into a baking tray.
Drizzle with olive oil and season with salt and pepper.
Roast in the oven for around 20 minutes or until the veggies have a slight char and the carrots are soft.
Stir into the arrabbiata sauce and add cooked pasta. Mix through and serve with a sprinkle of parmesan.
And that's it… phew… worth the effort. Enjoy!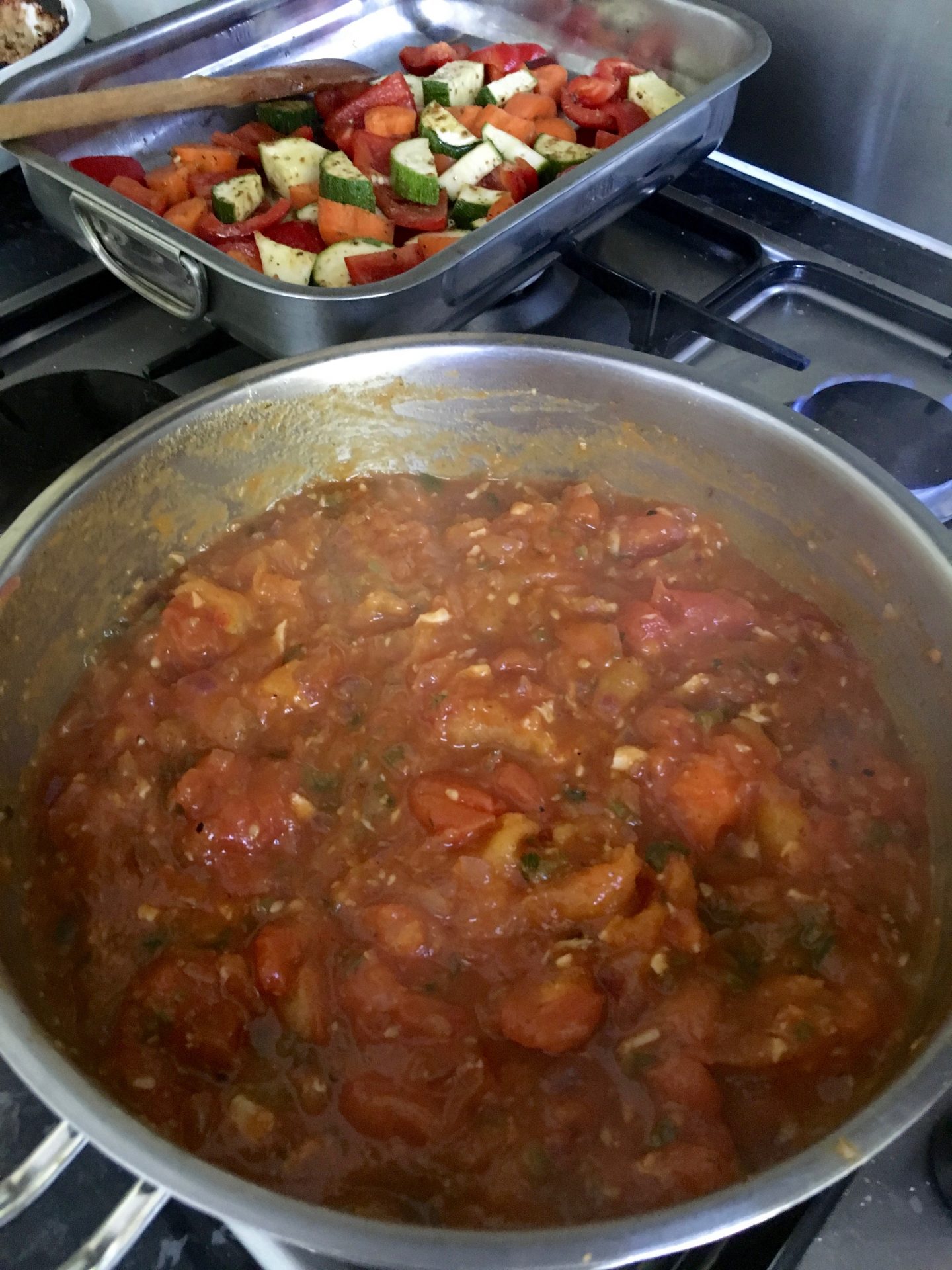 If you have a glut of tomatoes and have already made my arrabbiata sauce, why not try some of these recipes, from my fellow blogging buddies? 
SaveSave