Wapping Wharf, Bristol's newest hot spot for food and drink, popped up while we were away. It was the first place I wanted to visit on our return and I love what's going on in all the container units there. I'd been meaning to eat at Boxe, a 14 seater restaurant owned and run by Elliot and Tessa Lidstone since we returned from our travels in April. But, it wasn't until last month that we finally managed it. I was relieved to discover that it was even more amazing than I'd hoped it to be.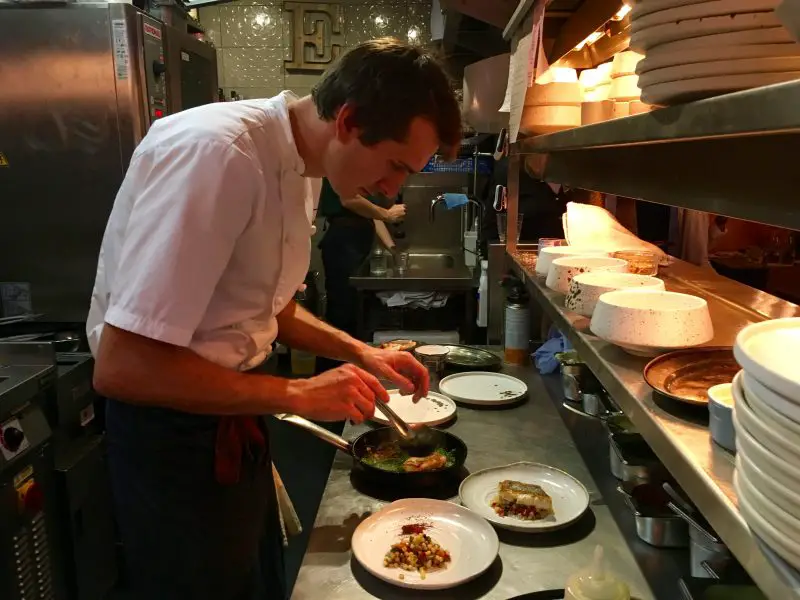 Elliot Lidstone has big ambitions for Boxe and his food is the kind of fine dining I love. Like the Pony and Trap, there is nothing pompous here. Just excellent food in a cosy, casual environment. I feel like that's something Bristol does well and it's quite different to his previous job as Head Chef at the Michelin starred and much more formal L'Ortolan in Reading.
We visited on a wet and windy Wednesday evening and sat at the kitchen table for Boxe's unwritten 7-course tasting menu. Essentially, Elliot looks at what he has in and pulls together a feast in front of your eyes. Incredible.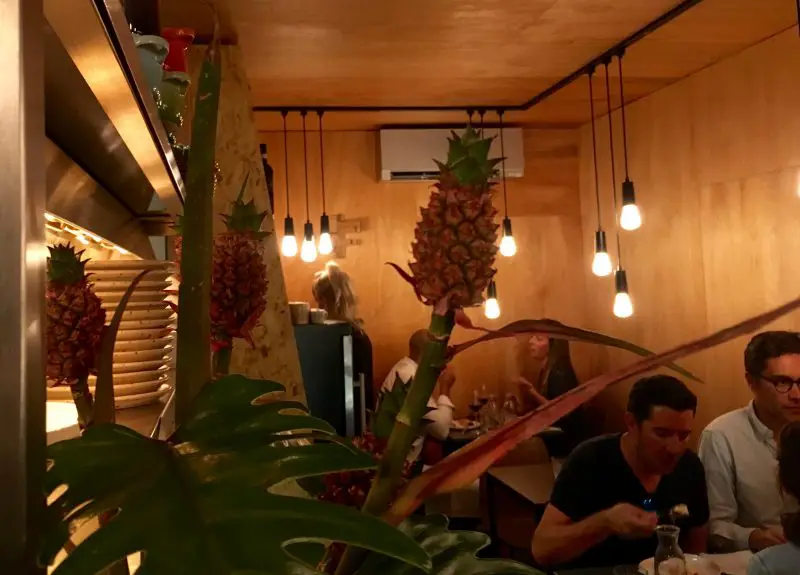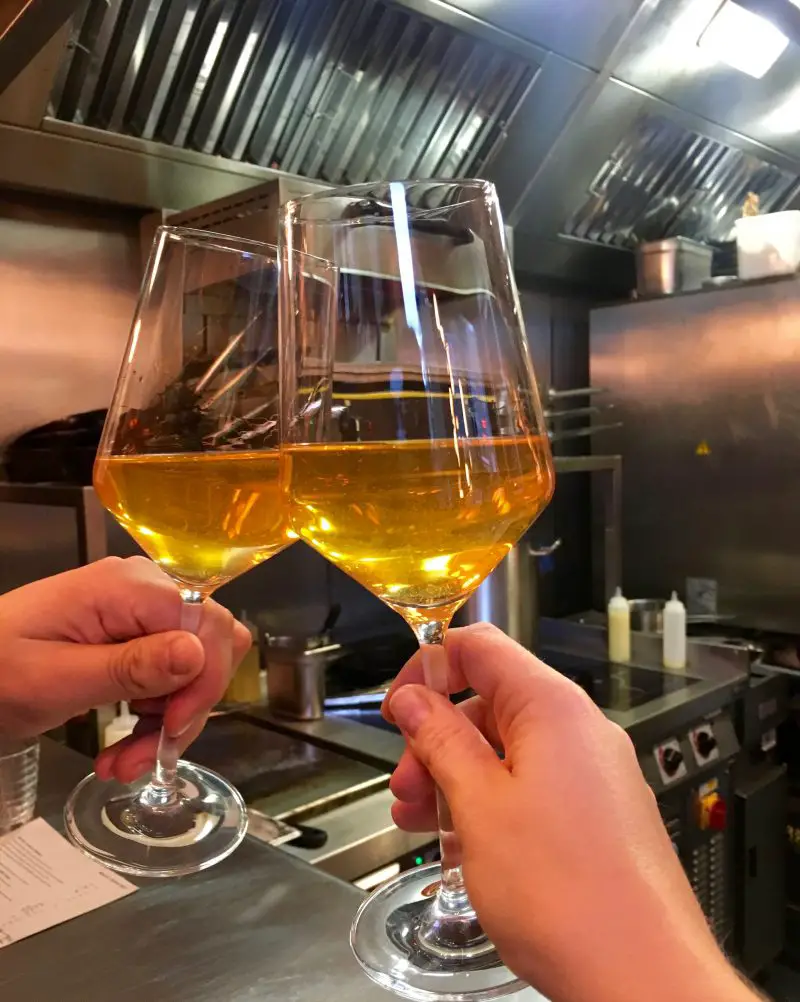 What did we eat?
After gobbling all the bread, we started the meal proper with a cauliflower soup with smoked trout. The salty smoked trout cut through the silky smooth soup perfectly. The second course, served cold, was roasted courgette, burrata, olive, chilli and fennel pollen. I loved this dish, elevating that often boring vegetable to new heights. The burrata was creamy and fresh and worked perfectly with the hit of chilli and char of the courgette.
Have you ever tried fennel pollen? It's the light yellow sprinkles on the top of the dish. It comes from wild fennel and has a slightly citrus, almost liquorice taste to it. Perfect with the fennel.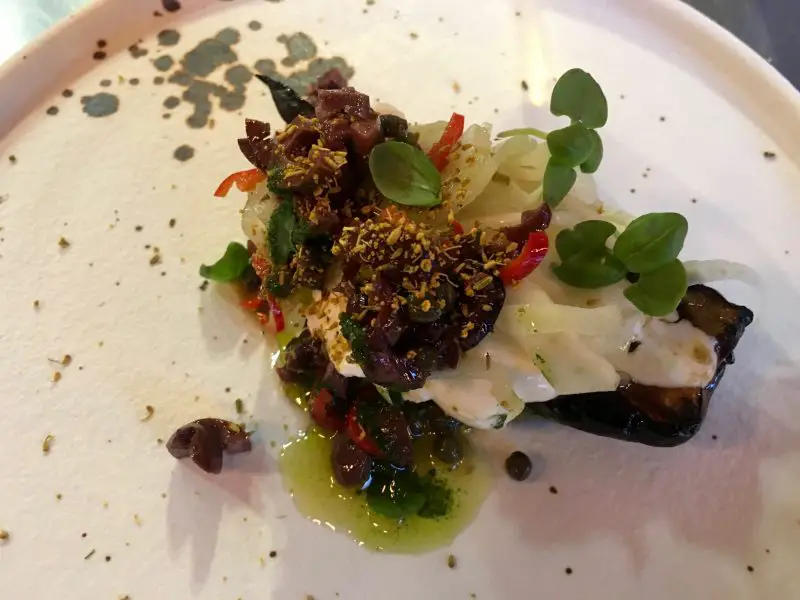 The third dish was the one we were most intrigued by as we watched Elliot cook it on the hot plate. Charred ox tongue, mustard, radish, bitter leaves and capers. My only experience of eating tongue is those large ham-esque slices you get on deli counters. My nanna would always have them at her Sunday buffets (along with Mr Kipling cakes) and I wasn't overly keen.
THIS ox tongue was completely different. Charred around the edges and soft in the middle, it was completely unexpected. The flavour was meaty but not overpoweringly so, almost (sorry foodies) like corned beef, but in a good way.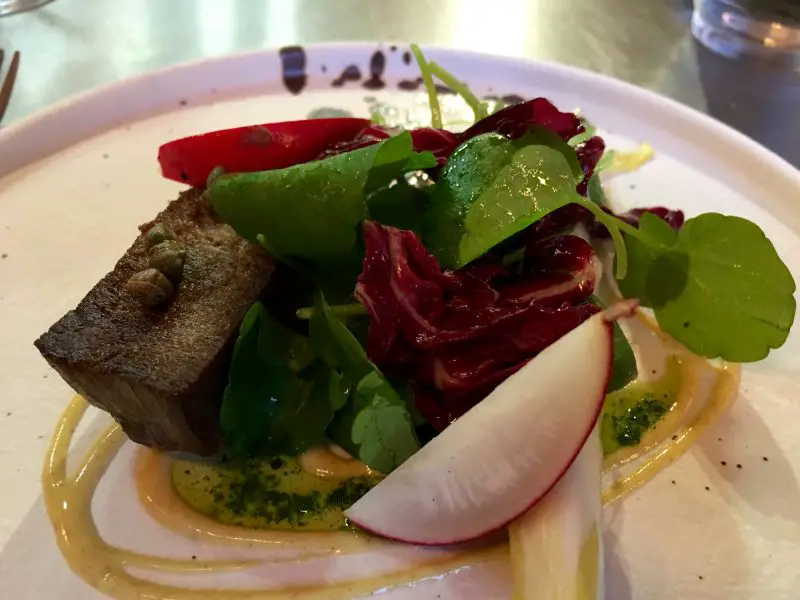 We then move onto my favourite dish of the night: hake, fregola, harissa and samphire. Where do I start? Pan-fried fish with a golden crust paired with a really spicy hit of harissa, soft, green samphire and citrus notes from sumac. This was divine.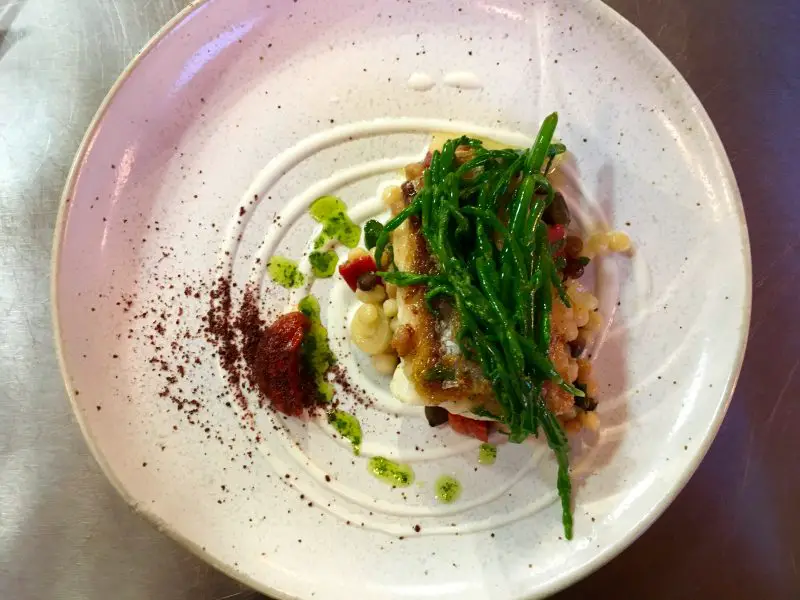 Our final savoury course of the night was guinea fowl, cracked wheat, peas and baby gem. I've never dared do it at home but I really love cooked lettuce. The baby gem on this dish was reminiscent of bok choi or Asian steamed greens and I loved it. The jus was meaty and rich and I will be honest, I did pick up that little tiny leg and nibble the bone clean.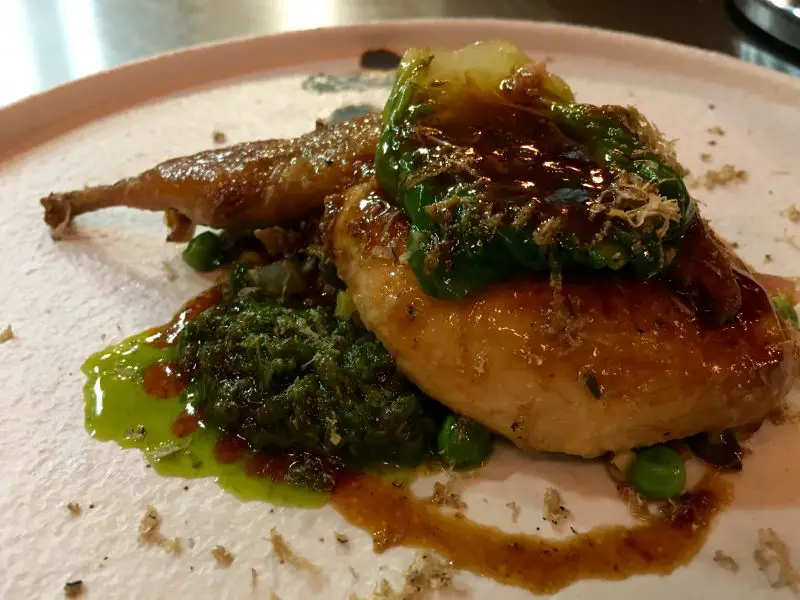 Why finish a meal with one pudding when you can have three? Pennard Ridge cheese, apple chutney and crackers went down a storm, of course, and the pannacotta, poached plums and almonds was a sheer delight, with just the right amount of wobble. The meal finished with a flourish of chocolate mousse, cherries and pistachios. SO. GOOD.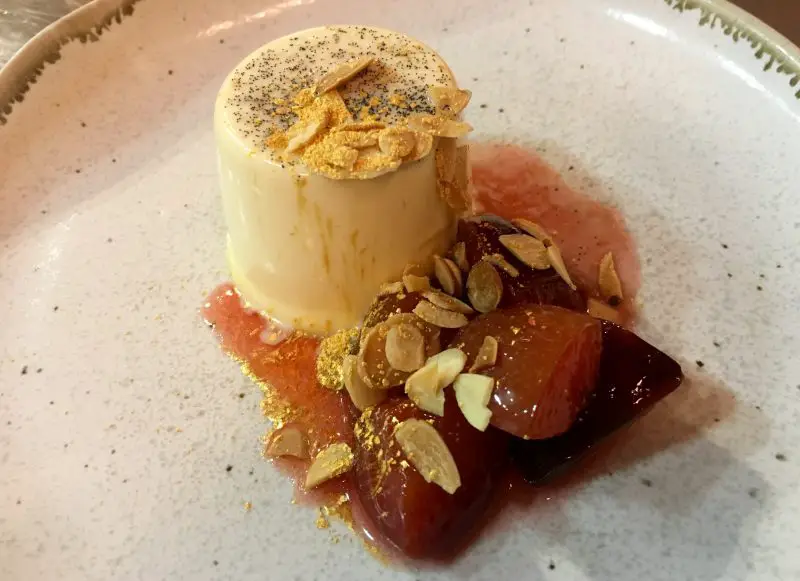 We had the 7-course tasting menu with a delicious bottle of Italian Organic orange wine (Trebbiano Zero 2014) and coffees. For two of us, the bill was just under £150. For such a special experience, it was worth every penny.
Boxe is sheer delight. Elliot was chatty and warm, even letting us sample some incredible olive oil he'd just had delivered from Italy. Tessa and the front of house team were equally wonderful. We felt like we were having a really fucking good dinner at our friend's house. I LOVE Boxe. It is, without doubt, the star in Wapping Wharf's crown.
We paid for our meal in full and Boxe did not know that I was planning to review it.