A few weeks ago, with my best foodie buddy Karis in tow, I went to check out the new-ish The Real Greek in Cabot Circus. Usually, I'm not keen on reviewing chains as they aren't places I tend to go to but as they have Greek chef Tonia Buxton onboard and are doing something a little different, I was looking forward to seeing what they're doing there.
First impressions were strong – a bright, light and airy space which was bustling nicely when we arrived after work on a cold midweek evening. After being seated at our table we ordered some Greek beers and sat down to peruse the menu. And peruse is an understatement. That thing is huge and required serious concentration just to work out what was what. We settled on the easiest option – a set tasting menu for two (Tonia's Filoxenia) priced at £36 for two.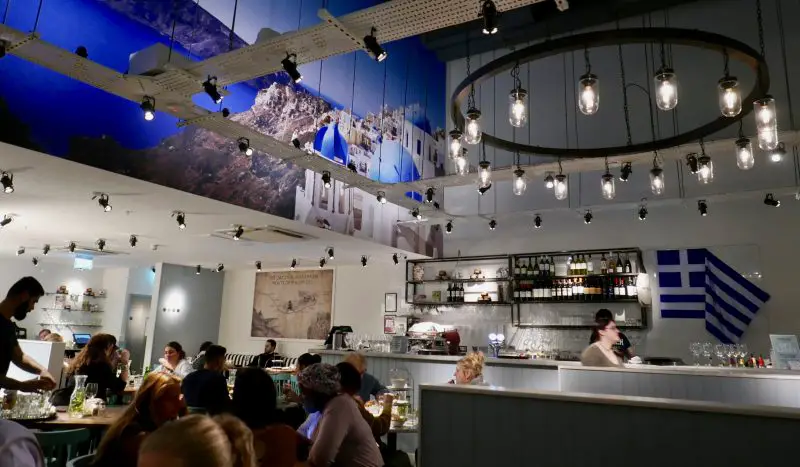 We were told that the cold mezze items would come out first, followed by the hot. When they arrived, they were piled up onto what can only be described as an afternoon tea platter. I was half expecting to see it laden with scones and cheese and cucumber sandwiches. It wasn't, thankfully.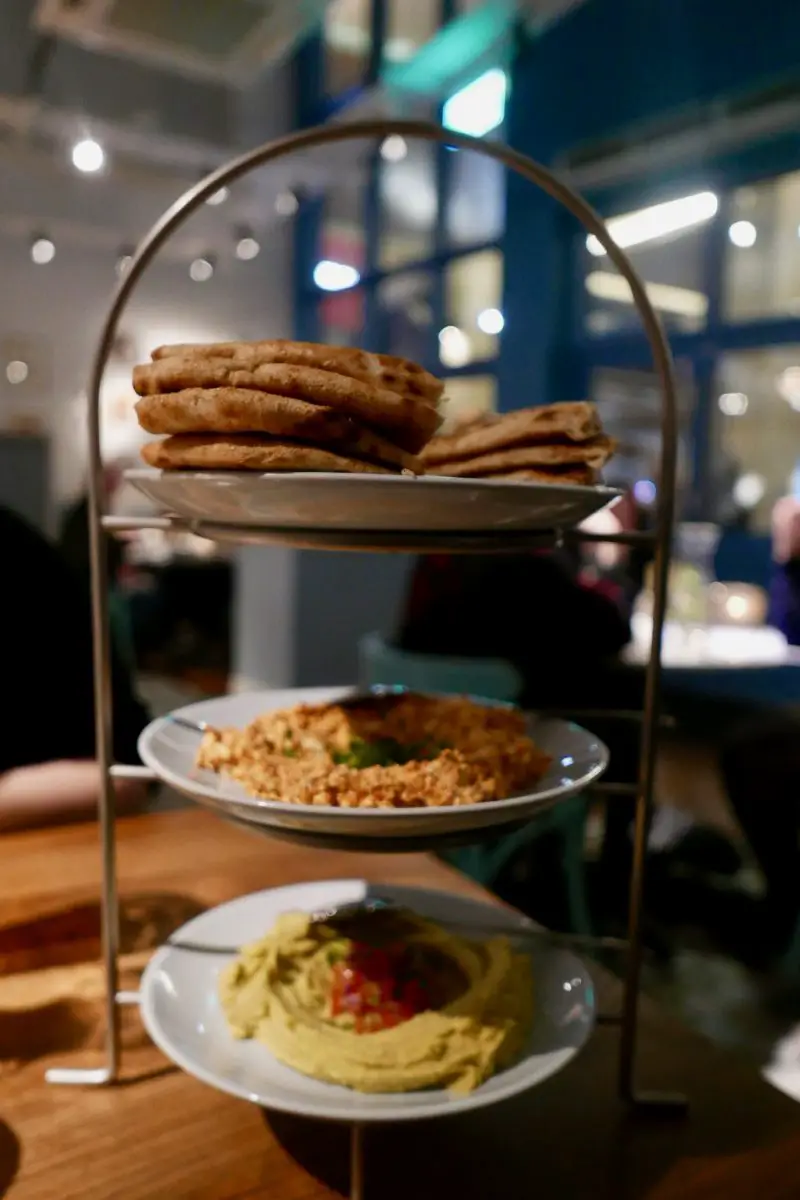 Tonia's Filoxenia includes 8 dishes with a choice of two per type. We went for the Greek flatbread, green pea fava, halloumi skewer and Greek meat pie, grilled aubergine with garlic tomato sauce, falafel and chips (obvs).
What was good? 
The flatbreads were soft and fluffy and the green pea fava, though not the best I've had, was tasty. I also enjoyed the spicy feta dip which was textured and salty. The falafel was strangely peppery but with a lovely soft texture and crunchy shell. I could have eaten more of those for sure and enjoyed the accompanying pickled cabbage salad though not the spicy yoghurt and tahini dip which tasted of empty heat and watered down hummus. The winner of the night though, for both of us, was the halloumi skewer (one each) which was salty, generous and moreish!
The meat pie was tasty but more to Karis's taste than mine. I think I'd probably of prefered to try the gigandes plaki (giant beans, slow-cooked in a rich and herby tomato sauce) as Dave's mum get's them from Lidl during Greek week and they are really good.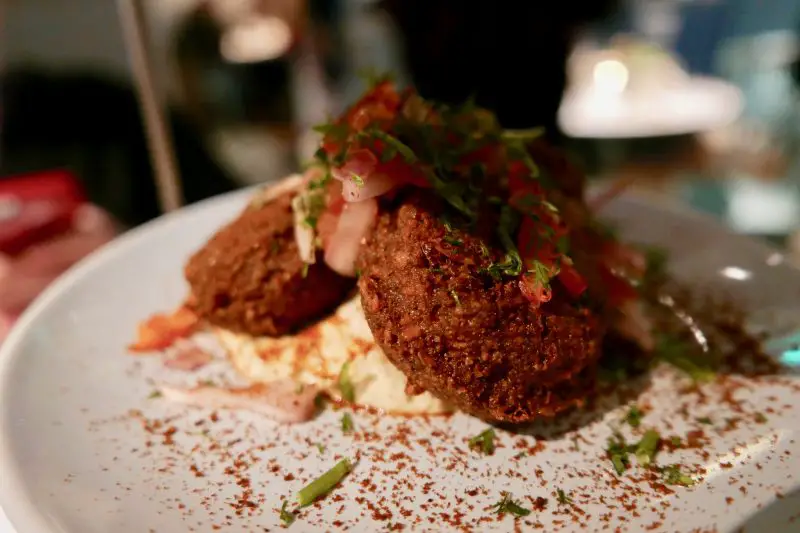 For pudding, we shared the Greek Filo Custard Pie (Bougatsa) and it was really DELICIOUS! See below. It tasted like doughnuts and custard all in one. We also had Loukomia (Greek sweets flavoured with nuts) that were a little like a firm Turkish delight. Personally, I wasn't keen but that's my preference and not down to their quality, I'm sure!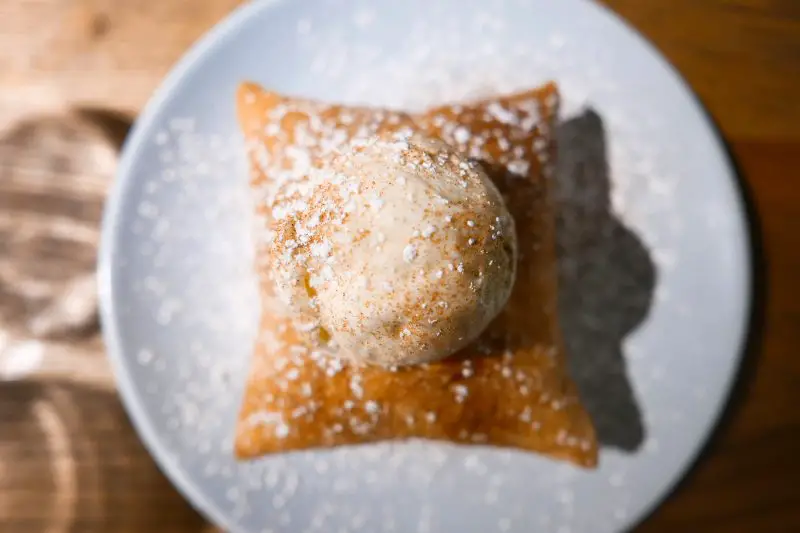 What was not so good? 
Sadly, while nothing was bad, nothing was special either. Everything was satisfactory. For instance, the aubergine had great potential but the 'garlic' tomato sauce seemed to be missing its key ingredient (i.e. garlic). The aubergine itself was also pretty bland. The chips saddened me too because when in Melbourne last year, at Greek chain Jimmy Grants, I'd eaten the most amazing oregano and feta fries and had high hopes for more of the same here.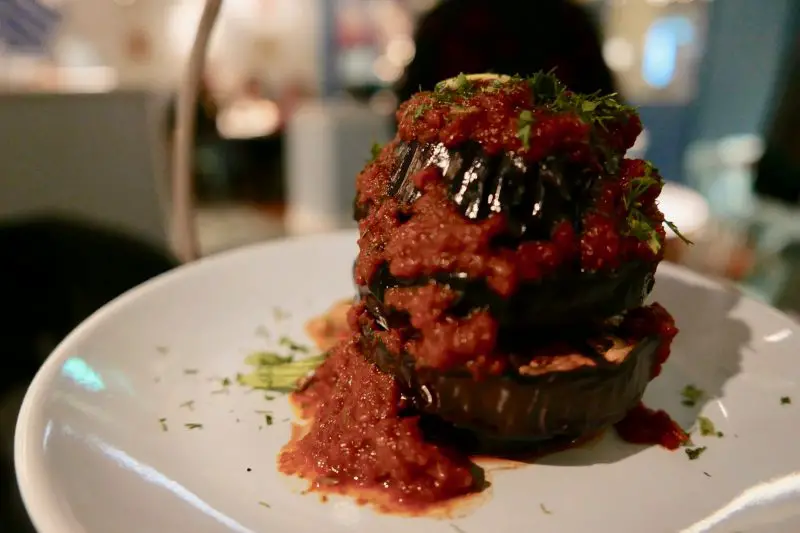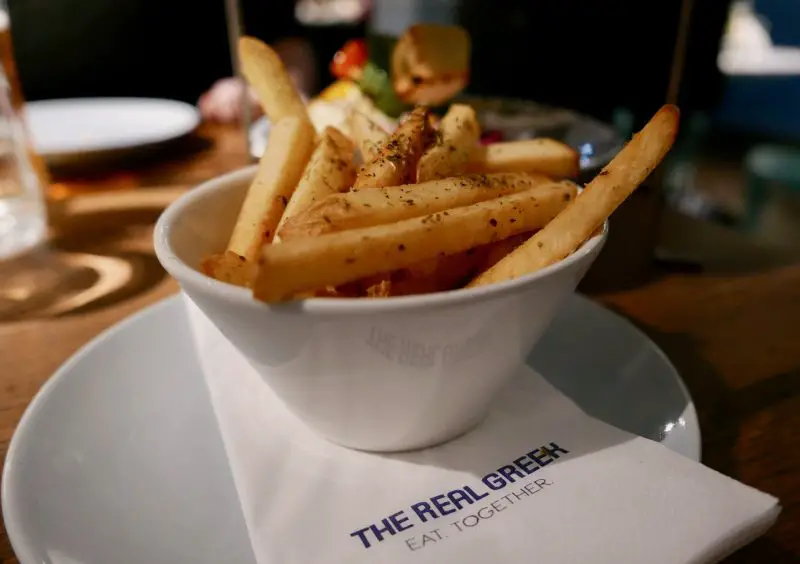 In Conclusion:
The Real Greek is probably not for me, but it's a great spot for large groups and I am sure that it'll appeal to a lot of people. As far as the chains on offer in Cabot Circus are concerned, this is definitely one of the best and it's great to see somewhere doing Greek food in the UK. In summary, nice food with lots of choice in a nice space. But, sadly just not quite as great as I'd hoped it would be.
I was invited to enjoy a complimentary meal for two at The Real Greek, Cabot Circus but as always my opinions are honest and my own.