If you read this blog closely you'll know I'm a big gin fan! It's my go-to-spirit and I'll often choose it over a glass of wine with my meal. Last year at the gin festival in Bristol I tried Caorunn Gin (pronounced Ka-Roon) and loved it. It's a small-batch, handcrafted gin which is distilled in the Scottish Highlands. It's infused with five locally foraged botanicals including dandelion, heather, coul bush, apple, bog myrtle and rowan berries along with six traditional gin botanicals and natural Scottish water.
Caorunn have recently paired with expert mixologist Tristan Stephenson to handcraft two cocktails that showcase Caorunn's signature apple botanical. Seeing as the bank holiday is over and we all need something to look forward to, why not give these a whirl this weekend? I will be!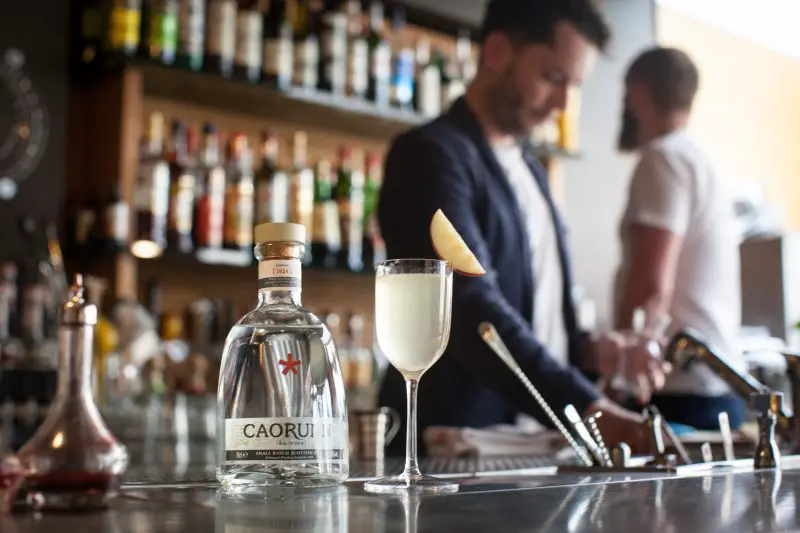 Caorunn Gin Master Simon Buley says:
"Cocktails are a great way to savour the foraged ingredients in Caorunn Gin. By combining Caorunn with other natural ingredients, Tristan's really been able to enhance the experience, providing you with an aromatic taste of the rolling Scottish Highlands in every sip. Caorunn is classically served with an apple slice and Tristan's two superb cocktails take this idea to the next level."
Ok, let's take a look at these cocktails…
Mon's Men
The effervescent Mons Meg is based on the classic French 75 cocktail but with a Scottish twist. This drink requires apple shrub; a traditional fruit liquid made using vinegar to preserve the fruit before refrigeration. This is created by mixing together cloudy apple juice, cider vinegar, and heather honey. The apple shrub is then mixed with Caorunn gin and sparkling wine. The apple shrub works perfectly with Caorunn gin to open up its crisp flavours. Just as the classic French 75 is named after a canon, so is this Caorunn cocktail which is notably named after Scotland's most famous canon, Mons Meg.

Ingredients:
One Shot (30ml) Caorunn Gin
Half a shot (15ml) farm apple shrub.
Top up (90ml) sparkling wine
Method: 
Start with the farm apple shrub:
Combine equal parts cloudy apple juice, cider vinegar & heather honey, stirring until the honey dissolves. You can add a little heat to speed up the process, but make sure everything is cooled down before adding to the cocktail. This will keep quite happily in the fridge for at least 3 months.
For your cocktail:
Keep all your ingredients in the fridge and your glassware in the freezer until you're ready to serve. Measure and pour the Caorunn and farm apple shrub into the glass and carefully top up with your sparkling wine of choice. Serve in a tall sparkling wine glass & garnish with a slice of red apple.
Lainie
For a perfect summer garden tipple, try the Lainie. Here, Caorunn's foraged botanicals are complemented by crisp apple and refreshing mint. All this is then lifted with the addition of a sparkling cider which enhances the crisp and sweet flavours from the Coul Blush Apple. The rising bubbles will also lift the wild botanical aromas found in Caorunn. Inspired by lazy summer days, this cooling cocktail takes its name from the old Gaelic name Lainie, meaning "Light".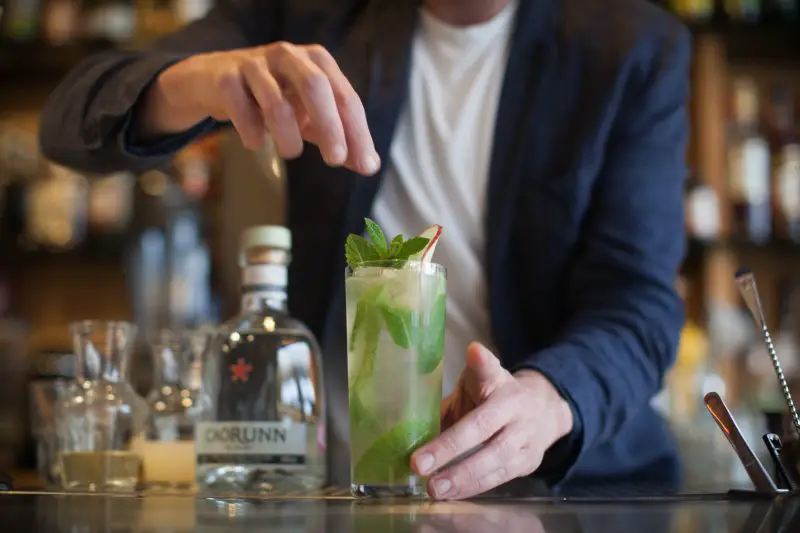 Ingredients:
One Shot (30ml) Caorunn Gin
One Shot (30ml) white grapefruit juice
10 fresh mint leaves
Top up (100ml) sparkling cider
Method: 
To serve, fill a highball with ice cubes and the Mint Leaves (give these a quick smack before you add them to release the fragrant oils), then add the remaining ingredients, pouring the cider slowly so as not to release too many bubbles. Stir gently and serve in a highball glass & garnish with an apple wheel and mint spring.
More info:
Find out more about Caorunn here. Prices start at £28 a bottle. Why not pick up a bottle now?
This is a sponsored post. All opinions are my own, you know I LOVE gin!