Probably the best thing I ate in Singapore was the Hainanese chicken rice from Ah Tai at Maxwell Road Food Centre. And before you start thinking "Yes! I've heard of that place" no, that's not the place hyped up by Gordon Ramsay and Anthony Bourdain. It's the one three stalls along.
Oh, we tried to go to the famous stall. The Michelin guide warned us about the queue so we were ready. We joined it. And when we got to the front, they closed the hatch! Finished for the day!!
Hungry and a bit miffed, we wandered around Maxwell Road Food Court to see what else was on offer. We ended up coming full circle and heading to the remarkably similar looking Hainese chicken rice stall just three along from the revered Tian Tian. Turns out luck was on our side. You know why?
Turns out that the head chef from Tian Tian fell out with the owners a few years back and decided to open his own stall selling chicken rice. Not only is he serving the same food, in a very similar looking space, he's probably serving THE VERY FOOD Anthony Bourdain and Gordon Ramsay raved about so much. It was absolutely delicious! The chicken was moist and tender and despite looking plain, the rice was full of flavour. I also could not get enough of the ginger sauce.
So, who's the winner now eh?
A recipe:
I loved chicken rice and we had it a few more times during our time in Singapore. In fact, it's pretty much everywhere and is almost like their informal national dish. So, now that we're home I've been trying to recreate it with varying success. This time I've cracked it. Granted this isn't all cooked from fresh and yes, it involves a packet, but honestly, it's proper tasty!
During this process, I tried a few different brands picked up from Asian supermarkets here in Bristol and I can honestly say that that this one is the best (even though it's Thai and not Singaporean). Plus, it comes with a fiery ginger and chilli dipping sauce and the soup whereas some of the others come with just the rice seasoning.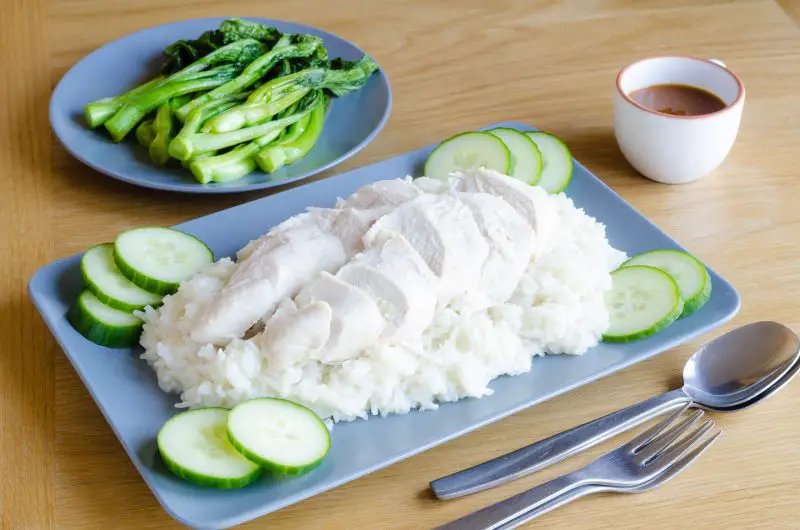 Ingredients serves 2
2 chicken breasts (really these should be skin on but they are very hard to find!)
1 packet of Lobo Chicken Rice Set
1/4 whole cucumber
250ml rice (I use jasmine rice)
For the greens:
250g choy sum, pak choi or bok choi
2 tbsp oyster sauce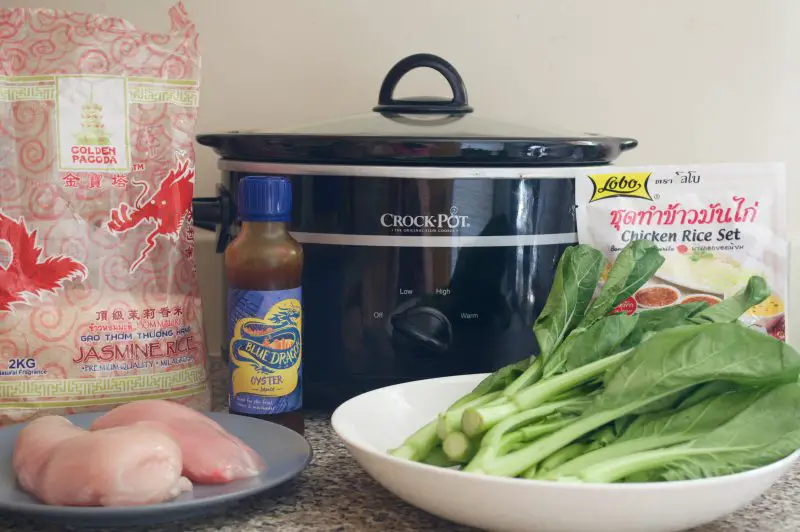 Method:
This isn't the method on the packet (which is in stilted English anyway) but after a couple of attempts using the oven, hob and now, the slow cooker. This has been the best one by far so unless you have a proper rice cooker, in which case, knock yourself out!
Thoroughly rinse your rice three or four times until the water runs a little clearer (though not completely).
Put your rice into the slow cooker and add water until it's about 5 cm above the level of the rice.
Add the chicken rice seasoning and mix in.
Cook on high for 30 minutes and then add the chicken. Most of it will be submerged but the top will be out of the liquid. That's ok. Season with salt and white pepper.
Cook for 1.5 hours on high, checking occasionally that there is enough liquid. Add a bit of water if needed.
Once the rice is cooked, turn the slow cooker off.
Add a splash of water to a wok and put the heat on high. Once hot, add the greens and stir fry for a couple of seconds. Add the oyster sauce and cook for a few minutes.
Mix up the soup by adding boiling water to the mix (very easy!).
Serve the chicken sliced on top of the rice with freshly sliced cucumber, the stir-fried greens and dipping sauce.
Eat the chicken and rice on a spoon with a dollop of that fiery dipping sauce and use the rice to mop up the juices with the greens. I served it on a sharing platter for an informal meal and we had the soup on the side. Enjoy!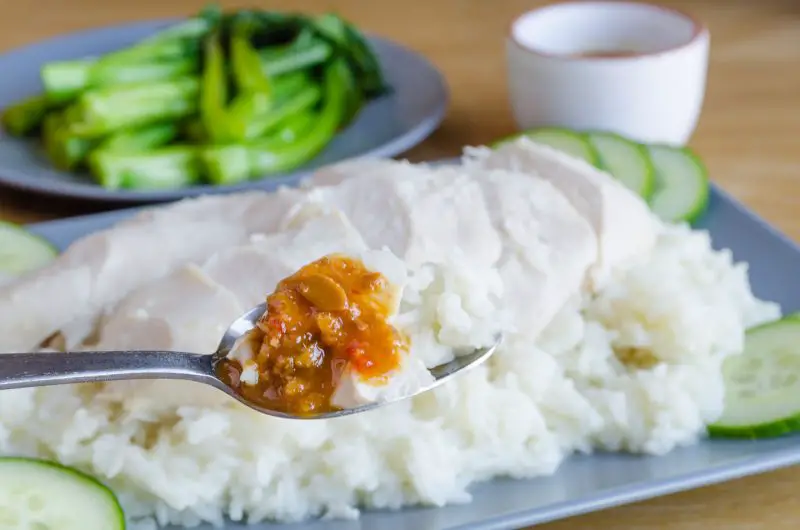 Why not try one of these Singaporean-inspired recipes from some of my fellow food bloggers?