As we head into the new year, I know that it won't be as full of travel as 2017 was, although we do already have some plans up our sleeve. One of my favourite times in Australia was a road trip from Perth to Margeret River which we took with a group of our Bristol friends following a wedding we'd all travelled out there for.
The idea of a road trip is so romantic – packing up your bags and hitting the open road. Not that the road in the UK is particularly 'open' – unless you're heading north and up through the peaks towards Scotland. I feel like the phrase 'hitting the open road' has a lot more meaning in Australia, where you really can hit it, driving for miles with nothing but trees and dirt for company, and hardly any other cars passing by.
Our chosen route is a popular one for backpackers and tourists in Western Australia. Perth to Margeret River via Busselton. We also threw in a couple of curve balls: Wellington Mill and Bunbury. Off we went in convoy, taking it in turns to travel in the hire car and the camper van.
Where did we go and what did we do?
Gnomesville, Wellington Mill
This place is just so bloody strange! We took a detour to get here but it was well worth it. I don't want to give too much away but essentially, what started out as one or two gnomes is now an entire village worth. Both creepy and fascinating in equal measure we walked around for over an hour in total amazement at what we saw.
Find it here: Wellington Mill Rd, Wellington Mill WA 6236 
Margaret River Chocolate Factory & Providore:
A great one if you have a mix of people in your group who might not all enjoy alcohol. The chocolate factory is situated in the lovely countryside just outside Margaret River town. As well as chocolate tasting and an open view of the factory, they have a gorgeous Providore next-door. A providore is basically kind of like a deli, selling local goods. This one is on a vineyard so as well as the gorgeous chutneys, jams, cakes and everything else, they also have some beautiful local wine (and chocolate liqueurs). Well worth visiting!
Find them here: 5123 W Swan Rd, West Swan WA 6055 
Fish & chips at sunset:
It's just got to be done and there is an abundance of beach to choose from, the length of the route from Perth to Margeret River. We found a great spot near our holiday home in Bunbury but to be honest, all of them are good. The chips tend to be pre-made (although tasty) but we ate nothing but delicious fish. My memories of this night are so special – looking out to sea with friends around me and chippy tea in the paper. Bliss!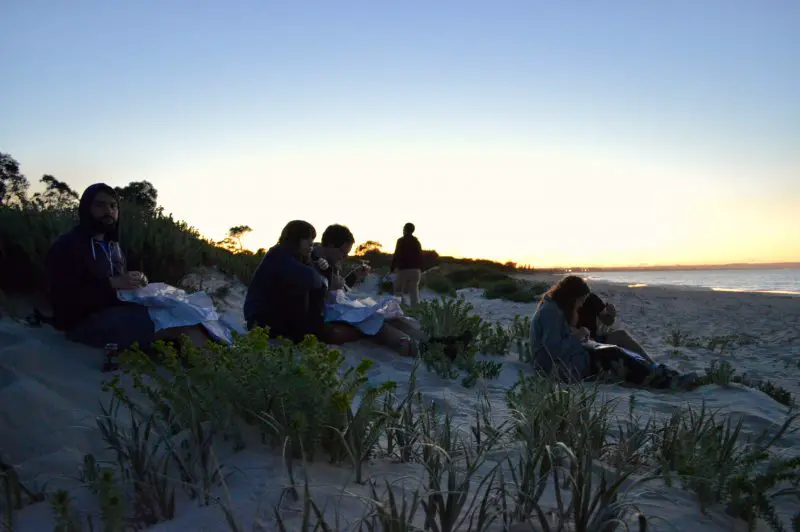 Walk along Busselton pier:
Although we didn't stay in Busselton, it's a good location to stop at towards the end of your road trip (point E on my route map above). It's a nice town with plenty of places to stay (get £25 off your first Airbnb trip here!). The town is best known for its wooden jetty, the longest in the world, stretching almost 2km out into the sea! There's a charge to get onto the pier and then you can either walk it or get the little train. We walked it and enjoyed looking down into the bright green water below.
Lunch at a Winery:
The best meal we had on this road trip was at
Lot 80
, a restaurant attached to the Eagle Bay vineyard in a stunning spot around half an hours drive from Bunbury and 45 mins from Margeret River. The menu is informal and seasonal, using local ingredients in Italian, Spanish, French and Australian inspired dishes.
We sat on colourful chairs on the large terrace next to the modern glass building, shielded from the sun by sails and enjoyed a leisurely lunch with plenty of crisp, white wine. It was a really brilliant spot.
The prices weren't cheap but definitely reasonable for what was a wonderful meal and afternoon. If you're feeling particularly flush, you can always eat at the very fancy Eagle Bay restaurant just up the hill too.
Vineyard tours in Margeret River:
Margeret River is a small town which feels almost frontier-like with its long high street. There are plenty of restaurants and places selling art and trinkets for an afternoons entertainment. The tourist centre is almost like a mini-museum with lots of information about the local vineyards and history of winemaking in the region. There are plenty of leaflets if you want to drive around the vineyards yourself or you can book onto an organised tour.
The region is well known for Sauvignon Blanc and Cabernet Sauvignon but you very rarely see Margeret River wine here in the UK. If you do, I urge you to try it.
Fancy trying a different part of Australia? Head over to Tracey's Travels in Time blog to see what there is to do in and around Brisbane in Queensland!
Have you been road tripping with friends? Where did you go and what did you do? Have you been to Margeret River? Did you visit any Vineyards? Share your memories below!