As we head to the end of another year, I thought it'd be fun to do a quick round-up of my very favourite Bristol Greats. Brilliant places to eat in this great city I call home. These have been our absolute fave foodie highlights of 2017 and places we will return to again and again. Before I leave you to drool over these epic plates and boxes of food, all that's left to say is thank you for continuing to read my blog and support my dream to basically eat for a living.
Special Dinner: Box-e, Wapping Wharf
We enjoyed a stunning 7-course tasting menu at the small but perfectly formed Boxe-e back in the summer for our anniversary. Not only was everything delicious but Elliot and Tessa were the perfect hosts. The hake dish below will stay with me for life, it was a perfect plate of food, as was everything else that night. We're yet to go for lunch but once the weather warms up we'll be there on the decking with a glass of wine in hand and something delicious to eat! Whether you're feeling flush or want a special treat, Boxe wins hands down for me.
Stuff Your Face Favourite: Asado, Colston Street
Those marmite and cheesy fries are the stuff of dreams. It's no secret that I'm a huge burger fan and there are some great spots around Bristol for indulging. Oowee Diner comes a very close second, followed by Three Brothers Burger, but for me, it's GOT TO BE Asado. I'll never forget my first visit with that El Don – oak grilled, a dry aged organic beef patty with cheddar, pancetta, barbeque onions, confit garlic mayo, lettuce and tomato all packed into a seeded brioche. On more recent visits, the food and service have just gone from strength to strength.
Weekend Treat: WokyKo, Wapping Wharf
How this place hasn't ended up on my blog is a mystery to me. Whenever Dave and I are in town, we usually end up at WokyKo for lunch or let's face it – just a quick snack. Their bao is incredible. Soft, pillowy dough and tasty fillings. I almost always go for the fried chicken and kimchi bao but they are all amazing! WokyKo is one of the highlights of Wapping Wharf for me and very firmly belongs in this list of Bristol greats!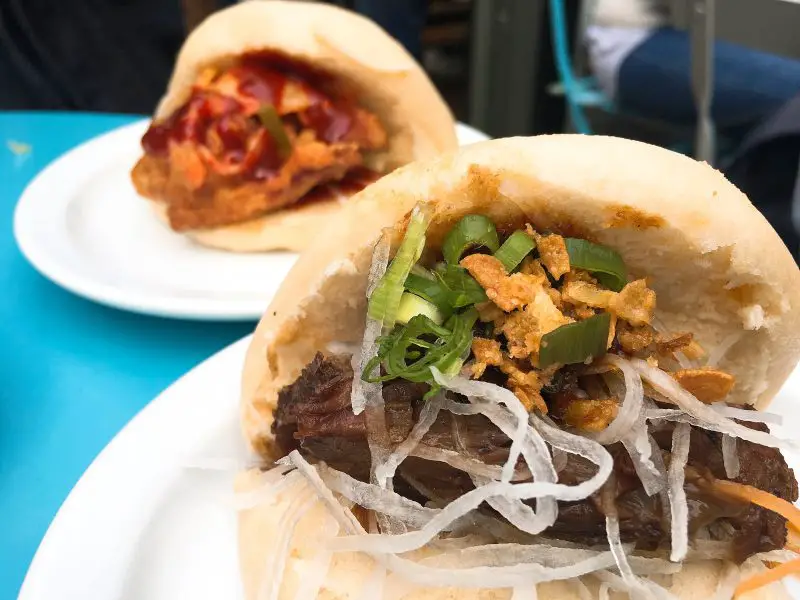 Sunday Roast: The Cauldron, St Werburgh's
LOOK AT IT!!! This is the three meat roast. Wood smokey flavour running through the beef, soft, tasty pork with perfect crackling, roasted carrots, stilton cauliflower cheese… do I continue? Since our first visit to The Cauldron earlier this year, we've been hooked. In fact, we had a brilliant Christmas Eve brunch today (with homemade eggnog to die for)! I just love their ethos, their style, their food. Love it all!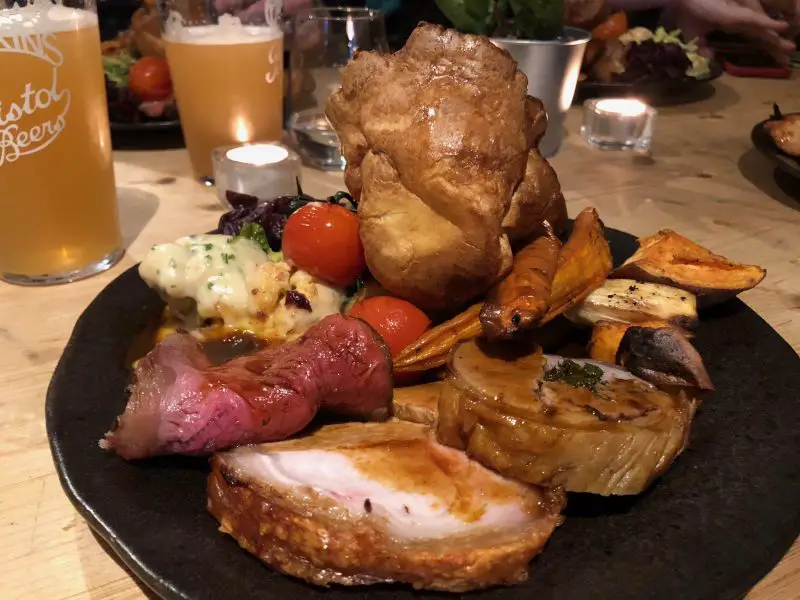 Quick Lunch: Chai Walla, Stokes Croft
Chai Walla have a place in Bath which we've always been told about so when they opened up a bright and colourful little takeaway in Stokes Croft, we had to go. Serving a small menu of vegetarian Indian food, their staff are incredibly friendly, their prices are low, and their food is delicious. I almost always go for the chaat samosa which comes packed to the brim in a takeaway container, which, if you return it, is swapped for a bag of free onion bhajis! BOOM!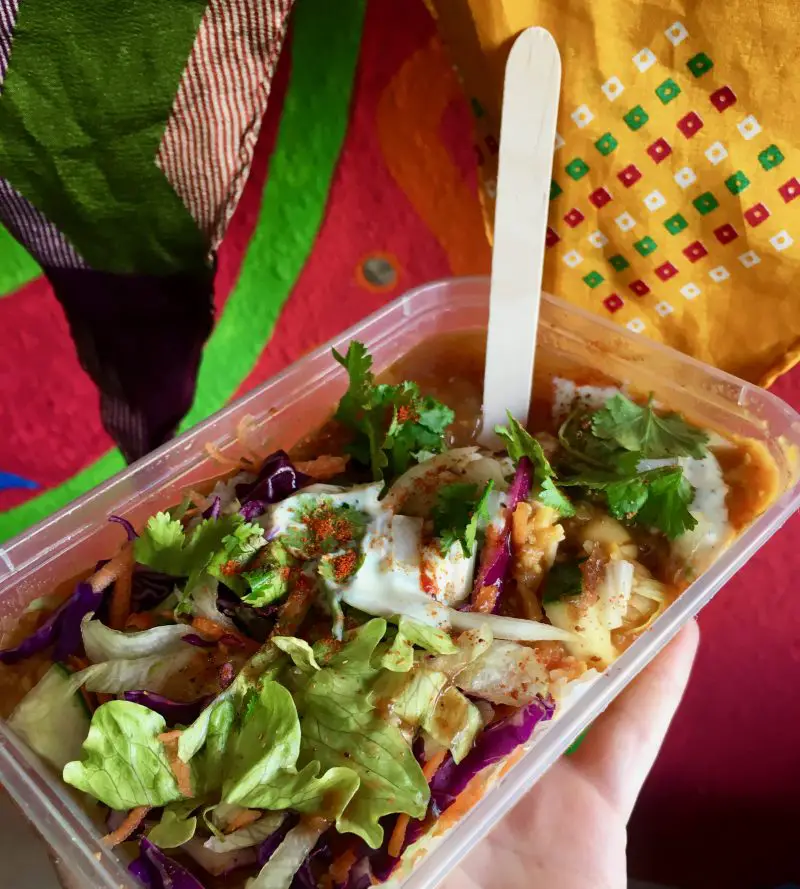 Best Cafe: Bakesmiths, Whiteladies Road
I just love this place. Their sandwiches are always brilliant whether you eat in or take away. As well as baking their own bread on site, they have excellent coffee and interesting salads and cakes. My absolute fave from the current menu their toasted swiss cheese and ham sandwich. The crunch of that freshly made toasted bread against the oozy cheese and chunks of ham hock is divine!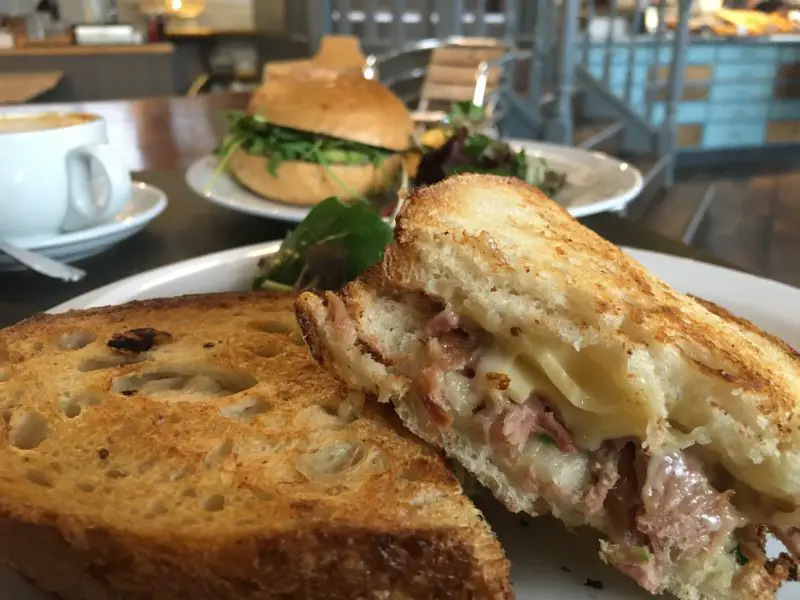 Best Streetfood: Lovett's Pies, Gaol Ferry Steps
I REALLY struggled with this category because there is just so much epic streetfood in Bristol. But, the best this year for me has to be Lovett's Pies! As well as being at many of the street food markets around town, they also now have a little space in Wapping Wharf! YAY! We love them so much we order them online (with Farmdrop) so that we can have them at home too. I've never tried a bad flavour (with the puy lentil, welsh rarebit and kale RIGHT up there, followed by the lamb, rosemary, garlic, potato and honey) and when you get one on a cold day in that little brown box, steaming with buttery mash and gravy, there's nothing better.
Bristol has such a vibrant and tasty food scene and it shows no signs of slowing down. What a bloody great place to live! I'd love to hear where you've loved eating this year and am always open to recommendations.
Don't forget if you don't have a Great Food Club card, you should definitely sign up too. It's free and supports independent food and drink businesses all over the UK and many of them offer discounts and special deals for members. I'm the Bristol & Bath editor and we're growing slowly – sign up here!
So, that's it for another year. Happy Happy Christmas to you all – here's to more brilliant eating in 2018!