Every now and again I get invited to spend a few days exploring a new area courtesy of a hotel or PR company. There's been a lot of flack on bloggers recently for pitching to hotels for 'freebies' like this. While that is something I don't do, I can see both sides of the argument. Most reviews in glossy magazines and celebrities snapped wearing handbags are the result of a 'freebie' and honestly, I don't see a problem with that, providing that both parties feel they are getting a fair worth from the exchange.
That said, there is definitely a rash of young, greedy bloggers who are only in it for the money and freebies. I fall into the older camp, writing for the pleasure of it and am honoured each and every time I'm asked to give my opinion on a complimentary stay, meal or product.
Last weekend was one of those such occasions. We were invited to stay in the New Forest at a family-run 18th-century coaching inn turned hotel and restaurant called The Bell Inn. This time was a little bit special as we took Meg the Portuguese Water Dog along with us too.
We were staying in a dog-friendly 'classic' room which was on the ground floor, though I had the feeling that there were some really beautiful non-dog rooms the reception were disappointed we weren't staying in. Ours was comfortable and well appointed but quite tired with slightly dated furniture and tatty wallpaper in places. That said, there was no hint that any pets had ever stayed in the room and it was spotlessly clean. We were also given a dog blanket, bag of treats and water bowl for Meg which was a really sweet touch!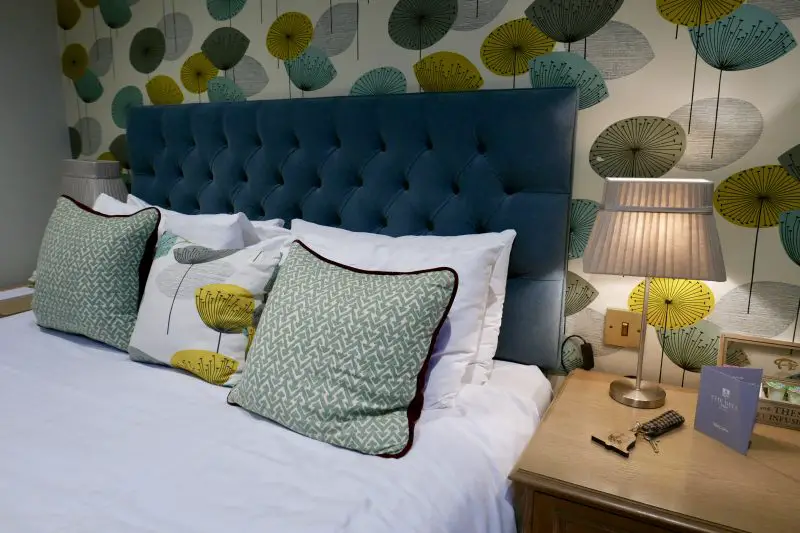 In the Bell Inn bar, we were lucky to get one of the few sofas next to the open fire. It was the perfect spot to sink a couple of drinks on a drizzly Saturday evening. Meg loved it as much as we did (especially with treats on tap!). The space is split either side by a long bar. This does make it a little cramped in places, so there are more tables and chairs than sofas.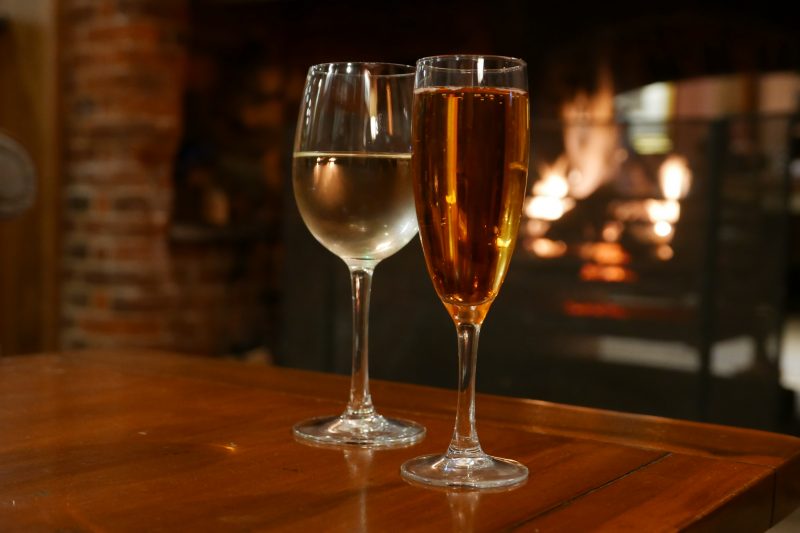 Dinner:
Prior to our arrival at The Bell Inn, I'd already checked the menu and was looking forward to our evening meal. The restaurant has an estate-to-plate ethos and sources everything it can locally. A sign in the bar listed local suppliers and the menu explained in detail where most of its ingredients come from.
To start I went for the Lymington crab brulee. My crab was creamy and rich without being cloying. The salty parmesan and brioche crust worked well against the soft crab mixture too. Dave had the forest mushrooms which came on crusty sourdough, dripping in garlic butter and topped with a poached egg. Both dishes were excellent. Dave's mushrooms were divine. If I'd been making them at home, I'd have added more garlic but for a restaurant serving a mixed crowd, they were punchy enough to please most.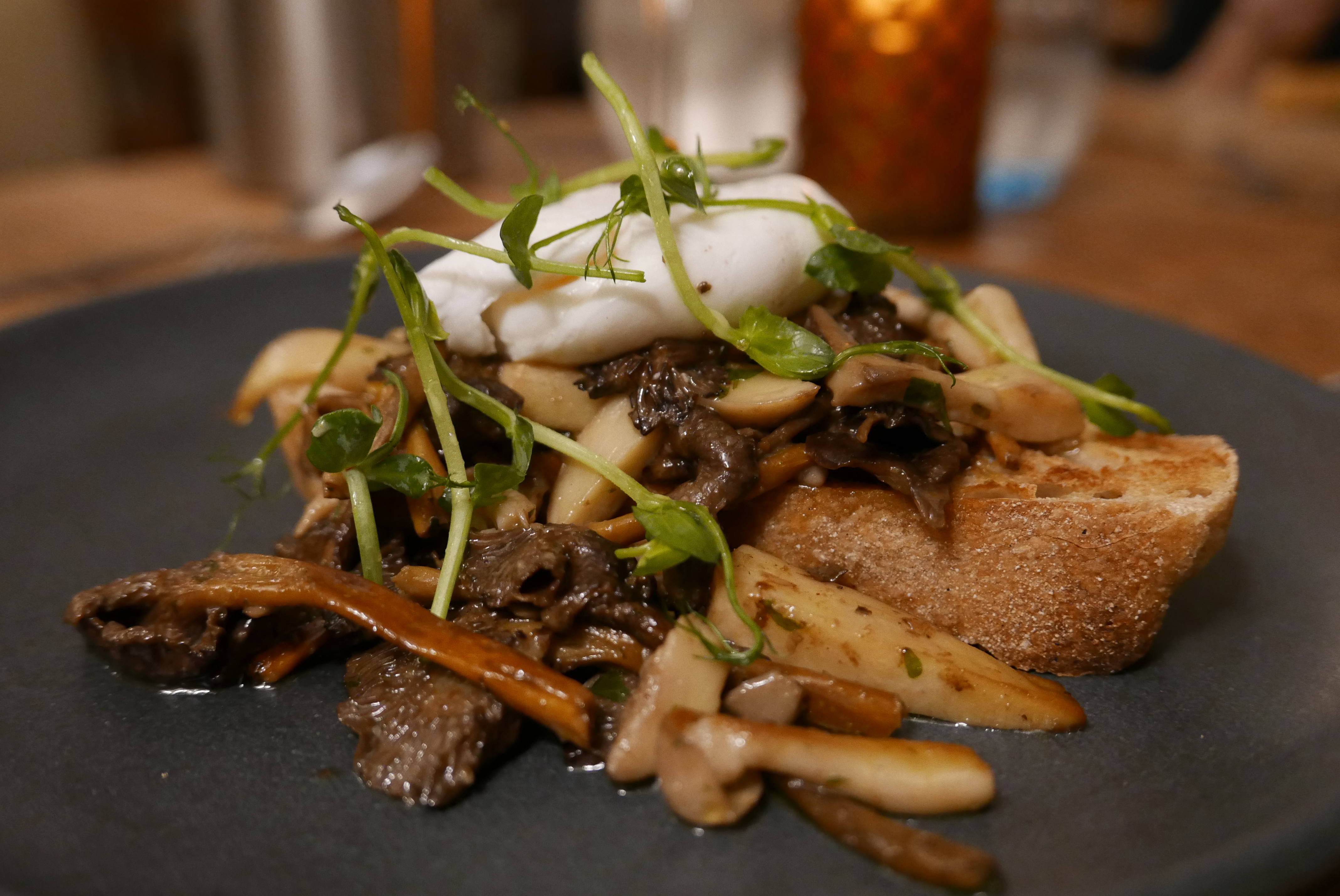 We were really impressed with our starters but quite honestly, the mains blew our minds. They were incredibly good. In fact, Dave made the dazzling statement that his venison dish was "better than the Pony and Trap" (Michelin starred pub and restaurant in the Chew Valley). He was right though. Those mains really were stunning and far exceeded our expectations.
I had the Hampshire lamb. It comprised a slow-cooked shoulder, crispy belly, roast loin with dauphinoise potatoes, winter vegetable brunoise and mint jus. Where do I start? The lamb was stunningly good, each with its own identity. The tiny pearl onions popped in my mouth with a burst of sweetness. It took all my strength not to lick the plate clean!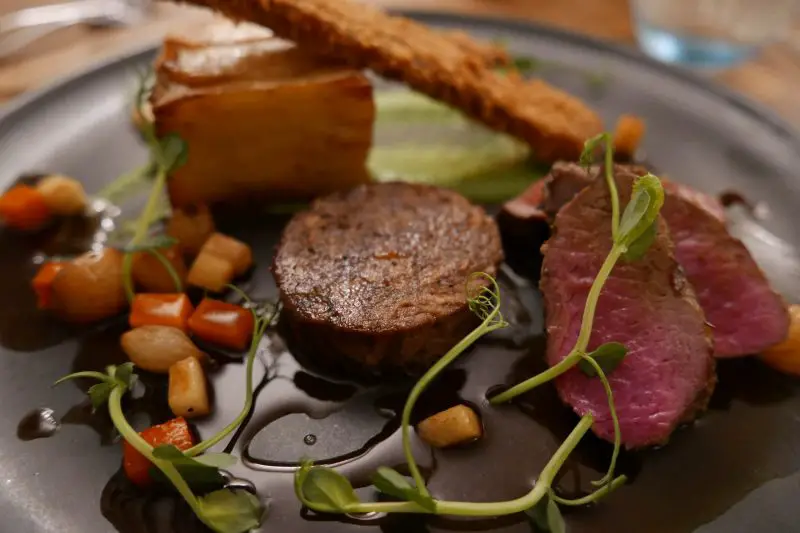 Dave's venison came with an innovative ravioli filled with juniper and blackberry jus. When cut, the jus flowed out over the venison loin beneath it. The parsnip crisps provided crunch and a salty hit against the sweetness of the fruit and silky parsnip puree.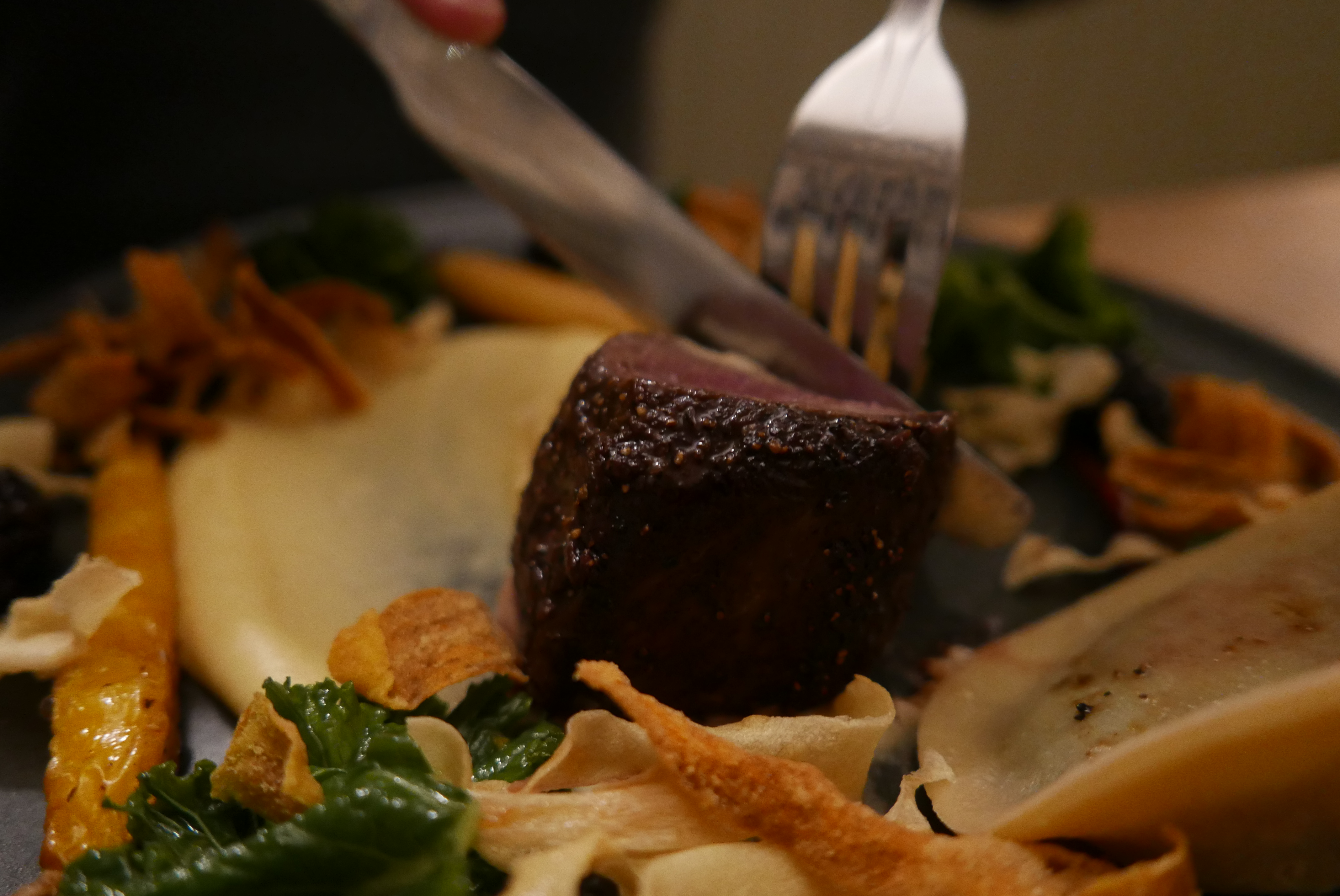 Pudding continued to impress and even I had one (unusual for me!). My iced passionfruit parfait was delicious though missing its advertised cardamom tuille, not that it was needed. I really enjoyed the meringues too because, despite their dainty size, they had that perfect chewy centre! Dave's chocolate torte was rich and indulgent, studded with hazelnuts and served with a white chocolate tuille and pear puree. The torte itself was too rich for me but he had no problem polishing it off.
Breakfast:
After a pleasant night's sleep, breakfast was just as delicious as dinner had been the night before. Dave had smokey, soft grilled kippers (following granola, fruit and toast!) and I had The Bell Inn farmhouse breakfast… obviously. The Flufflets Farm eggs and Swallowfield Farm bacon were fantastically tasty.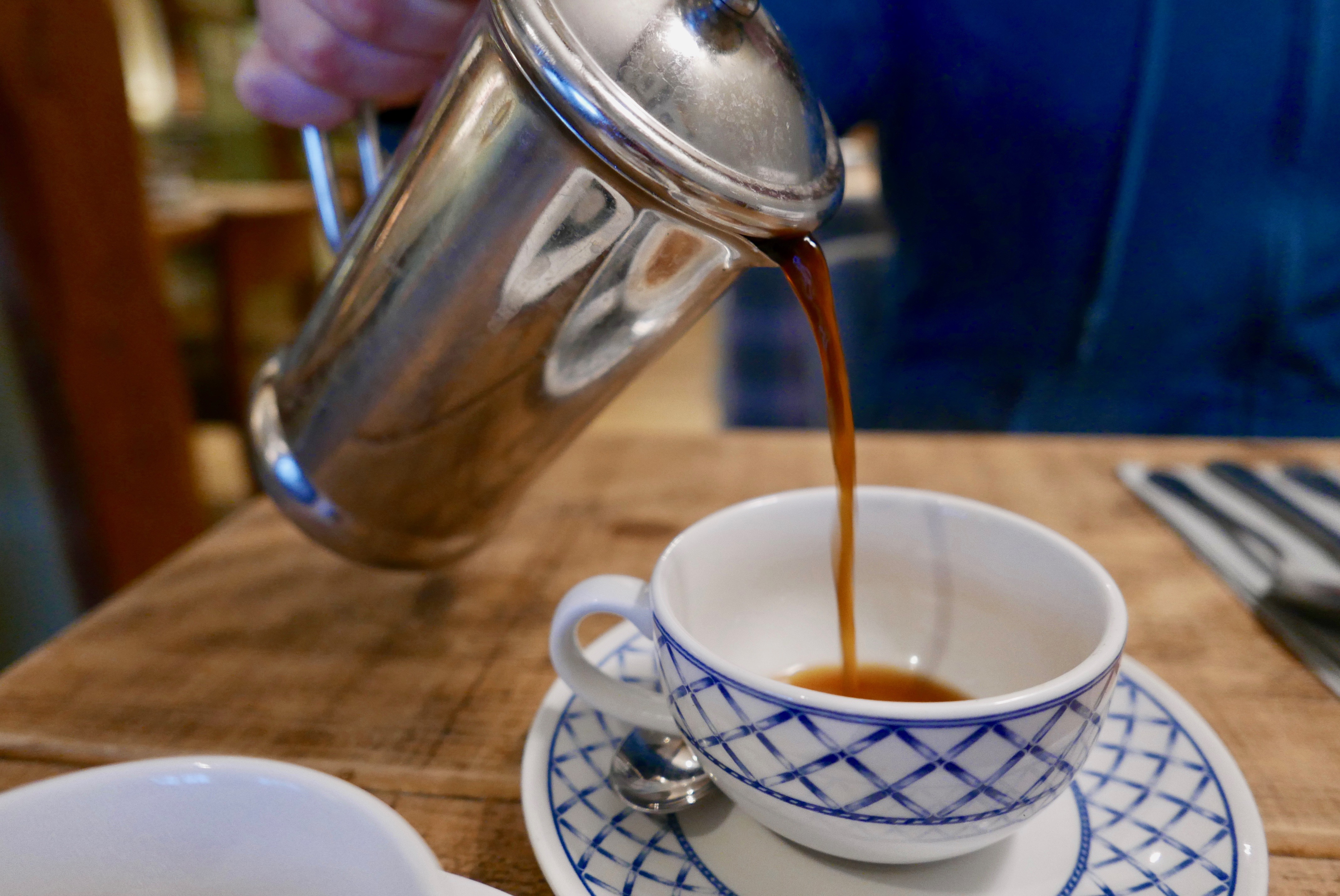 After checking out, we headed to a nearby beach (Friars Cliff) to introduce Meg to the seaside for the first time. She absolutely loved it and it was a joy to see. So much so, that we spend over an hour and a half walking the sand, despite it being freezing cold and spitting with rain!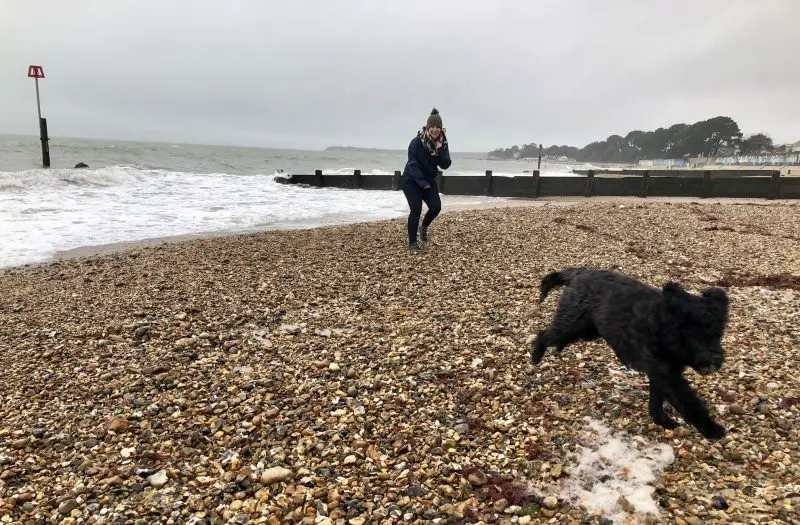 The Bell Inn is a great spot for discovering the New Forest and nearby coast. It's only two and a bit hours drive from Bristol and an affordable place for a weekend away. Being dog-friendly makes it a great place to stay without worrying about finding someone to look after the dog. They also have some great deals including their Sunday night sparkle and winter warmer offers which include dinner, bed and breakfast and start at £64.50 per person. They're well worth checking out!
SaveSave
SaveSave
We were invited to enjoy a complimentary stay and dine at The Bell Inn. My opinions, as always, reflect the experience we had and are completely honest.