A few weeks back, I spent a leisurely Sunday afternoon with friends, eating my way through an Indian style afternoon tea. We were at Harts Bakery hidden in the arches beneath Temple Meads station but it wasn't Harts doing the cooking, it was Vela – a new pop up created by food blogging friends of mine Ishita (With Mustard) and Arushi (Arushi Wabi Sabi).
They chose the name 'Vela' because it means coast in Sanskrit and fits their heritage perfectly, with Arushi's family coming from Gujarat on the west coast of India and Ishita's from West Bengal on the east.  They told us how in India, afternoon (or high) tea is all about friends and family, eating, drinking tea and conversation, putting the world to rights.
When I asked Arushi why they chose to do this pop-up, she told me:
"We wanted to share Indian home cooking, as it's not something you get to see in the usual Indian dining experiences in the city."
The menu was vegetarian and made up of 12 dishes – six sweet and six savoury. We also had an endless supply of Arushi's spicy homemade masala chai and a delicious lime juice drink called lebu jal.
Dave and I joined our friends Karis (But First We Eat) and Chris (PXandTarts) for an afternoon of what felt like never-ending dishes. With everyone sat on communal benches, the whole event had a real family atmosphere to it with each dish served on huge sharing platters to be passed around. I also enjoyed seeing Arushi and Ishita cooking behind us in the open kitchen.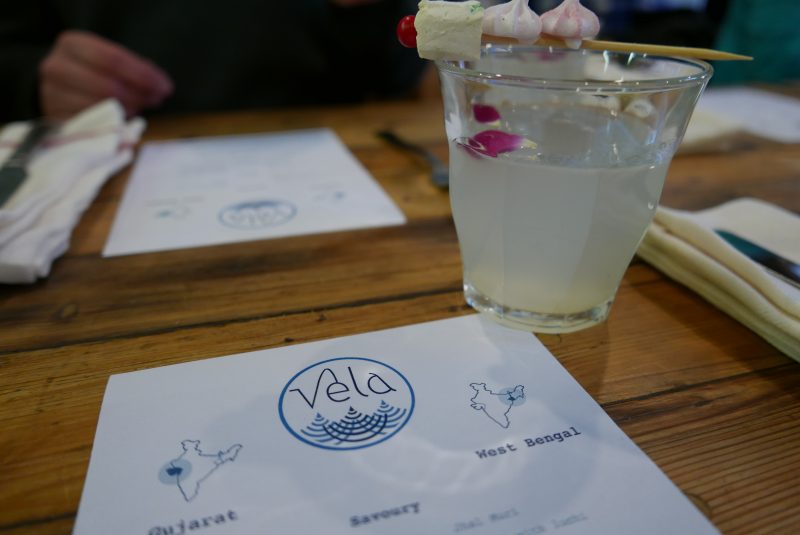 What did we eat? 
Let's start with the savoury ones. Of these, my favourite was the Kutchi dabeli. I mean, spiced potato in a soft brioche bun? The spicing was spot on and I loved it. As a big fan of chickpeas, the ghungni with luchi was always going to be a favourite of mine too, I loved the fresh red onion on the top too.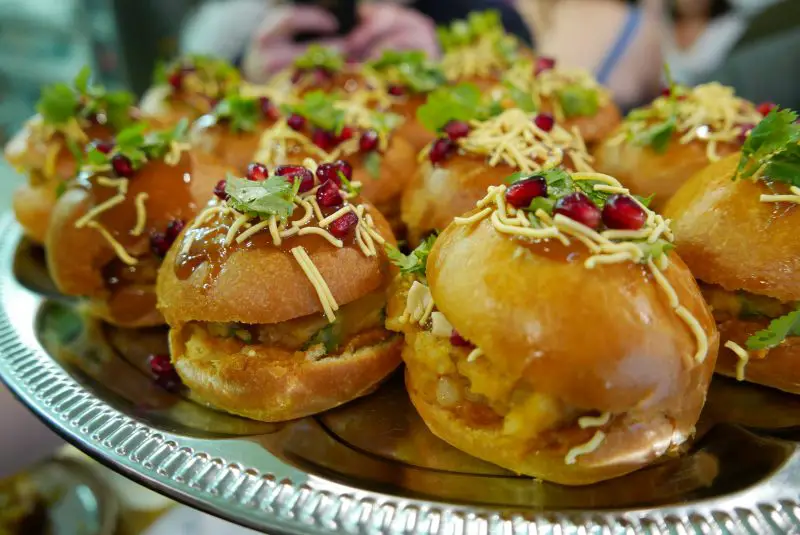 Savoury dishes:
Ghugni with luchi – spiced chickpeas with friend Bengali flatbread
Handvo – almost like a savoury cake, filled with vegetables, spices, curry leaves and covered in sesame seeds. This one was served with a dollop of ginger-spiced chutney.
Kutchi dabeli – brioche buns stuffed with spiced potatoes, a chilli and garlic chutney, tamarind chutney, sev, peanuts, pomegranate and coriander. SO GOOD!
Jhal muri – a mix of peanuts and puffed rice. Really moreish snack food! We ate with green chillis sprinkled on top!
Cheese & Cucumber sandwiches – with a coriander chutney for an Indian twist!
Beguni – aubergine fritters with a chipotle chilli chutney for dipping.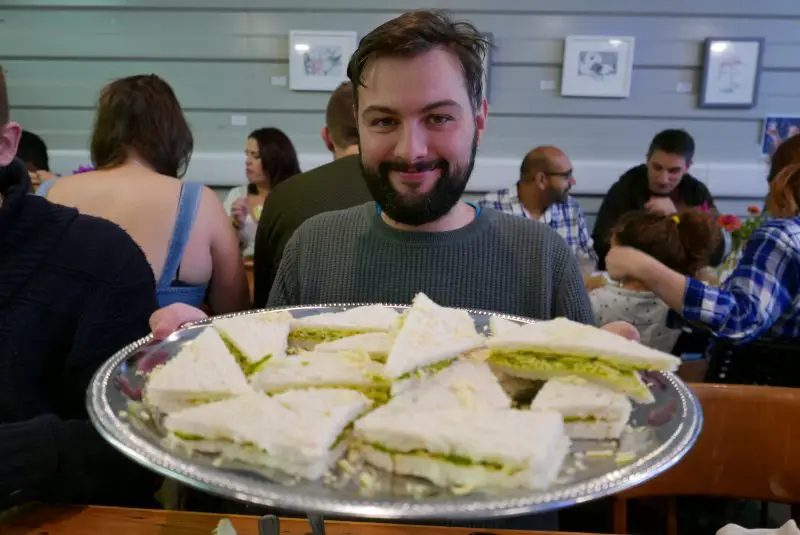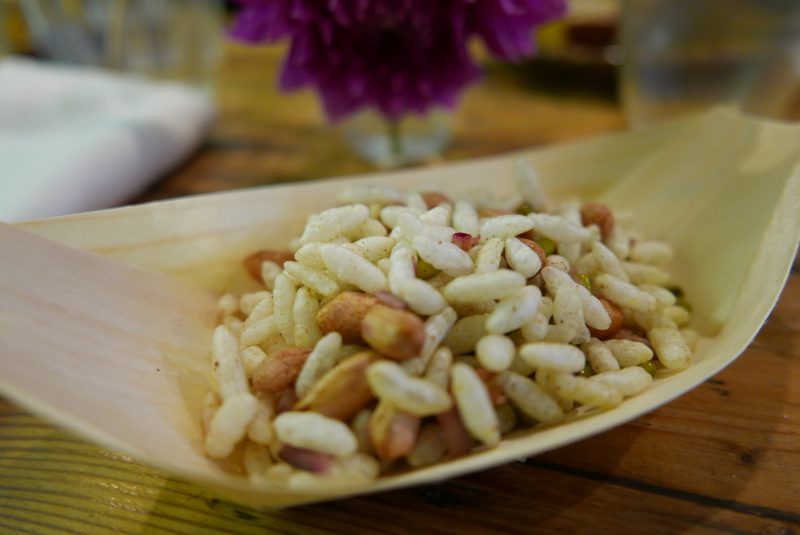 Moving onto the sweet section, more Dave's remit than mine but all tasty none the less. I tried a bit of everything but my eyes are bigger than my belly and I admit I was getting stuffed! The sev kheer was particularly lovely and unlike anything I've really had before. After all, there were 12 courses!
Sweet dishes:
Kewra & cardamon choux buns – kewra is a flavour which comes from the pandanus plant and is often used in North India. It's not dissimilar to pandan which you get a lot in SE Asia. These little choux buns were divine!
Aam penda – a kind of fudge flavoured with mango, sweet and very rich.
Bhapa Mishti Doi – steamed yoghurt pudding.
Gajare Halva pie – carrot halva pie. Spicy, fudge-y and floral.
Almond cake with rose syrup – pretty as a picture. One of Dave's favourites of the night (I don't know where he puts all the cake…)
Sev Kheer – rice pudding-esque but made with vermicelli and pistachio, a perfect end to the meal.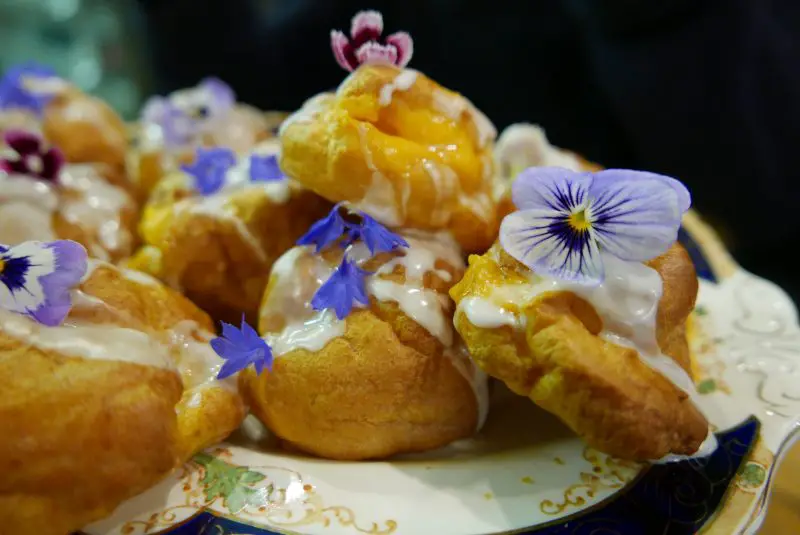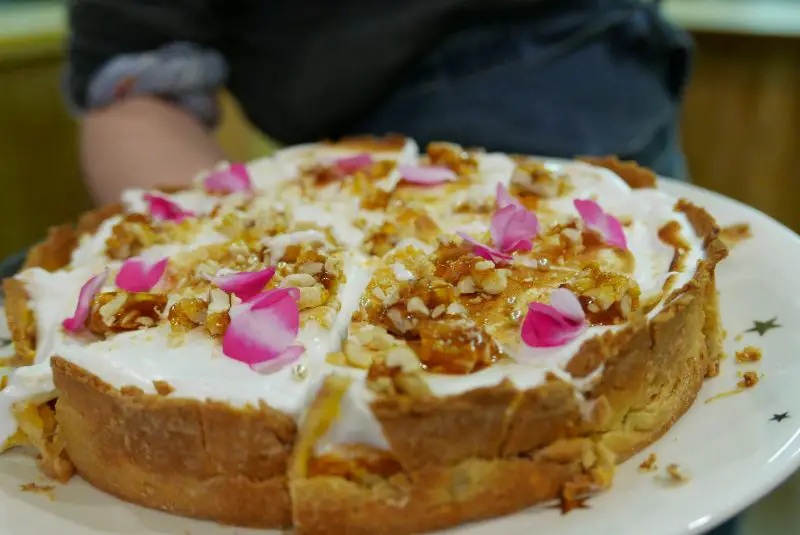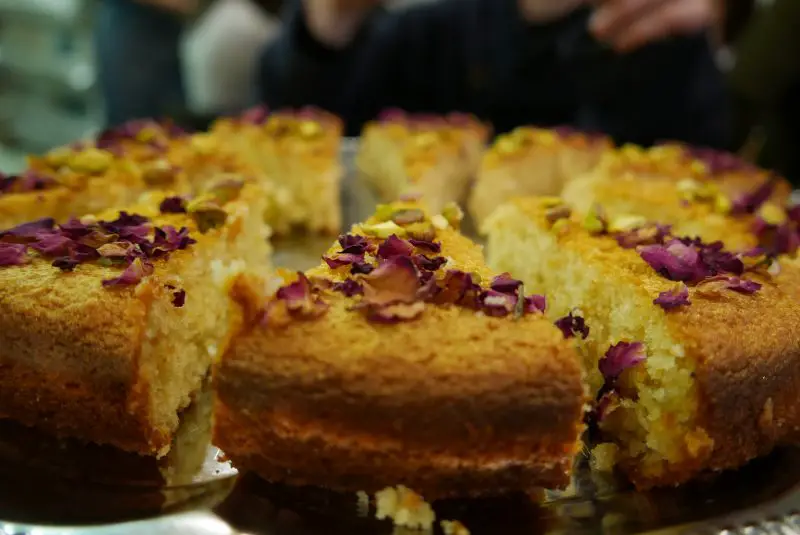 This was Vela's first pop up and brought something exciting and different to the Bristol food scene. I hope they plan another one as I'm sure it'll be just as popular as this first event was. A huge well done to both of these talented ladies, nailed it!
Find out more by following Vela on Instagram and Twitter!