*Sadly, The Spotted Duck has now closed – Feb 2018*
When John's House opened in late 2014, my mum's village of Mountsorrel was all of a flutter. A fine dining restaurant up in the Stonehurst farmhouse? How exciting! When it was awarded a Michelin star the following year, things began to change. A Waitrose opened and now, they also have The Spotted Duck. This village is one to watch!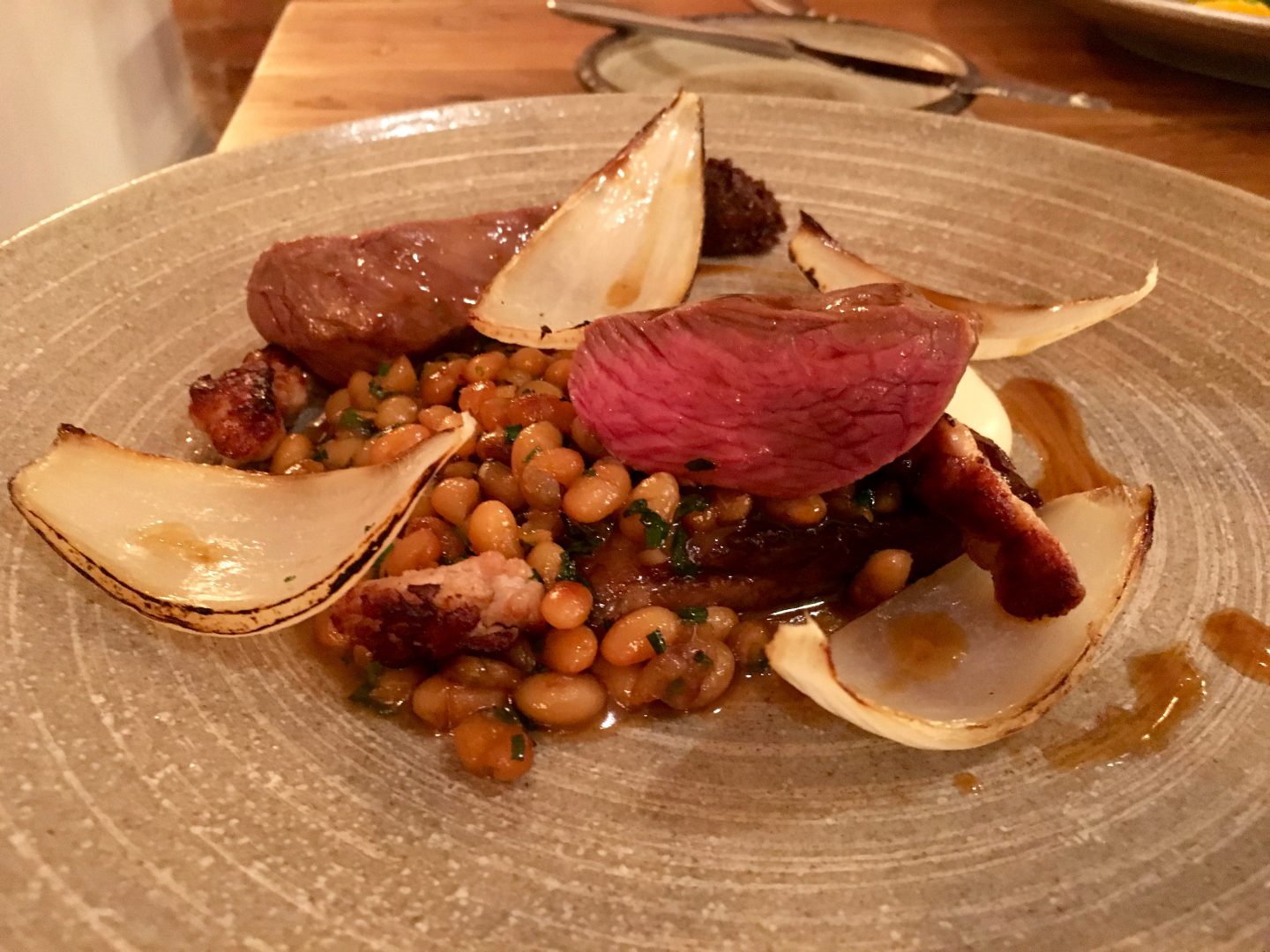 When The Spotted Duck opened last month at the other end of the village, mum and I naturally went online to have a good nose at the menu. Looked good. Very good. We headed over last week as a treat for my stepdad's birthday and pre-operation last supper for my mum. Not quite sure to expect but hoping it lived up the hype, we took the short stroll from their house and within 15 minutes we had a glass of prosecco in each hand!
Despite its less than glamorous spot on the main Loughborough Road and opposite a car garage, once inside you forget where you are. A calm space decorated simply with wood, shades of grey and a quarry stone bar, the restaurant is a little oasis. With around 20-30 covers at a guess, they haven't packed the tables in and there is a bar area to have pre-drinks whilst you peruse the menu.
The menu changes frequently and as you'd expect, features plenty of locally sourced ingredients and seasonal produce. I loved the menu with its modern British dishes and would quite happily have eaten anything from it. In the end, we all made our choices from the à la carte menu (there is also a smaller set price 'Market Menu' available midweek).
Presentation = stunning. Service = understated yet attentive. Vibe = perfect. Music playing gave the space ambience and stopped it from feeling too stuffy. You know what I mean? When you eat somewhere fancy pants and you daren't talk too loud?
We gobbled our way through some delicious homemade bread and were delighted and surprised when an amuse bouche arrived. Following that, we enjoyed three delicious starters. Breast of wood pigeon with new season garlic, mushroom and onion,  line caught Cornish pollack scotch egg with parmesan veloute and finally, the 42 degrees Loch Duart salmon with Devon crab, mango, avocado and peanut.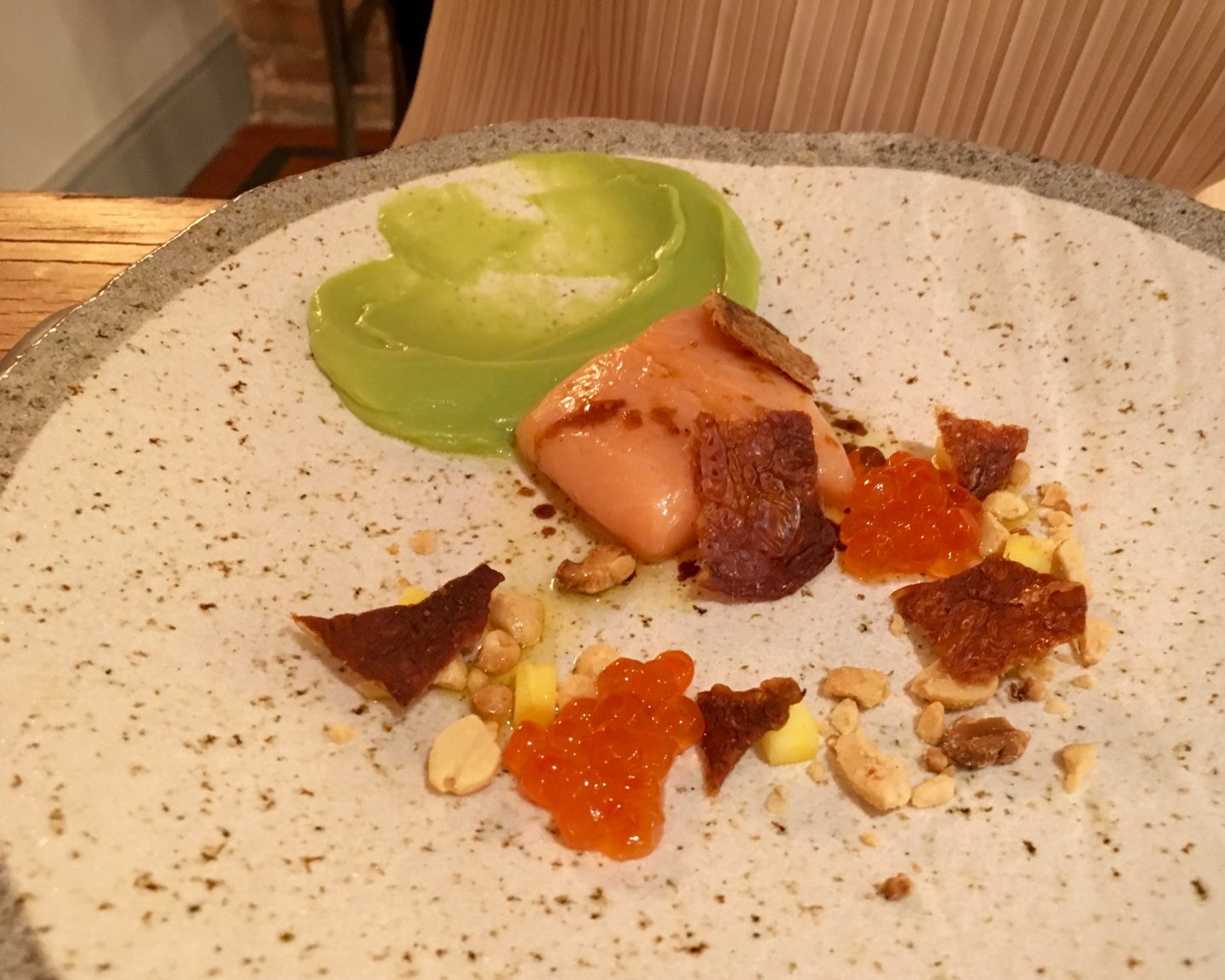 I was tempted by other starters on the menu but as we'd been talking about game just that morning, I went for the wood pigeon. It was cooked pink and served with tasty roasted mushrooms and shards of onion. The winning element on the plate though was that luscious wild garlic cream. I used my bread to mop it all up!
The salmon starter was perfectly executed too and we loved the crispy, salty chicken skin alongside that delicate pink fish and sharp pearls of cod roe. For me, the mango was probably a little lost but that's definitely a personal preference. Andy's scotch egg was also super tasty but we all agreed that it was the veloute which made the dish. The best (and poshest) cheesy sauce I've ever known!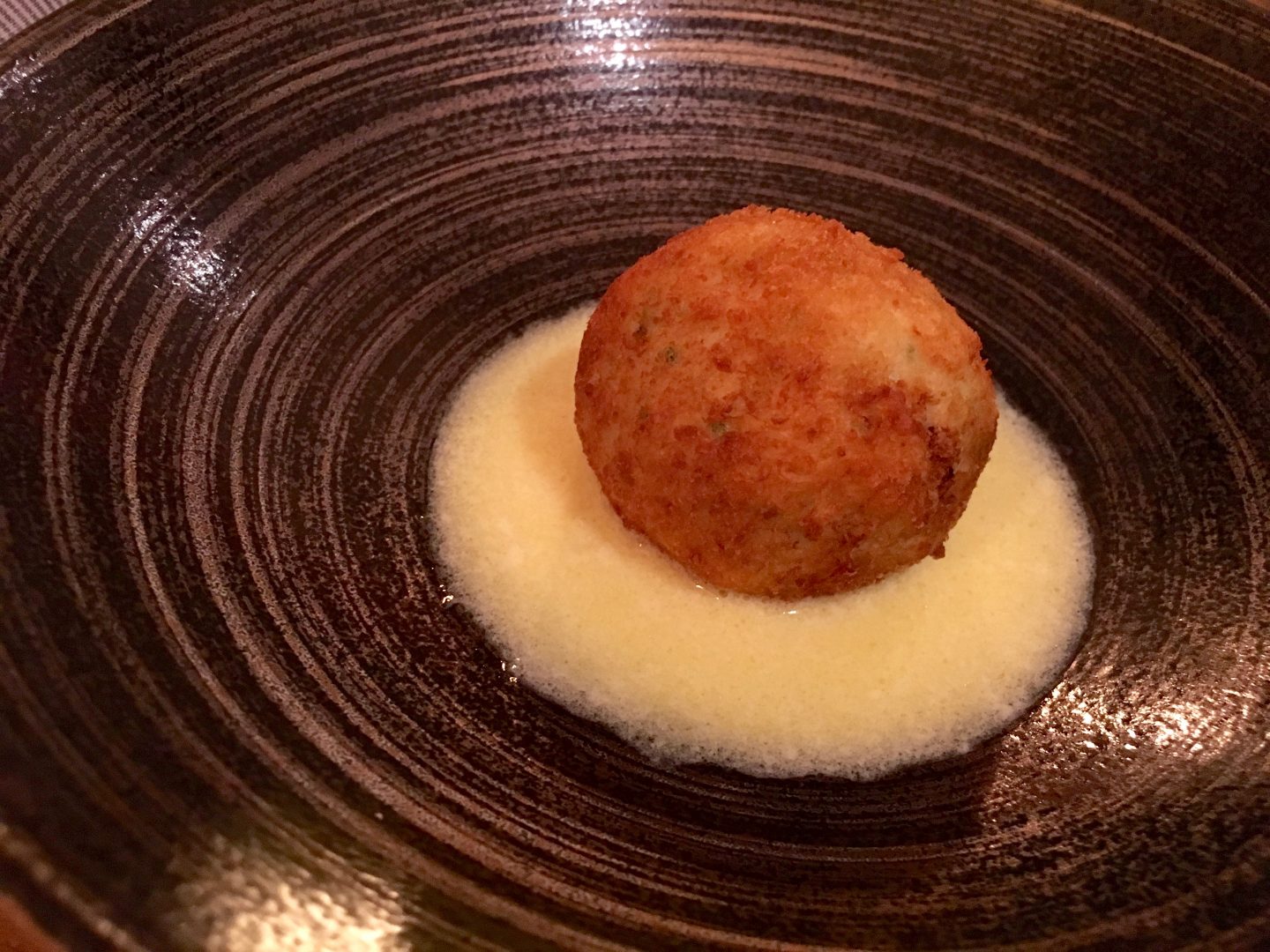 For main, I had the tenderloin of pork with pickled cabbage, garlic sausage, black pudding and parsnip puree. Andy had the single muscle rump of lamb, cured belly, onion and braised haricot beans. Mum had the roasted poussin with poached lobster, bbq onion and carrot puree.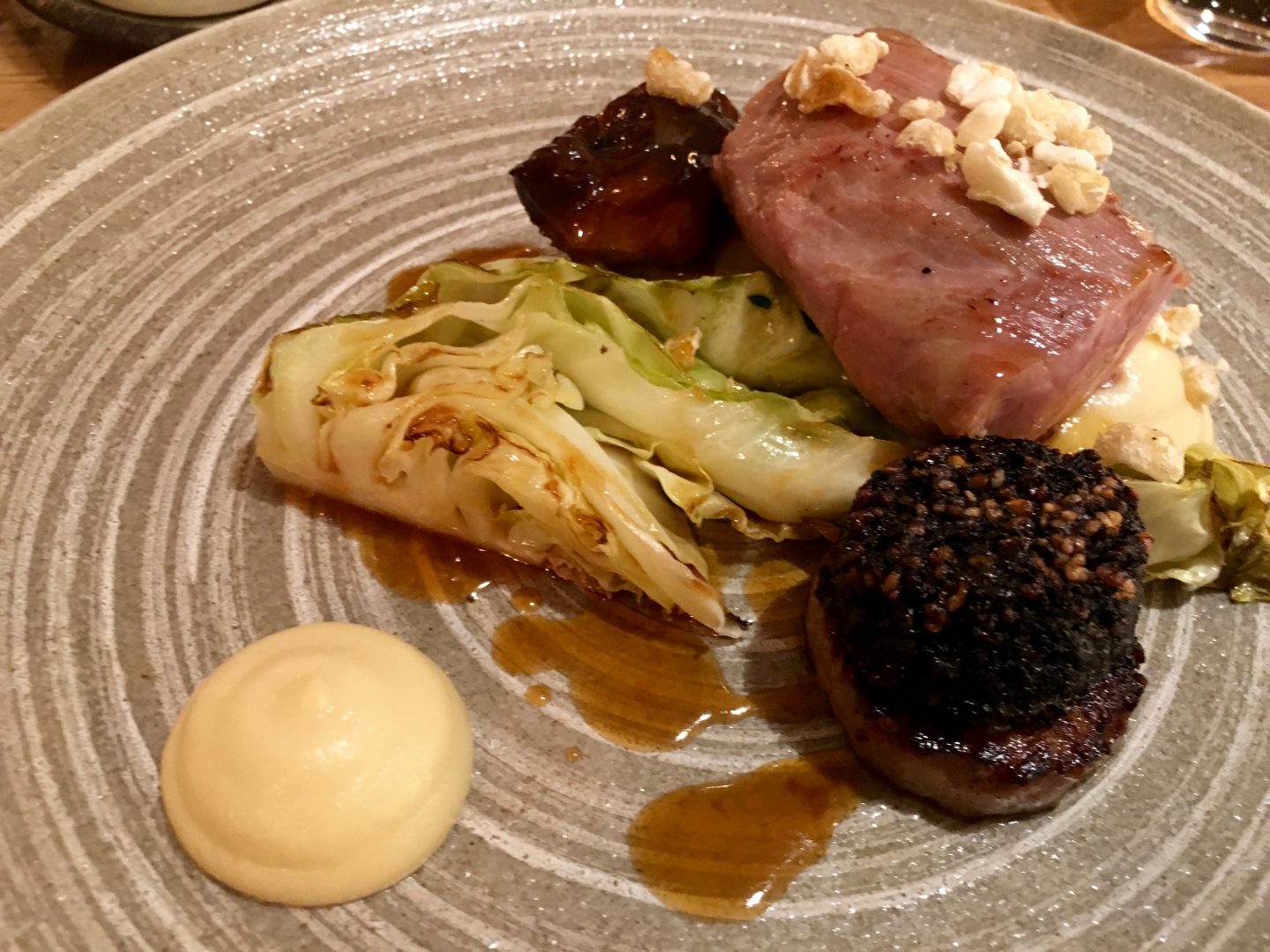 The pork dish (mine) was absolutely delicious. A large piece of pink (brave move) tenderloin was accompanied by the smoothest parsnip puree I have ever eaten. Plus, a sticky glazed pigs cheek (bonus pork!) and garlic sausage straight from heaven. This was a faultless dish. Every element complimented the one around it. Andy's lamb was equally delicious and cooked (again) to perfection. We all agreed that the beans were a great accompaniment, seasoned well, and made a refreshing change from the usual green vegetables and potato something you'd usually expect to see.
The only real criticism we could find for the mains was that the lobster portion was on the small side, even for this type of dining. Although really that's just us being super-picky. The peanuts were barely there and perhaps not needed at all but the poussin (leg and breast) was soft and tender.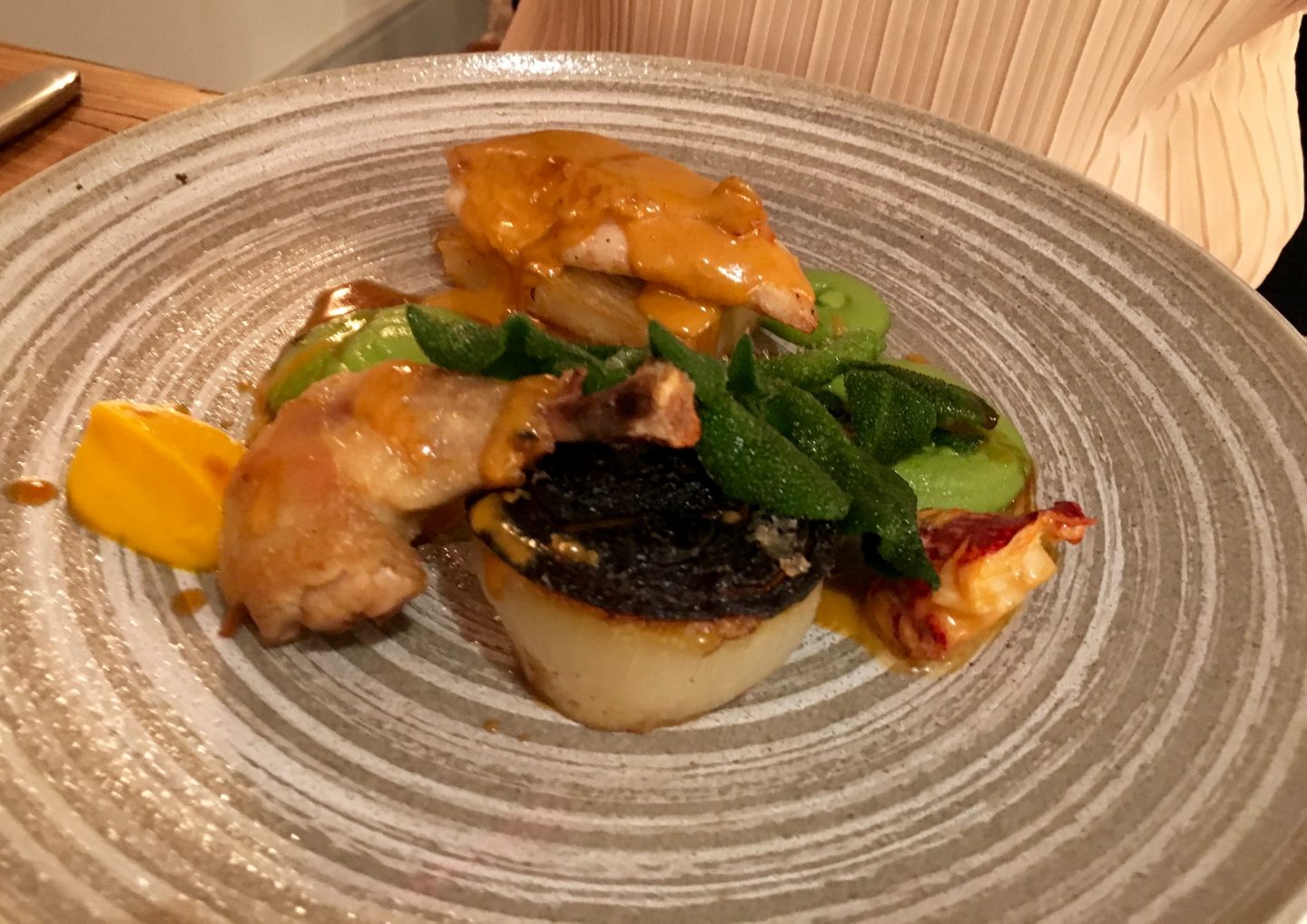 Despite not really having room, we had two puddings between us. The beef suet sticky toffee pudding with cream (instead of vanilla ice cream – Andy's choice) and the Yorkshire rhubarb with pistachio cake. We could smell the bonfire toffee sauce around the pudding before the plate hit the table and it tasted incredible. This was a knockout dessert and a must-have when you visit.
The rhubarb was heavenly and tender to the point of being able to slice it through with a spoon. The pistachio cake had a marzipan taste to it and a moist sponge texture which was totally delicious with the sharp tangy rhubarb. Perfection.
It was clear that The Spotted Duck means business. The team are confident enough in their product to take on Michelin-starred John's House just down the road (my review here) and I think they're going to win. From when we arrived, I recognised the Maître D. It took me a while to place him, he'd served us at John's House last year. We had a good chat and he told us that the chef-owner Johnny Prince is a local guy who trained at some of the best places around the UK (including Gordon Ramsay, Le Manoir and Rutland's Hambleton Hall). Not only is Johnny young, he's determined. I give him a massive high five for choosing the seemingly inconspicuous Mountsorrel for his first solo venture.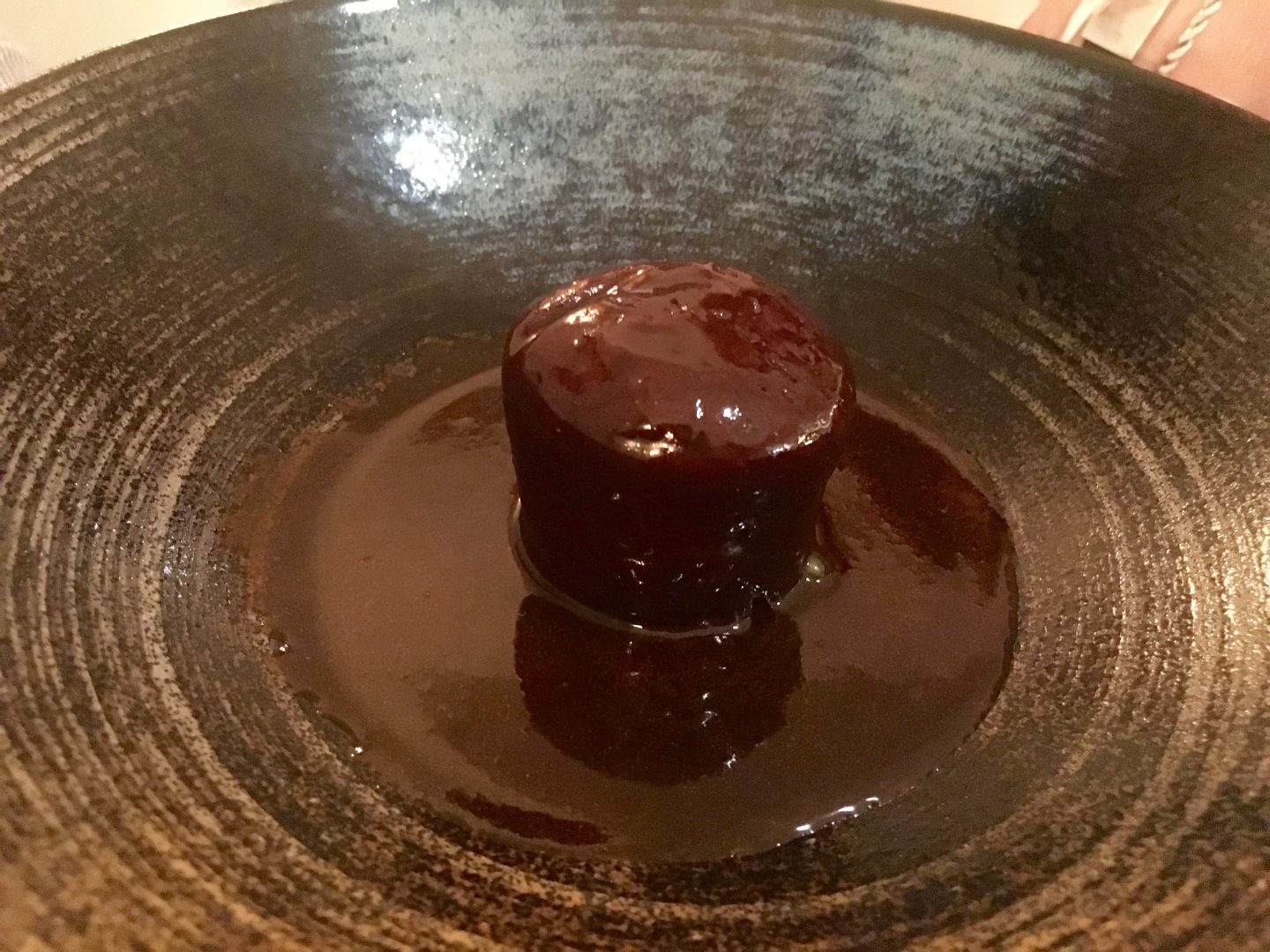 Of course, my mum is convinced that her village, Mountsorrel, is the next Bray but you know what? She might just be right. Watch out John's House because The Spotted Duck has arrived and it is SERIOUS competition!
We paid for our meal in full. The total came to £181. This is for three starters, mains and two desserts, a bottle of prosecco, three glasses of wine and two coffees. The restaurant did not know that I was planning a review. Apologies for the terrible photos, that's one of the perils of blogging evening meals!