Even though we moved to Bristol nearly 18 months ago, because we've been travelling for 7 of those, I have to admit, it does feel a little like we're starting afresh. I've always found blogging to be a sociable hobby and have made some good friends through it in the past. With that in mind, I was excited to join a gaggle of Bristol bloggers a few weeks ago for an evening at Backwell House, a beautiful boutique hotel just outside the city.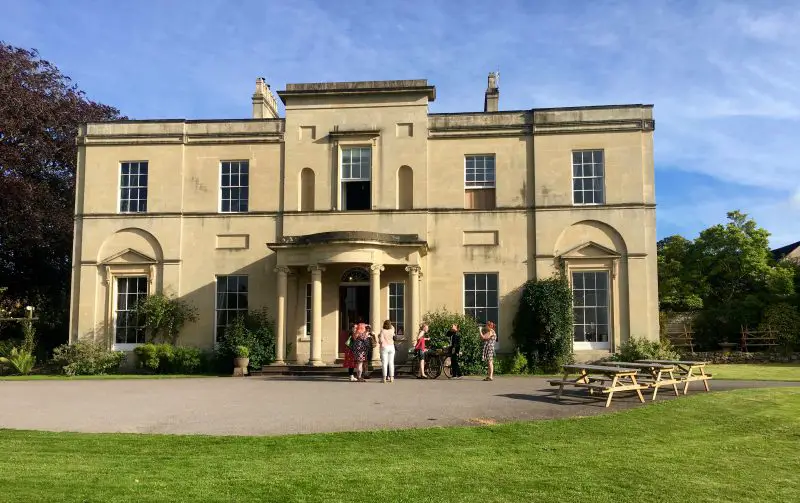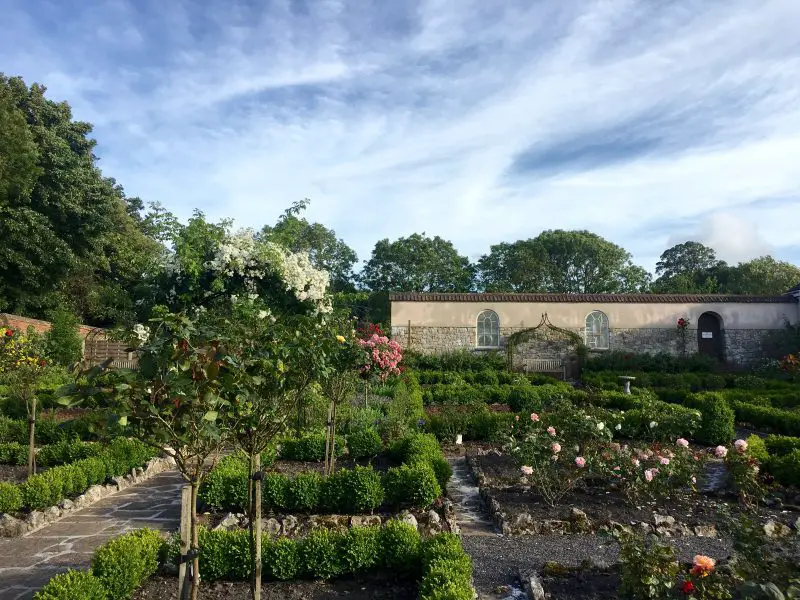 Although it's only 15-20 minute drive outside of Bristol, Backwell House looks out over rolling green hills, looking every bit as majestic as it no doubt looked when it was built as a family home in 1817.  As well as offering 9 individual and beautifully designed bedrooms, Backwell House also recently opened a 40-cover restaurant. The head chef is a guy called Ross Hunter. His background is solid, having spent time cooking at The Stonemill at Rockfield, Yeo Valley, Michelin-starred The Pony & Trap and various pop-ups with Josh Eggleton.
His menus change frequently and reimagine seasonal classics. As well as seasonal produce, he sources as much as he can locally and in our after dinner Q&A told us that his beef and pork come from the farm adjacent to the house, his seafood and crab come straight up from Brixham and he uses vegetables and herbs from the kitchen garden at the hotel too.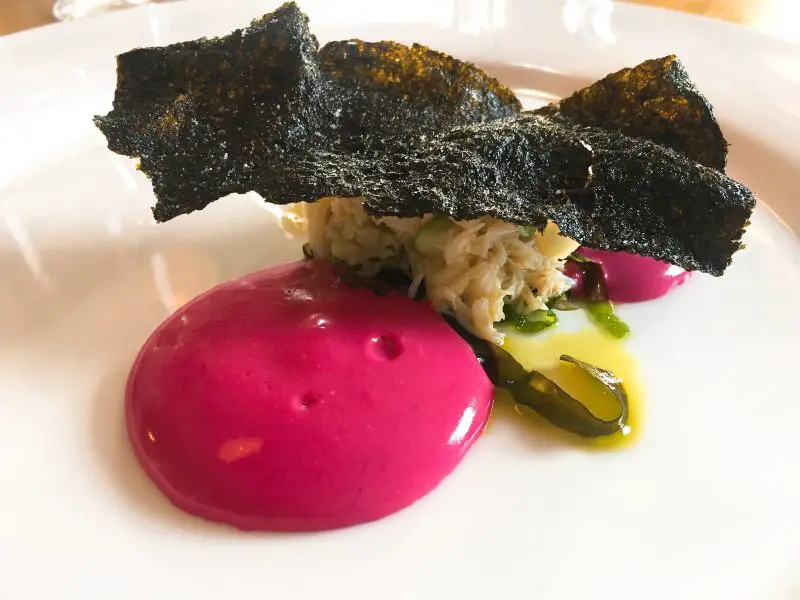 We enjoyed a three-course meal (usually priced at £35 a head) in the stunning dining room at the front of the house. It overlooks endless fields as the sun set over the fields. As the sun began to set, it was pretty as a picture. The meal started strongly for me with the Brixham Crab, Beetroot, Apple, Nori Seaweed dish. Aside from being visually stunning, the dish boasted well-balanced flavours. I was concerned that the earthy beetroot could overpower the crab but it worked perfectly. The sheet of salty nori seaweed (as a salt head) was a welcome flourish for me too! 
My dining neighbour Karis (blogging at But first, we eat!) had the Pressed Backwell Pork, New Season Peas, Pancetta & Tarragon Emulsion. I have to say, I was envious.. you know I love my pork. The crackling looked spot on and I am assured it was all very tasty.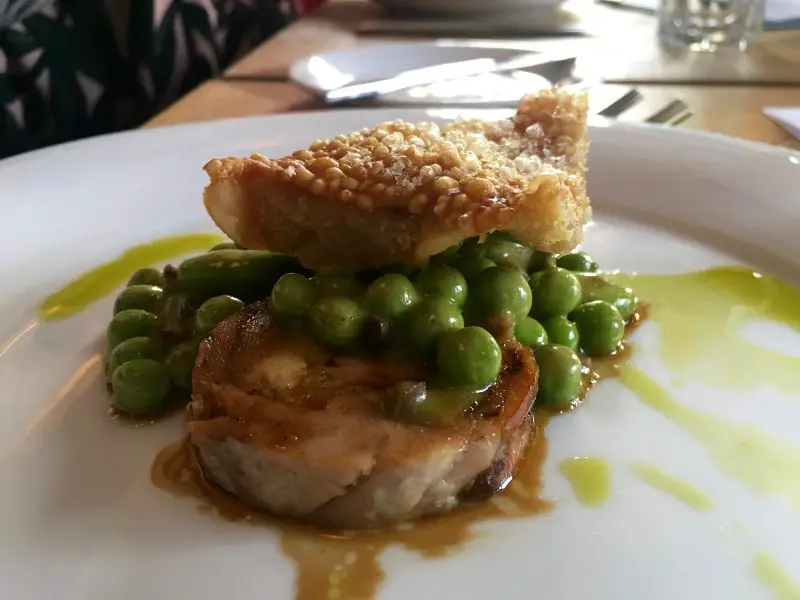 Our mains were equally beautiful but sadly not quite as tasty. I had the 60 day Hereford Sirloin, Ox cheek, Alliums, King Oyster Mushroom, Beef Jus. I cannot complain whatsoever about the sirloin, it was perfect. Cooked to my exact liking and soft as butter. Despite this being fine dining, the portion size was generous and included a hefty hunk of ox cheek. Sadly though, it wasn't as perfectly cooked as the sirloin. A little dry and quite fatty. Perhaps a smaller portion or more of the jus would have helped. Overall though, it was a very tasty plate of food.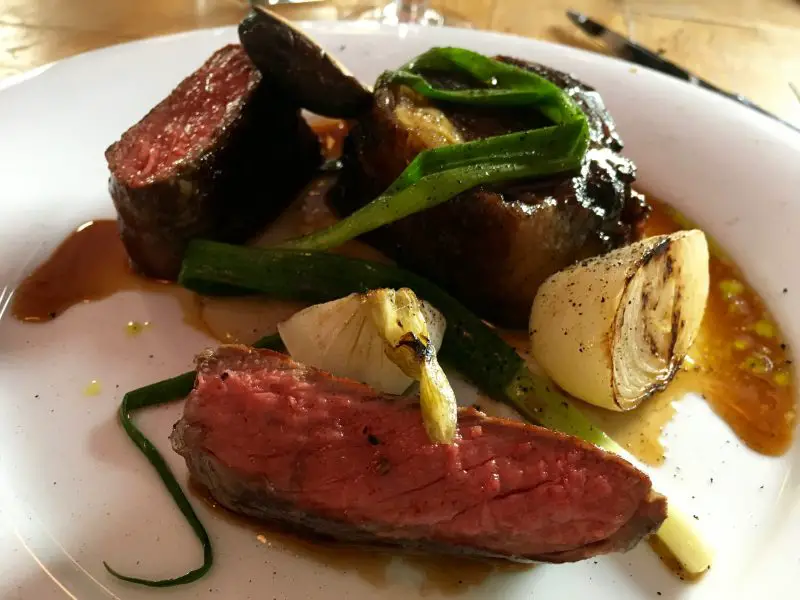 I heard nothing but glowing praise for the fish dish (turbot no less) but unfortunately, the vegetarian option, a gnocchi dish, (Potato Gnocchi, Wild Garlic, Calcot Onion, Hazelnuts) was quite dry and underseasoned, certainly from the mouthful I ate anyway.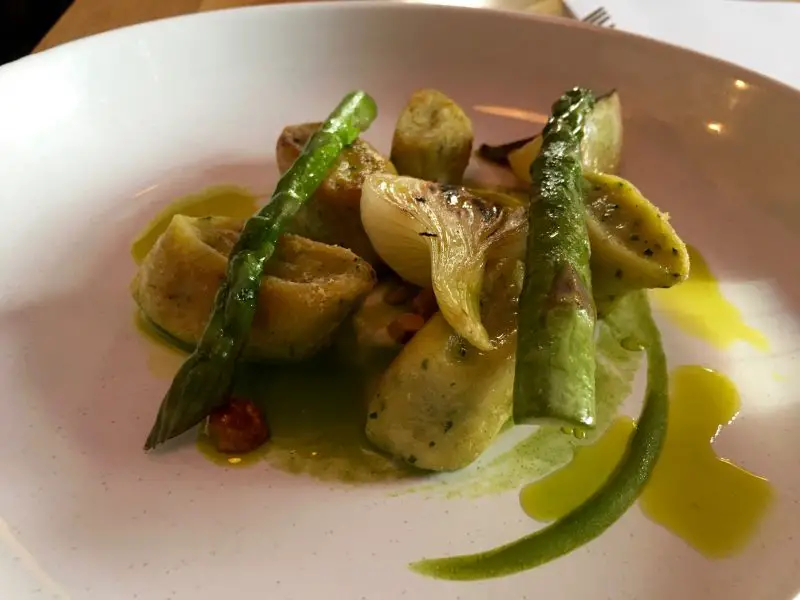 The puddings were great and again, just so pretty on the plate! The winner was this Strawberry Cannelloni, Meringue, Cheddar Valley Strawberries. Just look at those perfect little meringues! Yum. I heard a rumour that there was cheese too but those greedy bloggers at the other end of the table ate it all!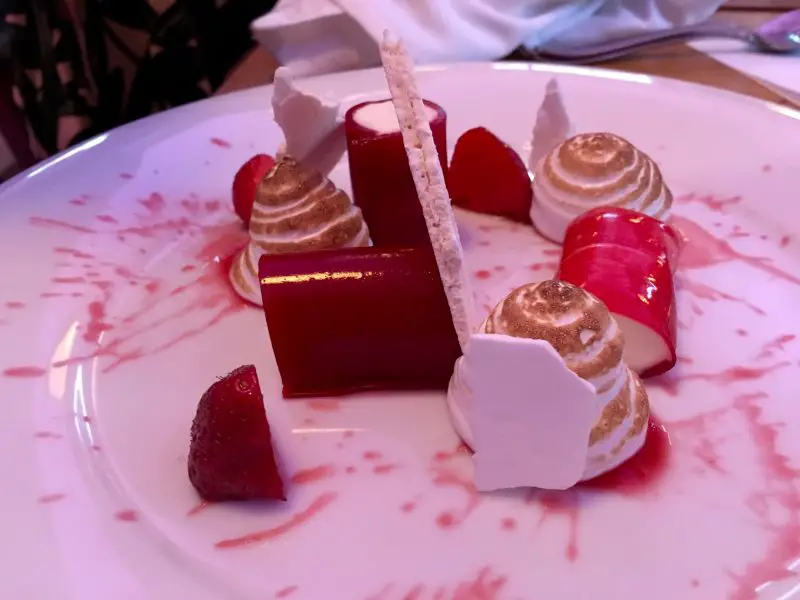 What you need to know:
The restaurant at Backwell House is open for lunch and dinner Wednesday to Saturday and open for lunch on Sundays. The menu is priced at £29 for two or £35 for three courses. I will forgive the niggles with our food though because we were a large party of 18) and the restaurant is still very new. I have a feeling that the Chef Ross Hunter will do very well there. His flavour pairings and presentation were really great. I look forward to dining there again in a less intimidating group size (most likely two!).
For bed and breakfast, prices start at £95 a night. We looked at a couple of them and they were completely stunning. Sumptuous bed linen and antique furniture mixed with upcycled items pair to give a luxurious finish. Next time I visit, I'll be plumping for one of the rooms with a roll top bath.
I was invited to attend a blogger event at Backwell House and enjoyed a complimentary evening meal there. All opinions are, as always, my own.